Kissing is the ultimate sign of affection and, if you live in some parts of Europe, not only between lovers or family members. We are all familiar with the image of our Italian friends and relatives air-kissing one another's cheeks when they meet, a common habit also in Spain, France, Switzerland, Poland, Belgium and the Netherlands, but less so in Scandinavian and Anglo-Saxon countries. In fact, we are not too keen on it in the States, either.
Truth to be said, il bacio sulla guancia – once a symbol of friendship and love – turned into a sort of fiend during the pandemic, for more than obvious reasons, and many are still to go back into the habit. But it remains a quintessential practice of Italy, one that has an interesting history and that, of course, must follow a special etiquette.
Kissing one another when meeting was a popular habit among the ancient Jews and Romans: it was considered the ultimate sign of friendship and fraternity, so much so that it wasn't unusual to kiss on the lips, even between people of the same sex. In the end, Judas' betrayal of Christ was sealed with a kiss and every Italian student can tell you that, in the 8th Canto of Dante's Inferno, Virgil kisses Il Sommo Poeta on the face, as a sign of respect. Indeed, kissing was an important social and political tool in the Middle Ages, when even peace treaties and truces were confirmed with a kiss between the fighting groups' leaders.
Roberto Roveda, who wrote an interesting article on the subject for the Italian history magazine Focus Storia, discusses also the galateo del bacio, the etiquette we should follow. Because if you think we all kiss on the cheeks the same way, well, you're wrong. In Italy, for instance, we usually give two kisses, one on each cheek, first on the right, then on the left. Starting on the right side is key, unless we want to kiss the other person on the mouth, something we no longer do, unless it's our partner, of course. Research also says that the cheek we choose to start with may say something about our personality: apparently, if we start with the left cheek we tend to be more emotional, but who knows…
In France, the situation is a bit more complicated: our cousins across the Alps tend to prefer two kisses, but they exchange four in the North-West and even five in some parts of Corsica. Paris tendentially wants three. Central Europe also goes for three, so remember that if you are in the Netherlands, Belgium or Poland. In Northern Europe you'd be hardly pushed, as we said, to see strangers kissing in the street, especially if they are men.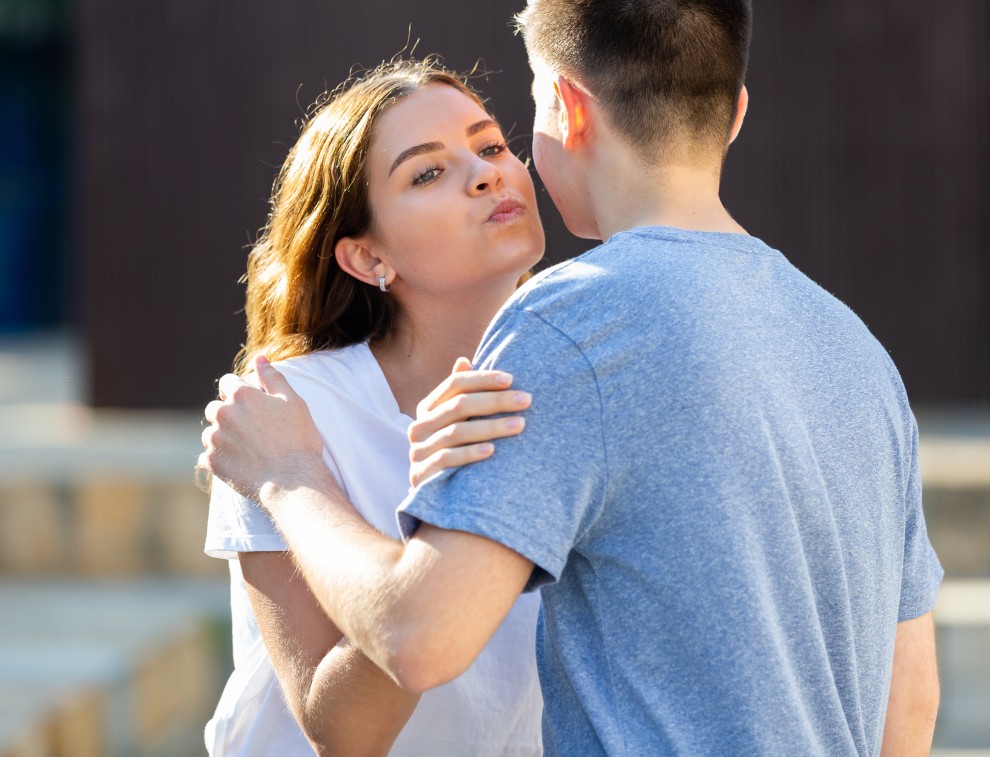 But let's go back to Italy and to our national etiquette. We've referred to "air kissing" a few times and it's important to understand why: if it's true that yes, we do kiss one another on the cheeks when we meet, we should make it clear that they are not "real" kisses unless you're exchanging them with someone you know well. Usually, the bacio sulla guancia you see people sharing doesn't involve any lip-to-cheek contact, it's more of a light, feathery touch of the cheeks, an "air kiss," if you will. Mind, though, real kisses on the cheeks exist, and they are, in Italy as anywhere else in the world, a sign of deep affection.
During the pandemic, we learned how to refrain from exchanging our beloved baci sulla guancia in name of keeping ourselves and others safe; today we could start again, but it isn't as easy as it seems, it almost feels alien, a gesture that belongs to another world. It isn't unusual, especially when we see someone we know for the first time in a long time, to ask if we can kiss them on the cheek, often with an easy-going "che ne dici, ce lo diamo un bacio?" while we wonder how long it will take us to go back to normal.