You're in Italy. You've just finished to eat an incredible meal with a bunch of friends and it's time to pay the bill. Needless to say, someone will say the magic words: facciamo alla Romana? I'm sure you've heard the expression, or its sister pagare alla Romana: both of them mean to split the bill equally among all diners.
Simple meaning, but the point is: why the expression, why alla Romana, if the habit is common across the country and, in fact, across the world, where similar locutions based on nationality are also popular (more about it later)?
A bit of research  brings three options to the fore. The first states that, in older days, Roman innkeepers would charge large groups of pilgrims by diving the due total among all of them, to simplify the process and avoid confusion. Another associates it to the famous picnics (those gite fuori porta still so popular today)in the countryside just outside the capital, common already in the past centuries, where people would bring food to share with others. In fact, this idea seems legit, as there was a term in Italian, romanata,  that indicated exactly this type of trips. In the 19th century, some dictionaries mentioned romanata as a dinner where guests shared the bill equally.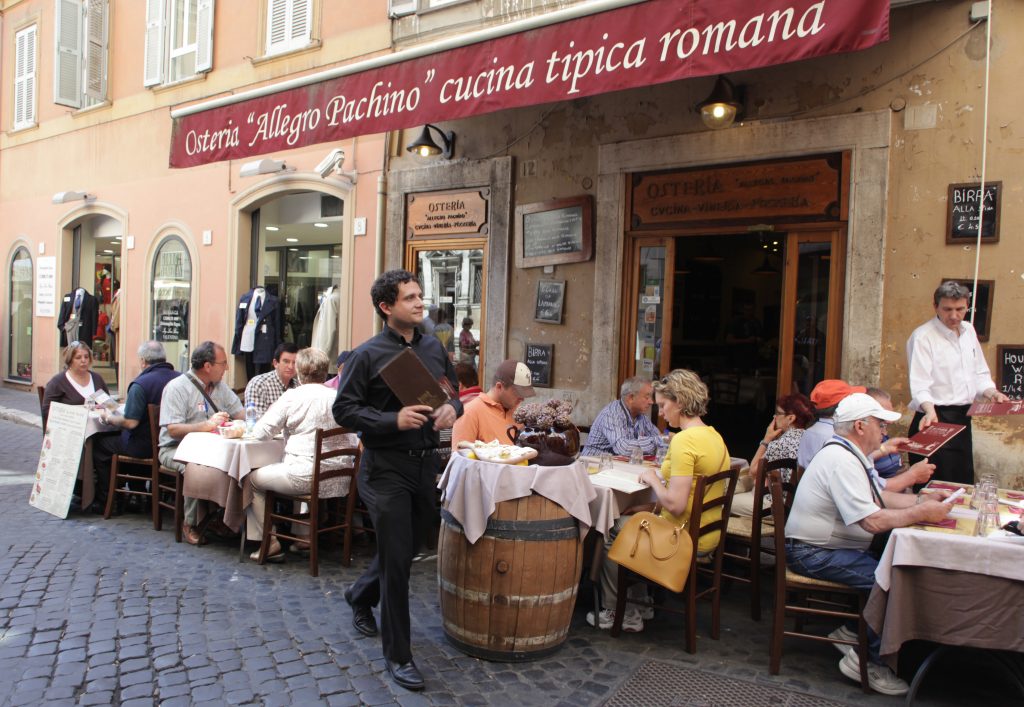 Another, much more colorful, option wants the habit — and the phrase — to come from la sora Pina, owner of an inn in Trastevere, who had the interesting custom to beat her patrons with a stick to get them to pay quicker their bill. To be fast and avoid the fiery lady's wrath, people got used to split what they owed, hence the pagare alla Romana expression.
As much as we love to think figures like la sora Pina existed — characters like her make up a great deal of that common imagery many of us have and love of the Roma popolare, that of Trastevere, colorful streets and fresh laundry hanging out of windows — there is no proof at all she in fact did. But it's a funny and somewhat heartwarming image and using it to explain the origin of a famous expression doesn't hurt anyone, right?
Similar expressions exists in other languages, too, all referring to a specific nationality: in Russia, Romania and Turkey they say going German, perhaps taking inspiration from the proverbial Teutonic penchant to be precise, while in South America people say paying "the American way," because splitting a bill equally is considered forward and modern, just like Americans in the eye of the more traditional societies in the south of the continent. Funnily enough, though, Argentinians say pagar a la Romana, just like in Italy, probably because of the many Italians who migrated there in the early decades of the 20th century.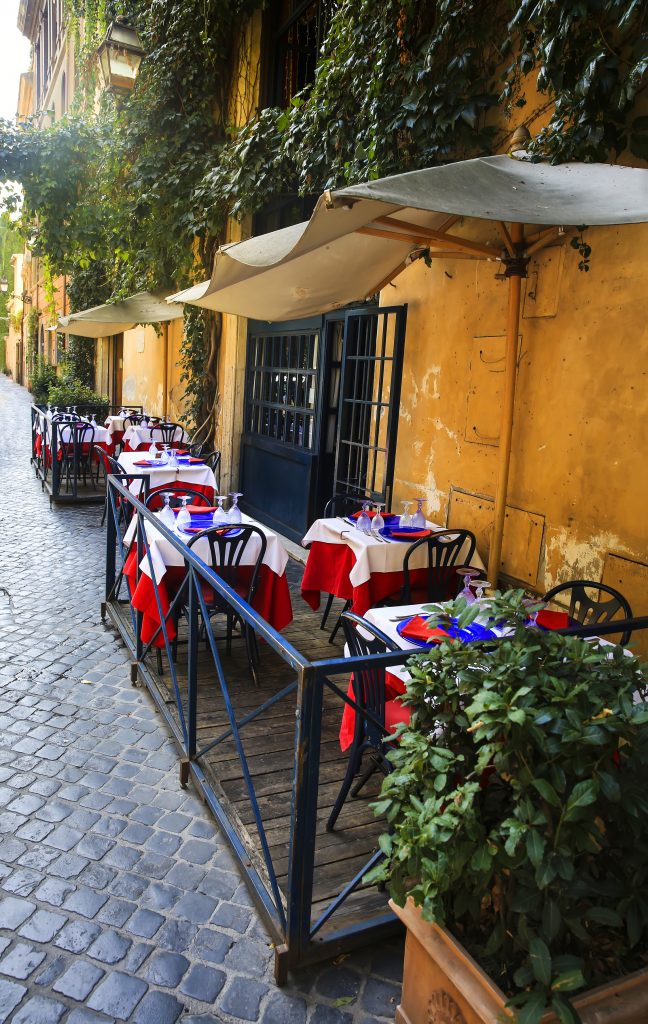 It is interesting to note that the locution alla Romana, has been long employed in the Italian language with very specific yet often different meanings, as the Accademia della Crusca states. In the 18th and 19th century, it meant to leave without saying goodbye, but it was also used in a culinary context, to indicate a dish shared among many guests (un piatto alla Romana). However, while these instances are attested in literature, with examples found in Nievo, Goldoni, Gozzi and Gasparo, the much more popular pagare alla Romana isn't, which means it was likely only used in the spoken language.
Today, pagare alla Romana is the most common way to pay in Italy, especially with among the younger generations, but you'll find the habit is widespread among older people, too, especially in pizzerias, where it's unlikely the bills for each person differ from one another much.