Once upon a time, a whole 13th century village disappeared under water, but if you bring yourself on a lake's shores at the right time, you can still see it.
No, it's not the beginning of a fantasy tale, nor the romanticized version of a tragic event of our past. It's reality and no one got hurt when the old village of Fabbriche di Careggine — first records of it date back to 1270 — in the Lucca province of Tuscany, ended its existence under the cold, icy waters of the Lago di Vagli, an artificial water basin created between the late 1940s and the early 1950s.
A bit of history is here necessary. The village of Fabbriche di Careggine was founded by a colony of blacksmiths from Brescia (Lombardy) in, we said, the 13th century, when they moved to the Garfagnana region of Tuscany. There, plenty of iron was extracted from Mount Tambura, ensuring they had stable employment. For centuries, the village survived on craftsmanship and agriculture, up until the 20th century: one church – dedicated to San Teodoro — thirty homes, a graveyard, a three-arch bridge, 146 residents.
In the early 1900s, a small dam was built to supply water to local marble quarries; by the 1940s, however, it was no longer sufficient for their increasing needs, so, in 1941, it was decided to create a larger one to contain the waters of the Edron River. The people of Fabbriche di Careggine were evacuated and moved to Vagli di Sotto, a new village built to home them. The old one was submerged with forty million cube meters of waters, between 1947 and 1953. By then, only a faded memory of it remained, the lake living instead of a settlement that had lasted the good part of 700 years.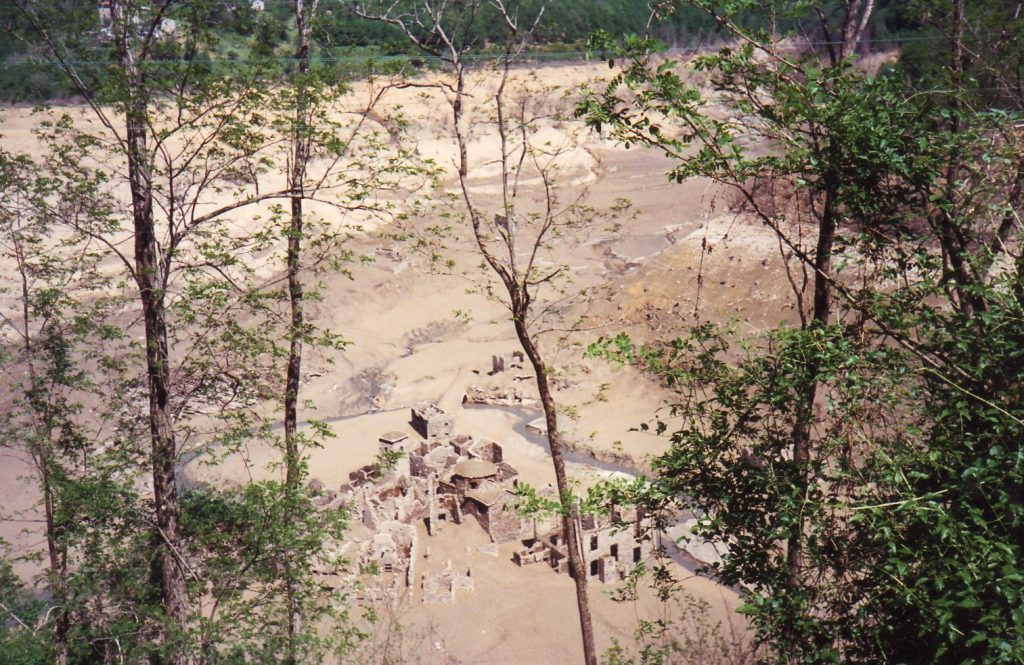 ENEL, the national electricity company behind the building of the dam, had planned to empty the lake every ten years for maintenance, but it didn't quite go as planned, as it happened only a handful of times, in 1958, 1974, 1983 and 1994. In the last occasion, about one million people visited Fabbriche di Careggine, attracted by the mysterious, eerie charm of this ghostly place.
What do you see, when Fabbriche reappears from its deep, Atlantis-like sleep? The roofless remains of its buildings are all made the color of mud by water and soil but, magically, thanks to the sun, streets and alleys reappear, a phantom of life long gone. Perhaps this is what attracted so many people to Fabbriche, 27 years ago: the fact you can, there, live suspended between real and imaginary, between what's living and what's dead, yet still talking to people's heart.
Since then, though, the village has been hidden to the world, unable to breathe.
Maintenance was planned for 2016, but later postponed to 2020. Needless to say, last year wasn't the right time to carry it out: if anything, we'd all have loved to live under water for the past 18 months. ENEL Green Power, which owns the dam today, was supposed to empty the lake this year, but plans were postponed once more, this time to 2023.
At some stage, some believed that Fabbriche di Careggine was to emerge from the waters for good, that ENEL was to empty the Lake of Vagli for ever. But, perhaps, that was just hearsay.
While we still don't know when visits to Fabbriche di Careggine will be possible, we can at least see it virtually: online, you can find plenty of videos showing the village as it appeared in 1994, when the lake was emptied last, and even an old Istituto Luce video dedicated to the day it was abandoned for good, its people leaving their memories behind, walking away from it for one last time. There is something incredibly poignant in those images, in spite of the cheery voice of the commentator: it was, in the end, a moment of grief, a sign that the present, sometimes, must destroy the past to survive.