The Italian American Museum of Los Angeles has officially opened a new exhibition, Woven Lives: Exploring Women's Needlework from the Italian Diaspora, which examines the significance of needlework in the lives of Italian-American women, their families, and communities from the mid-nineteenth century to the present.
The exhibition, which is open to the public from January 29 to October 16, 2022, reconsiders the role of needlework beyond its aesthetic value and utilitarian purposes, recognizing it as an extraordinary medium for expressing and preserving culture. Woven Lives showcases a variety of handmade textiles created by Italian-American women.
"Women's voices have often been excluded from historical narratives," tells us Marianna Gatto, executive director of the Italian American Museum of Los Angeles. "Woven Lives explores untold stories of women using items made by their own hands and provides a long-overdue acknowledgment for the role they played in preserving traditions, supporting their families, and creating communities."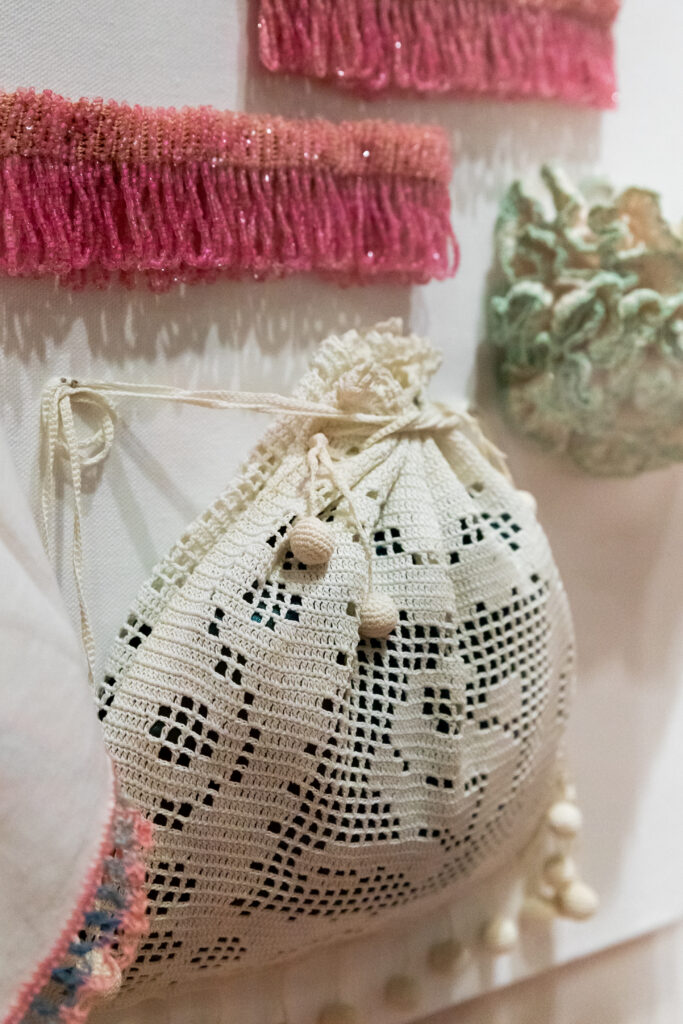 Mrs. Gatto, how did the idea for this exhibition come along?
The idea for this exhibition can be traced back to 2019. One of our intern's projects that summer was cataloging items part of the IAMLA collection, including textiles (linens, needlework, and other handmade items). There was a piece that caught the attention of us all, an intricately embroidered corredo (dowry) bed sheet that read "buon riposo." It was made by a woman named Giuseppina Fico, who was born near Naples in 1915. Giuseppina's mother died during the Influenza pandemic when she was only three years old. Her father was a sharecropper who barely earned enough to feed the family, and by age six, Giuseppina was already working in the fields while apprenticing in needlework. Giuseppina married and moved to the United States after World War II and one of the items she brought with her was the "buon riposo" bed sheet that she had made at age ten. "One day we should do an exhibition of these linens, an exhibit that examines the story behind each piece and the women who made them," I remarked. We liked the idea and added it to the list of possible future exhibitions. Not long after, we became aware of a book edited by folklorist Joseph Sciorra, the Director of Academic and Cultural Programs at Calandra Institute, and Edvige Giunta, a Sicilian-American writer, educator, and literary critic, titled Embroidered Stories: Interpreting Women's Domestic Needlework from the Italian Diaspora. We had worked with Joseph in the past and shared the exhibition idea with him. He graciously agreed to serve as the advisor on a grant proposal we were writing to California Humanities to fund the exhibition. Months passed and we were enthralled to learn that California Humanities selected our proposal. The IAMLA issued a call for items, sewn, crocheted, knitted, and other types of needlework that had interesting stories behind them. We also began to identify items in our collection. Then came the pandemic. Let's just say life and museum work changed overnight. We canceled, rescheduled, and modified dozens of programs and exhibitions amid the uncertainty and public health crisis. When the IAMLA reopened to the public in June, we decided that Woven Lives would be the first exhibition we presented since March of 2020.
The name of this exhibition is very profound: Woven Lives. What's the meaning of it?
There are many interpretations of the title. Weaving often serves as a metaphor for understanding our place as human beings in the world. Despite the often fragile nature of the parts from which needlework is constructed, by weaving or interlacing those parts, a solid, more study, and often, more aesthetically pleasing item is produced. While Italian-American women were often relegated to the margins of history or essentialized into a handful of roles–wife, mother, cook, etc., their lives and their experiences, like weaving and needlework, were multi-layered, intertwined, complex.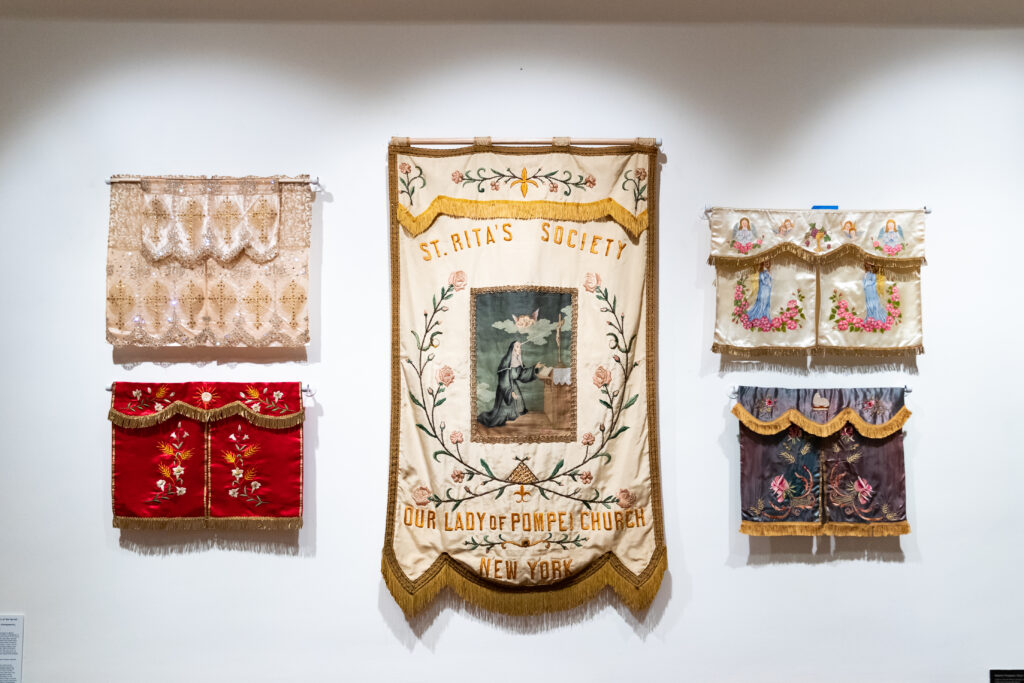 Why was an exhibition about needlework from Italian immigrants important to showcase?
Today we live in a mass-produced world where thousands of identical goods are made in factories, usually overseas, by people we will never know. The exhibition stands in contrast to the modern world in that each object is unique and was made by an Italian-American woman. These craftswomen, most of whom have long since passed on, would be shocked to learn that their work is being celebrated, much less exhibited in a museum. Needlework, beyond its utilitarian uses, played an integral role in the lives of Italian immigrant women. It was a means through which women gained financial independence and helped support their families. Needlework also served as a vehicle through which women could express themselves, create communities, transmit knowledge, establish trades, and weave together fragmented traditions, identities, and memories. The objects showcased in this exhibition reveal the sensibilities, hopes, beliefs, and perspectives of the various generations of Italian American women who fabricated them. By exploring the stories behind these handcrafted pieces, we gain a richer appreciation not only for the experiences of their creators but for how traditions survive, change, disappear, and reemerge in immigrant and transplanted communities.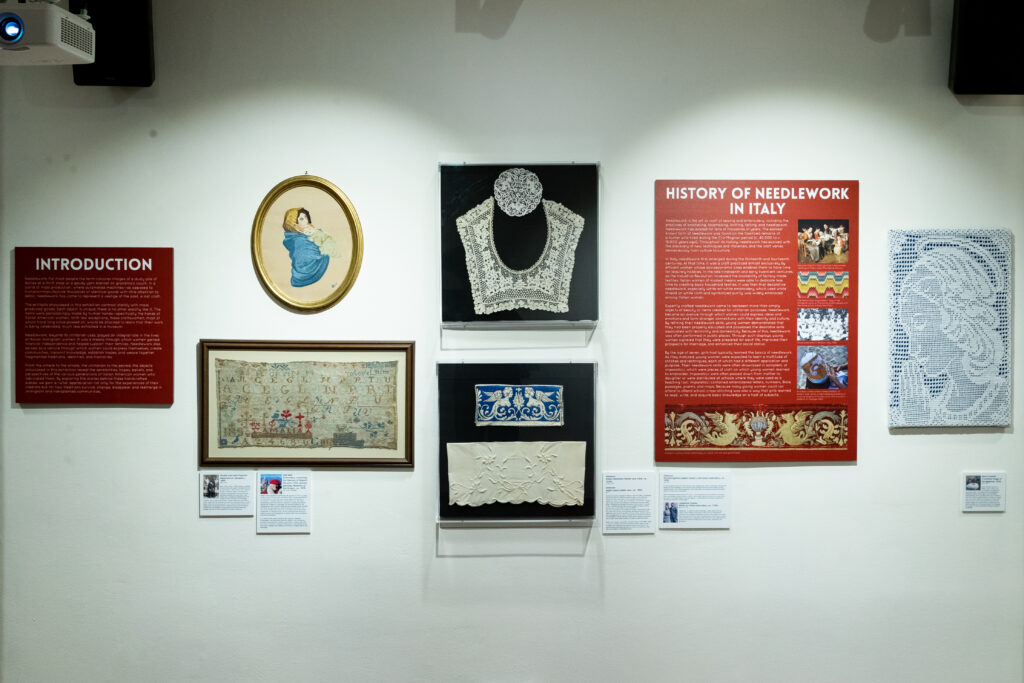 Are there any of these women's stories that stuck with you in particular?
When I work on these temporary exhibitions I immerse myself in the topic. This exhibition was particularly engrossing, all-encompassing. I felt a deep spiritual connection to the women whose work we are showcasing. There were so many inspirational stories– women who persevered, often alone, to raise their families, in times of war and scarcity. One Los Angeles woman, Cecilia Scottini, saved items that others discarded, such as butcher twine and cloth flour sacks, and transformed them into useful and elegant wares. Women like Paolina DiCristofaro Villani, who continued doing needlework after she had lost her vision, using only feeling and muscle memory. Women like Maria Antonia Cortese, who had three sons in the span of four years during the Great Depression and used her needlework skills to create things for the family that they would otherwise never be able to afford. Women like Maria Castaldi, who contracted polio as a child, which left her a paraplegic. She crochets using one finger and holds the needle in her teeth. These are but a few of the incredible stories contained in this exhibition and we hope you will come to see it.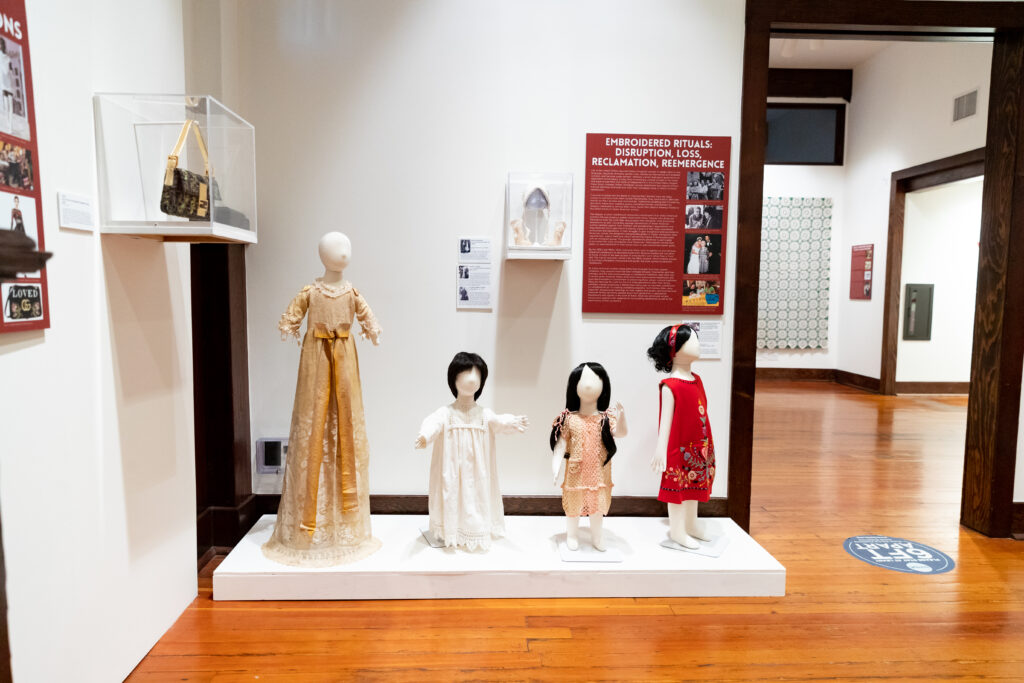 Are there any other events related to Woven Lives?
Yes, as part of the exhibition there are two free workshops coming up: on Sunday, March 27, 2022, there will be a Virtual Book Presentation via Facebook – Talking to the Girls: Intimate and Political Essays on the Triangle Shirtwaist Factory Fire, edited by Edvige Giunta and Mary Anne Trasciatti, New Village Press, 2022. The book is a collection of candid and intimate accounts of the female factory-worker tragedy that shaped American labor rights. And on Saturday, April 30, 2022, there will another free workshop, called "Italian Needle Lace Workshop", conducted by artist Carly Chubak at the Italian American Museum of Los Angeles, located at 644 North Main Street, Los Angeles. Participants will learn this historical craft and make their own sample of lace using only a needle, thread, and a fabric base.