Second probably only to pizza when it comes to its "iconic" status, caprese salad, or insalata caprese if we want to say it in Italian, is one of the country's favorite dishes. A staple in the summer, when the juiciest, sweetest tomatoes are abundant, it's appreciated all year round thanks to how simple and quick it is to prepare — if you're ok with less delicious, non-seasonal tomatoes, that is.
If you ask me, caprese is pure culinary perfection, because it is easy to make, tasty and incredibly satisfying, thanks to the lusciousness of mozzarella, and the incredible fragrance of basil. Everything is balanced by the delicate freshness of tomatoes and, of course, complemented and elevated to the Parnassus of food by a tad of extra virgin olive oil. Now, really… if that's not poetry, I don't know what is.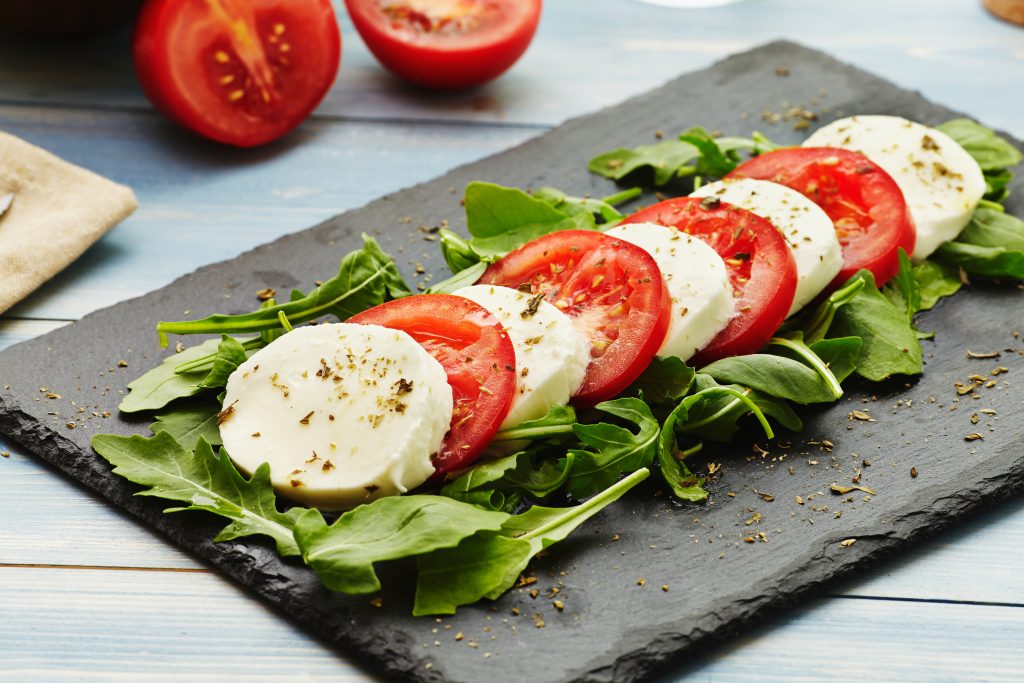 Caprese is also the most patriotic of Italian dishes: in the end, it has the colors of our beloved flag. And indeed, there is not a doubt about its fully Italian origins: it was born in the province of Naples, on the beautiful island of Capri, as its name attests. However, the way caprese came into being is somehow shrouded in mystery or, to say it better, in a sort of literary mist.
Its history takes us back to the first half of the 20th century, likely to the end of the 1940s when a builder from Capri decided to stuff his daily lunch sandwich with tomato, mozzarella and basil: a very patriotic trio indeed, especially in those years of post-war rehabilitation. According to others, however, insalata caprese had a much more sophisticated origin. The story goes that, very much in the same period, King Farouk of Egypt was vacationing in Capri when he was offered an afternoon snack made of sliced mozzarella and tomatoes with a hint of basil on top: and voilà, caprese was born. My favorite tale, however, is the one that wants caprese as a dish served, in the 1920s, to futurist poet Filippo Tommaso Marinetti, who loved it so much it ended up becoming famous across the island, and then, across the whole country.
Let's go back to its ingredients, as a good caprese happens when good ingredients are chosen. Here, a chef's talent has really no importance, because we are all able to chop ingredients and dress them in olive oil. Let's start with the tomatoes: for a perfect salad, we should avoid tomatoes that are too ripe, too green or too small. Pomodori da conserva (or da sugo), those usually bought to make sauce, are also a no-no. Personally, I love cuore di bue tomatoes, but you're golden with any variety, provided they are fleshy and, possibly, organic.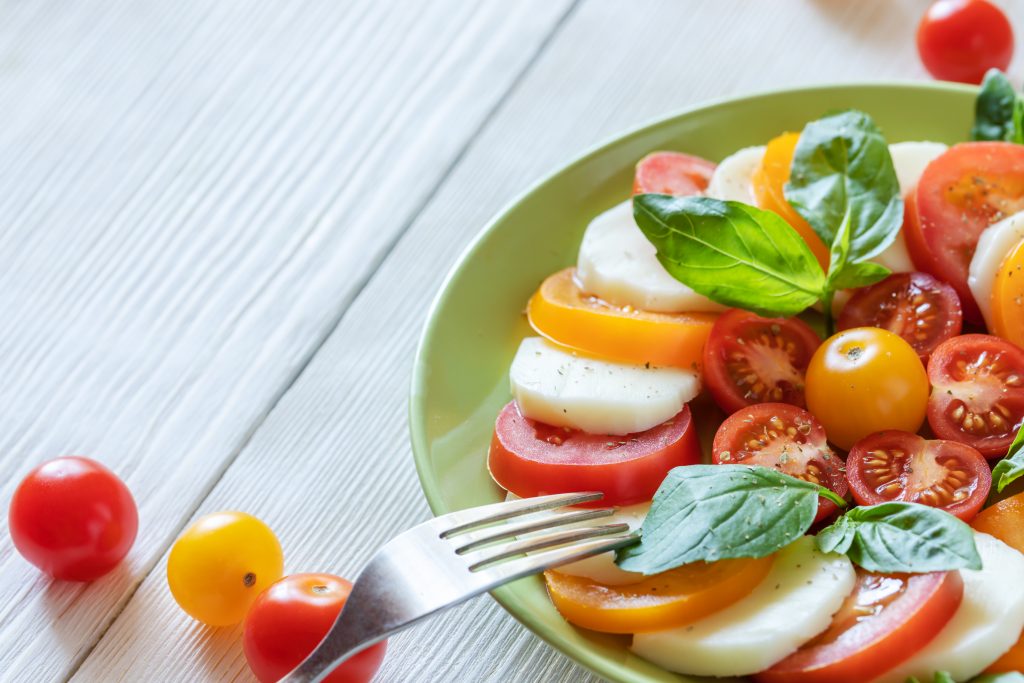 Mozzarella: now, qui casca l'asino, this is where the difficulty lies. As the recipe comes from Campania, purists expect mozzarella di bufala to be used and this is certainly a delicious choice. Mozzarella di bufala is a DOP product of Campania and some parts of Lazio with a distinctive taste, sharper than that of fiordilatte, the cow cheese we usually call "mozzarella." Truth is, you can pick either mozzarella di bufala or fiordilatte, both are delicious and fresh. Of course, you should always go for original made in Italy and organic products, whenever possible. Last but not least: basil. Stay away from dried basil, only fresh leaves will do. Basil is not only easy to find fresh at the supermarket, but it's also incredibly simple to grow: nothing compares to the pleasure of picking some leaves straight from the plant and toss them into your salad. Extra virgin olive oil of the best quality and only a hint of salt complete this super simple and super fresh dish.
Simple and fresh, we said, but also incredibly versatile and an amazing canvas for culinary creatives across the globe to exercise their art on. Some variations of insalata caprese are very close to the original: you can substitute large, sliced mozzarella with bocconcini, those bite-size mozzarellas usually the size of a large cherries; similarly, cherry tomatoes can be used instead of larger varieties and if you go for this "baby size" version, than you can make spiedini di caprese, or caprese skewers, alternating cherry tomatoes, baby mozzarellas and leaves of basil one after the other.
If you have Italian friends, or you spend time in Italy often during the summer, you've certainly been served a caprese with olives and capers and, often, even with salted anchovies. Less common are other variations: some people add pesto, other tuna, other still bresaola, an Italian cold cut typical of Valtellina. If you really want to do something out of the ordinary — at least for us Italians, who rarely use "exotic" ingredients in our cuisine — you can add avocado to it, too. And if you like to give your caprese a true kick, then go for a handful of chopped sun-dried tomatoes. Balsamic vinegar is another popular addition.
Whichever way you decide to make it, caprese remains a quintessential Italian dish, and not only for its patriotic colors. In it, there is all the beauty of our cuisine: simplicity, nature and love for our traditional flavors.
Want to make it?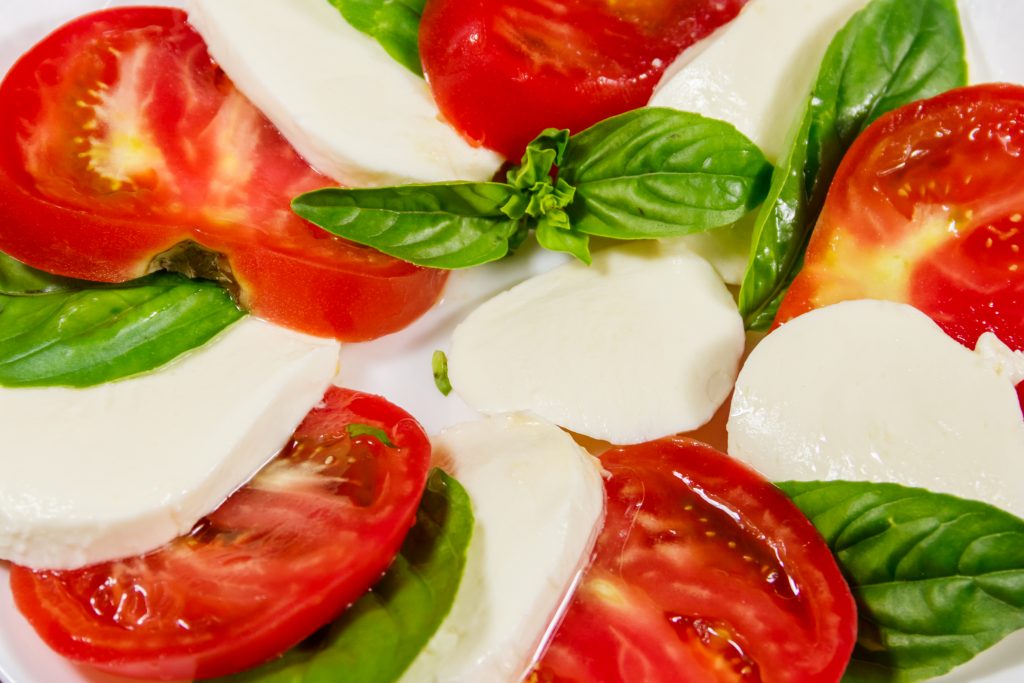 Well, it's as simple as grabbing… (for four people):
five medium to large tomatoes (see above for how to choose the best ones!)
2 mozzarelle di bufala (or fiordilatte, if you prefer)
a handful of fresh basil leaves
a pinch of salt
extra virgin olive oil
According to La Cucina Italiana, you should slice your tomatoes quite thick, around 1/2 an inch and sprinkle them with salt, so that some of the water drains out. Cut your mozzarella in slices of the same thickness. On a plate, alternate slices of tomatoes to slices of mozzarella, drizzle with olive oil and garnish with basil.
And that's it! Dinner is served!