There's no typo in the title and we're not peddling fake news on our pages. The small Sardinian town of Ollolai, in the Barbagia area of the Province of Nuoro, is only the last of a series of Italian hamlets to join this apparently surreal project: Case a 1 Euro, or homes for one Euro, to say it in English. As a matter of fact that'd set you back – take or give a couple of cents – of about 1.25 USD. The idea to sell homes for a nominal price to support and repopulate small or disadvantaged communities, we'll soon discover, has become fairly popular not only in Italy, but also in the UK and in France, where similar initiatives have taken place in recent years. Once neglected and dilapidated homes in Liverpool and Stock-on-Trent found a new lease of life thanks to the project; the same, the people of Roubaix and Champ-du-Boult hope, will happen also in France.
Indeed, Ollolai' s story is mirror to that of other places in the country, which embraced the Case a 1 Euro project. With just about 1600 inhabitants, Ollolai is as beautiful and quaint as it is in need to be repopulated:  the number of inhabitants halved in the past three decades, and it mostly comprises of middle aged and elderly couples without children. It was 2015 when mayor Efisio Arbau looked around his beautiful town and, most likely with a heavy heart and a knot in the throat, noticed it was slowly dying: less people in the streets, beautiful historical houses in the centre falling into disrepair, little hope to bring any amelioration to a negative trend that had been building up for decades. Then, he heard about the Case a 1 Euro scheme and decided Ollolai had to join it and results were incredible: by the Summer of that year, requests had by far exceeded the number of homes available, and the success continued, as witnessed by the fact the small commune has been part of the project since.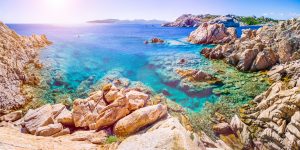 A quick way for small, charming – but often secluded – Italian hamlets to inject some much needed fresh faces in their streets and working arms to their economy, but the question has been hanging in the air, like a proverbial pink elephant in the room: where is the catch? Actually, there is no hidden catch because the terms of contract are extremely clear: buyers entering the Case a 1 Euro scheme do become owners of a house for the nominal price of 1 Euro but, as all buildings are in need of renovation, have to contractually accept to carry out the necessary works within 12 months from purchase and with a minimum investment of 20 to 30 thousand Euro (between 25 and 37 thousand USD), with the freedom to sell the property after 5 years.
As mentioned, Ollolai is not the only village in Italy to participate to the project: there are villages in Tuscany (Fabbriche di Vergemoli and Montieri), Piedmont (Carrega Ligure), Lazio (Patrica), Abruzzo (Lecce nei Marsi), Sicily (Gangi, Regalbuto and Salemi) and Sardinia (Nulvi).
It goes without saying, the scheme got a lot of publicity, probably more abroad than within national borders and, even if it took a while for it to take off, it's officially considered a positively growing reality. It is certainly easy to see why: first of all, there is the possibility to become a home owner at a relatively low price, which could be a godsend for many a millennial stuck with a just-above-minimum-wage salary. Then, there's the advantage of moving to places of undoubted charm and, to say it with the Case a 1 Euro website, to embrace that "so very sought after spirit of times gone the whole world envy us."
There are many perks to investing into a property of this type, not last that of contributing to the resurrection of areas of Italy in serious danger to soon turn into ghost towns. However, some considerations should be made. Even if the idea of moving to a secluded village somewhere in the Italian countryside may tingle our not-so-secret yearning to realise a cliché "under the Italian sun" dream, it may not turn out to be as simple as it sounds.
For instance, how accessible are these villages and what's the level of unemployment in the area? Supporters of the initiative highlight the potential to turn the renewed homes in B+Bs or hotels, hence killing two birds with one stone, that is, getting a new home and an activity running, but how touched by tourism are these places, or how close are they to canonical tourist routes? If it is clear from the pictures these villages are beautiful, would they attract enough visitors to allow, let's say, a family of four to live off the hospitality industry? Because, let's face it, there's no Italian dream to realise and enjoy, if we don't have a job to pay the bills and put soup and bread on the table, as our grandparents would say, even if we had a perfectly restored historical roof above our heads.
So, what should we make of the Case a 1 Euro project? Well, the British, who have been running similar schemes, are pretty chuffed with results and so are the people in Italy who got involved in it up to now: it seems this laudable initiative could really make both those offering and those buying the houses happy, provided potential buyers use some common sense, and do some research on the area they are planning to buy into before committing to anything.
Truly, if the project could work as well as it has so far and prove successful in the long run, it could become a perfect way to save many Italian traditional spots from slowly dying out, and to transform many a dream into a sun-drenched Italian reality.