Have you ever tried a bottle of Grignolino D'Asti wine?  It is relatively easy to find on a visit to Turin.  It complements many regional foods well, including the Tomini (small cheeses).
On a beautiful, fresh and sunny day in the heart of the romantic city of Torino you might want to sit outside in a charming little outdoor café.  On such a day, you might want to eat a light lunch with appetizers, or just a pizza and order a bottle of wine with the meal.   If you choose a bottle of Gignolino, you will certainly discover why this light, yet surprisingly complex red wine is popular in the region.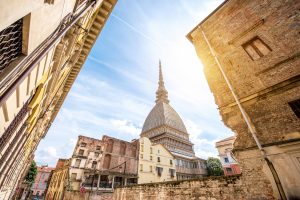 After enjoying the wine at lunch, you might want to buy a bottle for another occasion.  There are quite a few nice wine shops in Turin.  For example, there is a cute little wine shop called Enoteca Brosio just a few blocks from the historic Dogana Vecchia hotel, near the Centro Storico, in the heart of downtown Turin.  The proprietor of the shop generally carries two types of Grignolino D'Asti and is happy to recommend a bottle based on your taste, price, etc.  You will find that a good bottle of Grignolino can be fairly reasonably-priced and you might want to consider taking a bottle home to help you re-live your Italian experience.
For those who don't know much about this varietal of the Piedmont region, here is a basic rundown on Grignolino from the Wikipedia article on the topic:
Grignolino is a red Italian wine grape variety commonly grown in the Piedmont region. It makes light colored wines and rosés with very fruity aromas, strong acidity and tannins. The name Grignolino derives from the word grignole which means "many pips" in the local Piedmontese dialect of the Asti region. The abundance of pips, or seeds, contribute to the strong, bitter tannins associated with the wine. Modern winemakers try to avoid the excess tannins with gentle and slow pressings. Grignolino has two Denominazione di origine controllata (DOCs) that produce wine from it – Asti and Monferrato Casale.