His story was so incredible that even his wife didn't believe it. And if it hadn't been for a group of Hungarian women, no-one would ever have known. But the truth is that Giorgio Perlasca from Como in northern Italy, saved four times more Jews from the Nazi gas chambers than his more famous counterpart Oskar Schindler, rescuing at least 5500 souls over the course of just 45 days during the winter of 1944. As we approach International Holocaust Day on January 27th, let's take a look at this modest Italian man's life and how he managed to hoodwink the Germans.
Perlasca's early life
Giorgio Perlasca's early life showed absolutely no inkling of what was to come; if anything it suggested the total opposite.
Born in 1910 into a family of civil servants, judges and army officers from Como, the young Perlasca grew up in Maserà near Padua. In his teens the youngster discovered the poet, nationalist and World War I hero Gabriele D'Annunzio who is often seen as the originator of the Italian fascist ideals that Benito Mussolini would adopt. And Perlasca quickly became a supporter of D'Annunzio, Fascism and Mussolini even putting his life on the line for the cause.
First the young man volunteered to fight for Italy in the Second Italo-Ethiopian War (1935-1936) and then he joined Franco's troops in the Spanish Civil War (1936-1939). And it was his support of the fascist General Franco that would later lead to Perlasca's greatest hour but we'll come to that in a moment.
World War II
On his return to Italy Giorgio discovered Mussolini's increasing dictatorship and particularly his alliance with Germany, a country against which Italy had fought during the First World War. He quickly became disillusioned with the government and especially detested the new German-inspired anti-semitic laws that had been passed as many of his friends from Padua and the Italian army were Jews. As World War II began Perlasca finally severed his ties with Fascism, throwing his entire support behind the Italian King Victor Emmanuel III instead. No-one could have guessed how the next chapter of his life as a former fascist would play out.
Despite his background, Perlasca avoided military conscription at the outset of World War II by working as a livestock agent procuring meat and supplies for the Italian Army. His role took him all over eastern Europe, first to Zagreb and Belgrade in 1940 and then to Budapest in 1942. And seemingly the tall, blue-eyed Italian was rather good at his job using his charm to secure deals for the Italians and enjoying a hedonistic life in the company of rich, well-connected and often Jewish society in the theatres and restaurants of Budapest.
But Giorgio Perlasca's war wasn't totally carefree. During his travels he increasingly witnessed the rise of Nazism, the hatred of the Jews and, later, the massacres. It compounded his resentment towards Germany and his anti-Nazi stance.
By 1943 Giorgio had been granted diplomatic status as an Italian government delegate but it didn't protect him from Hungarian internment when Mussolini fell later that year. Ever resourceful, however, he quickly escaped and headed to the Spanish Embassy to request the political asylum and Spanish passport he was entitled to as veteran of the Spanish War. Giorgio became Jorge and once again had permission to move around Budapest unimpeded as Spain was neutral; this would turn out to be another invaluable piece of the Perlasca jigsaw. And the last piece would come when, in late 1944, the Spanish Consul to Budapest beat a hasty retreat to Switzerland leaving behind empty offices, his official consulate seals, Jewish staff and hundreds of Jews desperate for Spanish protection just like Perlasca.
Unbeknownst to the Germans the Spanish Consulate had been quietly sheltering Hungarian Jews in eight apartment blocks under its control but the rescue effort was jeopardized by the Consul's departure. And so Giorgio "Jorge" Perlasca stepped in, brazenly convincing Hungarian authorities that he was now the Spanish Ambassador with all the powers that went with the title.
It was a breath-takingly audacious and highly dangerous move that could have led to Perlasca's summary execution at any moment. But he was a master of persuasion and so "Ambassador Perlasca" proceeded to issue Spanish Consulate letters of protection, stamped with the genuine seals, to hundreds of Jews over the winter of 1944. And not only that, Giorgio personally challenged German troops rounding up Jews, persuading them that many potential gas chamber deportees had Spanish heritage and were therefore protected. He even used his own money to buy peoples' freedom and argued with German officers directly, including the ghastly, infamous Adolf Eichmann, to rescue children from the jaws of certain death. The man was fearless, galvanized by his hatred of the Nazis and fortified by his skills as a negotiator.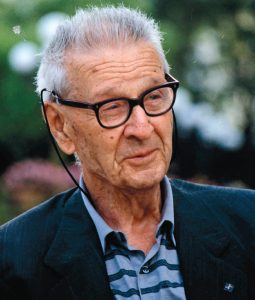 Ultimately, over the course of around 45 days Giorgio Perlasca managed to fool the Germans, to issue fake permits and to directly protect, rescue and secure the lives of at least 5500 Jews. To put that into context, his German counterpart Oskar Schindler, about whom the Academy award winning film Schindler's List was made, rescued around 1200 souls, going on to be heralded a hero around the world. But despite telling his wife his story, Perlasca couldn't convince anyone back in Italy of what he'd done so he simply stopped talking about it and faded into obscurity.
At least, that is, until a group of Hungarian Jewish women tracked the old "Spanish diplomat" down 30 years later to thank him for saving their lives and those of their relatives.
Giorgio Perlasca would go on to live to the ripe old age of 82 and was eventually convinced to tell his full story. He was deservedly awarded medals and decorations from the Italian, Spanish, Hungarian, American and Israeli governments for his courage and actions. And a bust of him now stands proudly in Budapest whilst his life story has been adapted into a film "Perlasca, an Italian Hero", starring Italian actor Luca Zingaretti of Inspector Montalbano fame. He's still little known on the global stage so as International Holocaust Day comes around on 27th January, perhaps we can take a second to thank the wonderfully audacious Italian man, Giorgio Perlasca, for his actions. He's a true Holocaust savior and should never be forgotten.
Date: Friday, January 27, 2017
Time: From 5:30 pm To 8:00 pm
Organized by : IIC & under the auspices of the Consulate General of Italy in Los Angeles (IIC & sotto gli auspici del Consolato Generale d'Italia in Los Angeles)
Receive more stories like this in your inbox