Superstitious or not, don't we all like to tip the odds in our favor with a little sprinkle of good luck – especially these days? Every culture has its go-to list of good luck enhancers, but when it comes to Italian methods, the ways and means are plentiful and often very creative. With choices that include sayings, charms, gestures, and more, there's a good luck booster to cover any situation!
Perspective comes into play when considering a good luck charm or gesture – are we looking for a strategy to increase the chances of a favorable outcome, or are we grasping at ways to ward off something ominous? If spread out for review, a sizeable number of Italian customs related to luck are designed to fend off malicious scenarios. Philosophical discussion might reveal theories to explain this point of view, but quite simply it may just be the relationship with superstition and its ancient roots – something long embedded in Italian culture. In fact, the first mention of the Latin wordsuperstitio is noted in the writings of Roman historian Livy (b. 43 BC) and poet Ovid (b. 59 BC) in the context of an irrational fear of the gods, as opposed to the practice of religio– worship and belief in a fitting manner. Contemporary superstitions may not have any apparent connection to religiosity, but their origins are knotted to the apron strings of ancient ideology and the customs that go with them.
Scaramanzia and the practices that bring it about are as well-known as first cousins in most Italian families. The idea is ingrained at an early age to employ all means to ward off the sinister in hopes of gaining the blessings of Lady Luck – who happens to have Italian roots and is formally known as the Roman goddess Fortuna, the deity of wisdom and prophecy.
The menu of good luck/ward off evil options is vast; they are just too plentiful (maybe that's a good thing) to cover the spectrum in one sitting. For manageability's sake, we'll enlist the help of Leonardo's Vitruvian Man. Imagine the graphic as a sort of Pin-the-Tail-on-the-Donkey game, the various portafortuna (good luck charms) pinned accordingly to how they're enacted. I'm sure Leonardo wouldn't mind a topic such as this!
La testa – the head
Off the top, quite literally, is the warning of nonni (grandparents) everywhere: do not lay a hat on the bed. Traditionally, a priest would visit the home of the dying to say last rites. He'd place his hat on the bed to don his vestments, and thus…hat on the bed equals inviting eternal rest. Why take a chance! It's true, too, that one's head serving as a bullseye to bird poop really is a segno from above – a blessing!
Next, the eyes. Beware of being cast the evil eye, or malocchio, by an envious person's lingering stare. Should it happen, the bad energy can be deflected by wearing or displaying a cornetto, a typically red, horn-shaped amulet. Legend says this charm is a spin-off of pagan phallus symbology, a post-Constantine replacement of sorts of something equally powerful but less likely to cause charges of indecent exposure.
Luck can be verbalized, too. It's as easy as offering "In bocca al lupo" – In the mouth of the wolf – to wish one success. But for the magic to work, they must respond with "Crepi!" – may the wolf die. Another articulated good wish is "In culo alla balena", meaning rather frankly "in the ass of the whale." Be prepared for the reply…"Speriamo che non caghi" – we hope it won't crap!
Eating can bring prosperous fortune as well, when it comes to lentils served on New Year's Day. The coin-like shape of lenticchie help render an affluent year according to superstition. Mangia!
La parte superiore corpo – the upper body
Has a ladybug ever landed on your shoulder?Che fortuna! – lucky you!! In Italy, the tiny beetle's visit is a positive omen, but why? Tradition says the coccinella's 7 spots represent the Virgin Mary's 7 sorrows, or maybe red is just a lucky color. Whichever, just be sure not to accidentally smash one…or else.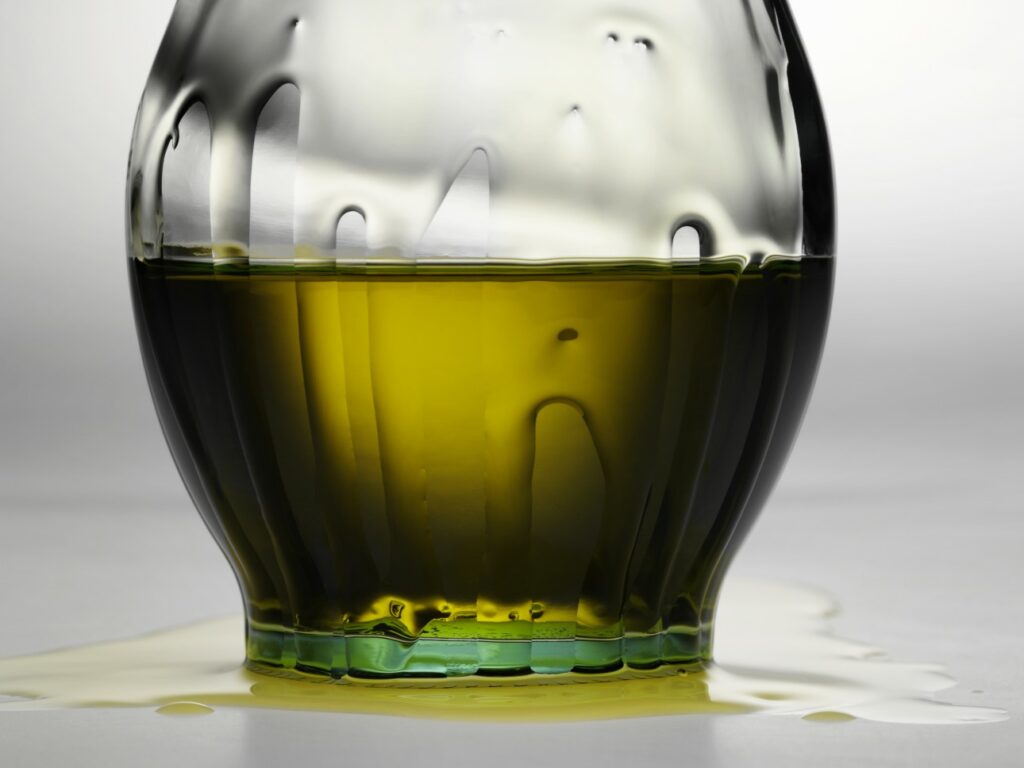 Hands serve as the vehicle for many good luck/bad luck possibilities. Who doesn't love to raise a toast with friends and family, but beware: there are some critical rules to abide by. Never raise a glass of water, never cross arms with another when clinking glasses, and be sure to tap the base of your glass before taking the first tipple. You forgot one of the rules? No worries – just reach out and knock on something iron to keep luck on your side.
If you are of the clumsy sort, beware of spilling oil – an action that brings bad luck. Historically, oil was a pricey substance and not to be wasted; however, redemption is found by dabbing a bit of oil behind the ears to set things straight.
Remember that protective red horn, the cornetto? A hand gesture of the same name will also ward off unsavory vibes. Pinky and pointer finger extended in "rock on" style with the hand facing downward will keep any maleficence away, should it cross your path. A crotch grab by the fellows will work, as well, but might be a bit less refined. It must also be noted, while on this portion of the Vitruvian Man, that wearing red underwear is a New Year's Eve requirement in Italy if there's any chance of good fortune awaiting.
I piedi – the feet
Isn't a rabbit the only thing associated with feet and luck? Not so in Italy. If saying "I do" is high on your list, beware the brush of a broom across your feet. Should it occur, you've effectively been cancelled from ever being swept off your feet.
Heed, too, how you get out of bed, making sure the right foot lands first. The left foot was looked upon as bringing ill fortune even by the Romans. Latin for left is sinistro…sinister. Need we say more?
You'll never need to worry about your feet carrying you to the 17th floor of a building in Italy: the number is considered menacing (while number 13 is lucky) and is typically omitted…just in case.
As an old song says, with a little bit of luck things might just go your way. Now you know how to tip the scale Italian style!