If statues could talk, what stories would they tell?
Massimiliano Finazzer Flory is a gifted playwright, director and actor who has been promoting Italian culture in the US for years. His new short film Ali Dorate – Golden Wings – filmed in a city under lockdown, animates public statues across Milan during the tragic days when the coronavirus rendered the fast-paced metropolis silent and paradoxically even more beautiful. Nineteen monumental and beloved sculptures became the protagonists of the story.
Finazzer Flory, born in 1964, in Monfalcone in the Friuli-Venezia Giulia region near the Gulf of Trieste, made his acting debut in Milan with leading roles in Viaggio con Virgilio and L'Altro Viaggio di Maria Rilke, both staged in 2005 at Il Piccolo Teatro di Milano.
In the US he is best known for his award-winning play Pinocchio, Storia di un Burattino, his stage adaptation of Alessandro Manzoni's classic historical novel, and his movie Marinetti a New York.
He has received rave reviews for his plays, which include L'Orecchio di Beethoven and Essere Leonardo da Vinci. The stage-to-film adaptation of the latter in 2019 won international awards.
He divides his times between Milan and New York.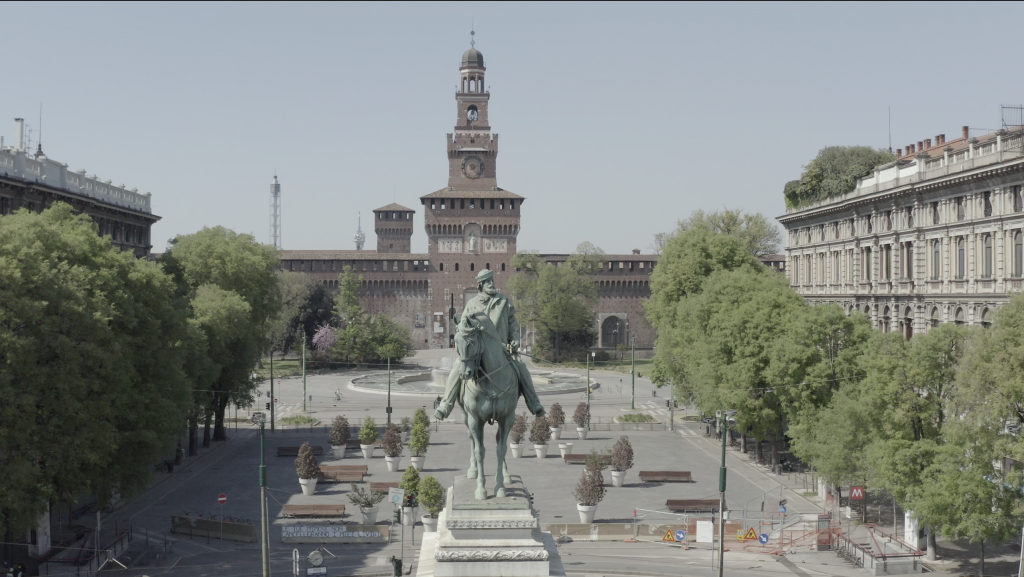 Mr. Finazzer Flory, you showed Milan's scenic beauty through its major landmarks and monuments, a selection of 19 statues of famous individuals who played a role in our history and symbols of the city. Why did you focus on those statues in your new film?
Light is the ink of cinema that can offer a different point of view on the darkness and the curfew that took place. Artists see better in the dark. Under lockdown, we confronted the invisible enemy COVID-19.
The images show us deserted piazzas and empty streets. But it was not actually so, I believe. Both history and the statues remained to defend the city. Against the invisible enemy, what we needed was a matter of memories.
Did you want to infuse into these specific kinds of sculptures a sort of healing power?
Yes, I did. The statues do not save but their embodied and grounded symbols do. To the Ancient Greeks, the symbols were broken objects that needed to be reassembled by men to regain life and value. The statues interest me because they are human-shaped. The human experience is curative.
Among others, there are memorial statues of novelist Alessandro Manzoni, polymath Leonardo da Vinci, then the leading painter of Romanticism movement Francesco Hayez, the great opera composer Giuseppe Verdi, Italy's patron saint Francesco d'Assisi, and of course the statue of the Virgin Mary on the top of the Duomo, which is commonly referred to as the Madonnina. What do these monuments say?
I see monuments as documents telling of characters and representing universal values of a character that has been able to interpret and renew.
Is there anything they can teach us today?
They teach us we don't win on our own. In my film, the statues I selected are a collective declaring the importance of being "we are one." Each player, each statue, has a competence, a role, and represents an excellent knowledge that needs relationships. Some persons represented by a statue knew about science, some about God, some about music.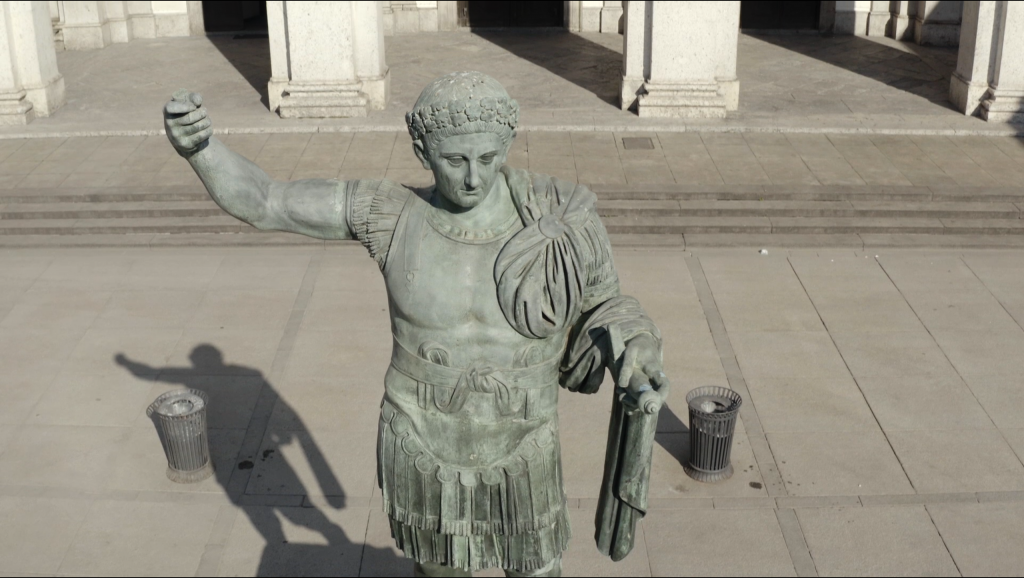 Milan and Italy cannot disregard the ecumenical lesson of Emperor Constantine who in 313 AD through the Milan Edict of Toleration granted freedom of conscience and freedom of worship to all creeds and religious confessions, thus putting an end to centuries of persecution against Christians in the Roman Empire. Your camera lingers on the memorial statue of Constantine located in Milan at Corso di Porta Ticinese, in front of the San Lorenzo Maggiore church. How important is that statue today?
Constantine is a strategic pick and it's not by chance I introduce him almost at the end of the movie. On an aesthetic level, that statue recalls our ancient identity. It contrasts very well with the image of a city known for its contemporaneity. But from the lockdown point of view, I immediately felt the danger of political opposition and the instrumentalization of individual freedom. Constantine expresses the need for high-level cultural politics that is absent today, and not only in Italy.
Are young people equipped with the moral duty of tolerance?
The youth of today are sometimes more indifferent, I fear, although I must say they are free from ideological prejudices. Today's youth are sons of globalization. They have a very interesting open-minded attitude to diversity. The point is to understand how they will react when they are touched directly in their real, factual interests and not in their virtual ones.
Does the theme of Golden Wings somehow reflect a larger topic brought up in these recent weeks in anti-racist movements all over the world?
Golden Wings has triple quotes. There is a historical one from Va' Pensiero (Go Thought, On Golden Wings), the chorus of the enslaved Hebrews in Giuseppe Verdi's operatic triumph Nabucco where the composer quotes as well from the Bible — the iconic aria becomes the anthem for Italian unification, the metaphor and a call to arms for the oppressed everywhere. Also, in my movie there is a contemporary citation of our times about "wings" seen as "our" technology. It's not by chance that the film was shot using drones to restore the sense of lightness and bring poetry to the heaviness of this pandemic.
It can happen that a memorial statue of the past, evidence of historical significance, no longer produces visual and verbal evocations of a past magnificence. I am thinking about the statue of Cristopher Columbus pulled down or beheaded recently in the US. This is a bit hurtful to the Italians. But I also understand that if we want to fully embrace political correctness, then yes, the Genoese explorer's transatlantic voyages unlocked an entire continent for European colonization, causing pain to Native Americans. What are your thoughts on this?
When we recognize ourselves in a statue, we are moved by universal values. It happens every time a statue naturally represents an era and a turning point of that era.
In the case of Columbus when we parade on the Fifth Avenue in New York we reminisce about the value of that journey and we are reminded of the fraternal bond between Italians and Americans. The custom has imposed itself on a biography that has lost its meaning.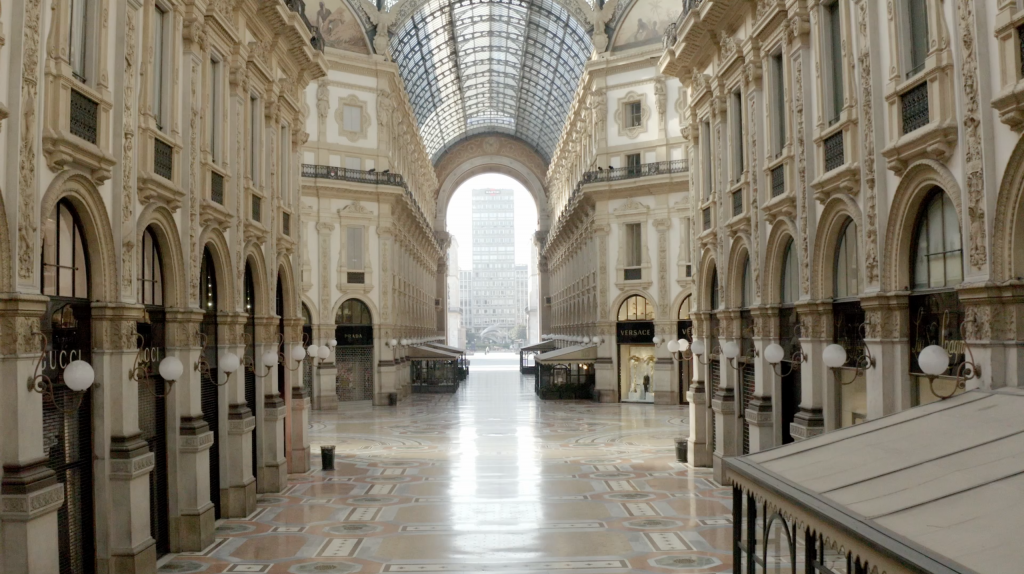 But it is also true that pulling down the statue of Christopher Columbus is not necessary because we should also take it out on the Portuguese merchants and navigators who started the slave trade toward the Americas. Then, without Columbus and those other Iberian rascals, neither Mohammed Ali, Malcolm X nor Martin Luther King would be born. Do you agree?
History is neither progressive nor regressive. History is always a set of stories that have different times. Above all, there are unintentional consequences of their premises.
Sometimes our predictions in history are wrong or fail. I find this extremely fascinating. The power of freedom and madness in individuals is underestimated. As directors and authors, we have a lot to suggest to society through cinema and theatre.
Ten days ago in Milan, the statue dedicated to Indro Montanelli, one of the most influential Italian journalist of the 20th century, was sprayed red and tagged with the words "racist, rapist," becoming the country's first statue targeted since a wave of similar incidents across the US and Europe. Montanelli was 26 years old in 1935 when he bought and married an Eritrean child of 12 years during the fascist regime's aggression against Ethiopia. In a widely circulated video of a 1969 talk show appearance, he confessed with a certain pride to buying the child from her father. No doubt, Montanelli remains a great journalist. But in your opinion, should that statue be removed? It would be like saying, we'd better not even consider the incredible must-see Caravaggio's masterpieces as the great Baroque art master murdered a man. It does not make sense. Isn't necessary to judge lives in their totality?
Let's start with the premise that the Montanelli's monument is ugly – it never stirs in me aesthetic emotions, it never convinced me. Yet, it would be fair to also recall memories when in 1977 the journalist was shot four times in the legs by the Red Brigades. That was also an outrageous attack on press freedom. However, the question is not about Montanelli but about whether or not he can remove the story with violence and insults in the name of the story itself.
Unfortunately, the destruction of statues by smashing their nose (or more) is well-known to us through history, in both Western and Eastern history. There have been many examples of militant devotion that turns into the destruction of marble statues that become "harmless enemies that cannot fight back," as Greek Sophist Eunapius wrote in 392 AD. Luckily the phenomenon is relatively rare compared to the number of sculptures that survive.
As an Italian writer has well written, what surprises and impresses idiots is numbers. Today a smartphone can break many innocent people's noses.
Hasn't political correctness gone too far? If we put political correctness above common sense, is there only a single monument in our cities with the 100 percent right to stand where it does stand?
A great Italian artist, Prince Antonio De Curtis, known under his stage name Totò, would have declared the Italians are all "home and church." The problem arises in the way they behave on the streets. I believe this anthropological approach applies to everyone, Americans included.
Isn't it better to study history instead of erasing it? Aren't we the history and isn't Historia Magistra Vitae (History: Life's Instructor) as Cicero did teach us?
We study to learn, gain experience, and as a method to research a reality that is always in motion. Sometimes history helps us continue, or change, our path. Other times, it helps us discover that we took the wrong road. But as time goes by, we may also be surprised to know through history that we are never moving to a place other than on our way home.
What is your next movie or art project?
Next year marks the 700th anniversary of the death of Dante Alighieri, the father of the Italian language. From the Divine Comedy, I am producing a 30-minute short film entitled Dante for Our Fortune where the characters of the Divine Comedy are interpreted through contemporary dance and classical music, jazz and musicals, accompanied by my voiceover, which recites the most poetic passages from the Inferno, Purgatory, and Paradise. I can't wait to return to the United States and California in particular to present this work.