Festivals in Europe were once local affairs. Today, popular celebrations lure millions of visitors. With so many attending events like Carnival or Oktoberfest, you might be wary of Europe's big festivals. But, Italian towns — large and small — host celebrations throughout the year. Crowd-averse travelers can escape the sea of onlookers in Italy's smaller towns — home to memorable festivities known only to visitors in the know.  Major cities, like Venice, wow visitors instead with large-scale festivities.
Verona Opera Festival, (June-Aug.) Just an hour from Venice, Verona offers a quiet charm all its own. During the summer, the city's open-air Roman amphitheater – one of the best- preserved of its kind – becomes a mecca for opera aficionados. For two months, spectators can behold operas such as Carmen, La Traviata or Aida outdoors. Verona's stone arena seats up to 15,000 audience members – making for a once-in-a-lifetime viewing experience.
Festa del Redentore, Venice (July) If fireworks mean the 4th of July in the U.S., in Venice they mean la Festa del Redentore. Occurring on the third weekend of July, this much-loved festival hails the end of a killer plague in 1576. Venetians stream into St. Mark's Square or bob in decorated boats on Saturday night – awaiting a fireworks display that lasts up to an hour. Imagine the canals of Venice lit up by flickering fireworks.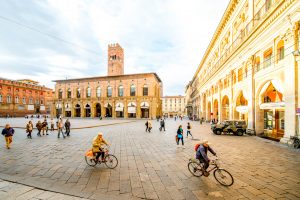 Festival of Rediscovered Films, Bologna (June & July)
Film fans go gaga for Bologna in the summer. It's home to Festival of Rediscovered Cinema. Taking place in the city's cinemas and squares, this feast of films honors the moving pictures – showcasing retouched films from decades past. At night, audiences can sit under the stars in the stunning Piazza Maggiore to watch the pictures of yore. Movie buffs will swoon for silent films, paired with music by Bologna's orchestra.
Il Palio, Siena (July 2nd  & Aug. 16th) Each summer, the city of Siena comes alive for the Palio.  With origins in the 1300s, the Palio is a horse race in Siena's main square – Piazza del Campo.  Seventeen neighborhoods – called contrade in Italian – vie to race. Only ten jockeys and horses, each from a different ward, run the Palio. Riding bareback, Palio participants sprint around the dirt-covered square three times. In the days before the event, the contrade host open-air banquets. Locals also partake in ceremonies like the "blessing of the horses."
"Born and raised in Turin, Laura Massoni helps travelers to explore the authentic Italy. You can learn more at seeitaly.com or by contacting her directly at laura@seeitalytravel.com"