When we think of sculpture and architecture in Italy, we think of Carrara, the main source of the marble that was the material of choice for Italian sculpture's great works, and the stone adorning the interiors and façades of Italy's palaces and cathedrals. When we visit Florence and pass by Filippo Brunelleschi's Basilica of San Lorenzo – the parish of the Medici family – and look up at its unfinished façade, we can feel the absence of Michelangelo's great marble façade, which he had designed for the basilica. Its piazza was once strewn with large blocks of Carrara marble.
Alas, the pope called him to Rome, and in time other artists and masons scavenged his marble for their sculptures and buildings.
However, when traveling in the Italian countryside and mountain regions, the careful traveler will notice in the small chapels of those seldom visited villages wood-carved crucifixes and images of saints. Lacking the funds for expensive marble or without skilled artisans trained in those famous workshops in larger Italian towns and cities, village elders hired local artists to carve wood images of the Madonna or the village's patron saint to adorn their chapels. Moreover, these works are often unsigned, a mute testimony to an artisanship nearly forgotten now. In the larger Italian cities, we don't often think of wood as a source of art, especially in Baroque Rome.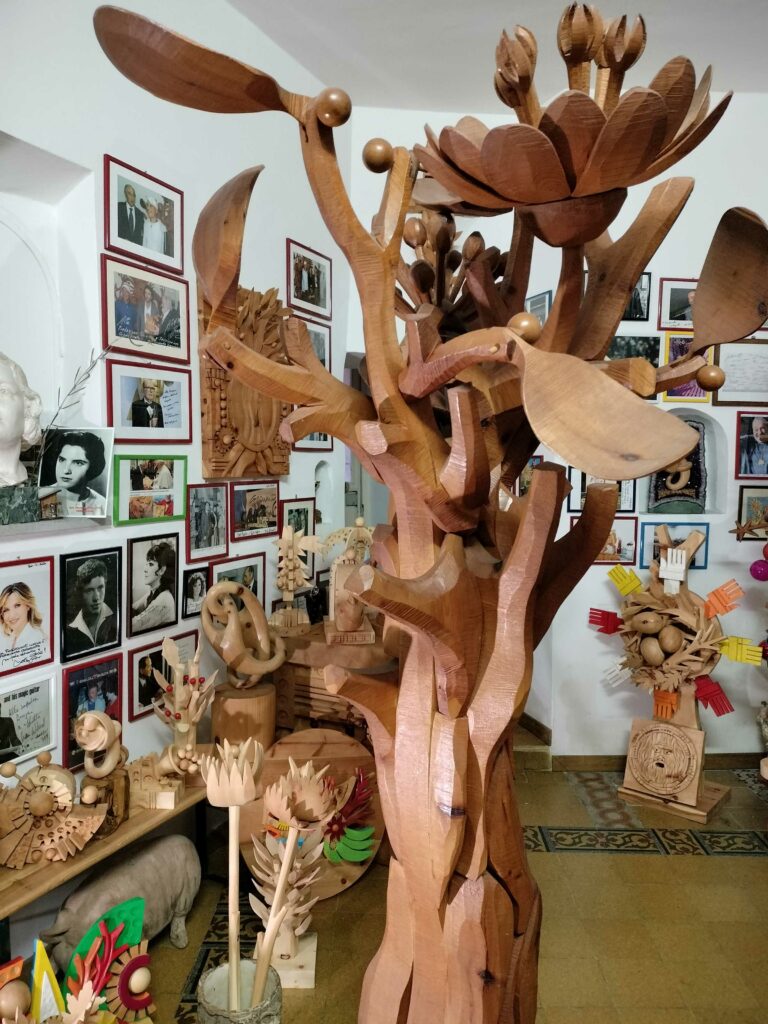 But there is one outstanding example not only of contemporary artisanship in wood but of high art and creativity, befitting Rome's most outstanding works, kept in museums and churches. Ferdinando Codognotto has been creating works of art in wood for more than seven decades. His studio and gallery are hidden in plain sight in the middle of Rome, on Via dei Pianellari, just steps from Piazza Navona and from Palazzo Altemps' renowned collection. On any afternoon he can be seen sitting in the doorway of his cluttered studio where he cordially greets visitors and passersby. He is an artist of infinite generosity and friendliness, who is willing to speak with any admirer of his art.
But lest we think that Codognotto is a hidden treasure, a visit to his studio reveals numerous articles attached to the walls showing that he has been honored by popes, prime ministers, presidents, and famous actors who have collected his work. In their online article on Codognotto, Michele Antonelli and Jacopo Vergari tell us that in 2015 the Fondazione Ferdinando and Luigina Codognotto was founded. Some of his most dramatic and largest works are in the gallery just steps away from his studio on Via dei Pianellari, where any visitor can enter. He is happy to give a tour when he is available. Vergari and Antonelli tell us that Codognotto chose wood because it was readily available, unlike the far more expensive marble.
With wood as his medium, Codognotto joins a time-honored tradition in Italy. It has been the source of artisan and artistic creations for centuries. In July, L'Italo-Americano published an article by Francesca Bezzone on the remèri, the makers of the wood oarlocks on Venetian gondolas sculpted by only a handful of them in their Venetian workshops: among them Saverio Pastor, who was interviewed. Art enthusiasts worldwide now collect Pastor's creative designs of this essential element on gondolas.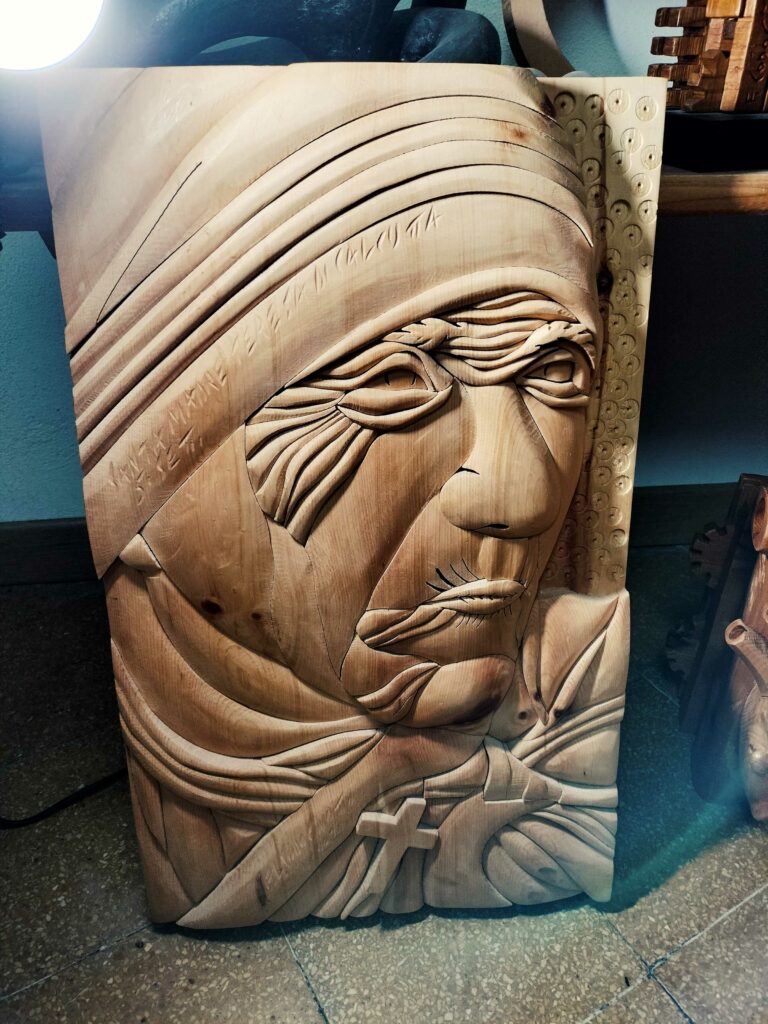 From Palermo to Milan, village churches display wood crucifixes in a variety of shades, depending on the wood they had at hand, that go from the starkly realistic to the abstract. Among Giotto's wood crosses, the most famous perhaps hangs in the nave of Santa Maria Novella in Florence. Just on the other side of the Arno, in a side chapel of Santo Spirito hangs the least known, and perhaps most controversial, of them all: a delicately carved crucifix purportedly sculpted by a young Michelangelo. In the Christmas issue of L'Italo-Americano, Barbara Minafra explained the rich artisan tradition represented by the artists who made the wood Presepe displayed this year in Saint Peter's Square. This is to say that Codognotto's sculptures are outstanding examples of a time-honored art form in the history of Italian culture. And let's not forget that a wood sculpture is the center of one of Italy's most enduring and world-famous narratives, Pinocchio, whose images are found just about everywhere in Italy.
Just steps from Codognotto's studio, the traveler can view his beautiful, delicately carved realistic relief of Padre Pio in a side altar in the Basilica di Sant'Agostino. A beautiful likeness of the saint, it sits near a Raffaello fresco on one of the church's pillars. Steps away in a side chapel hangs one of Caravaggio's most renowned paintings, the Madonna di Loreto.
Codognotto's style varies from realistic portraits to graceful curvilinear abstract representations of the human figure. Whatever form his works take, they are all intuitive creations, especially those larger pieces in the nearby gallery that interlock, have gears and hinges. They range in size from table-top sculptures to massive, abstract constructions spanning a dozen feet or more. He has done a creative model of the façade of the Church of San Giorgio in Velabro in Rome, a tribute to Italian socialism, dedicated to Bettino Craxi, and countless others, all of which can be viewed online with a Google search of his name. The catalog of his work is as expansive as it is timeless.
But in my judgment, the truly wonderful aspect of Codognotto's art is that it is not limited to churches and galleries. The true enjoyment of discovering his art is that once introduced to his sculptures at his gallery, the traveler will find his familiar style throughout Rome's streets and shops. He is truly a Roman treasure, creating art for virtually everyone who walks Rome's streets. Certainly, Codognotto brings a high seriousness to his art in his religious, social and political works. But he also expresses a sense of humor in his sculptures that never fails to bring a smile to the viewer.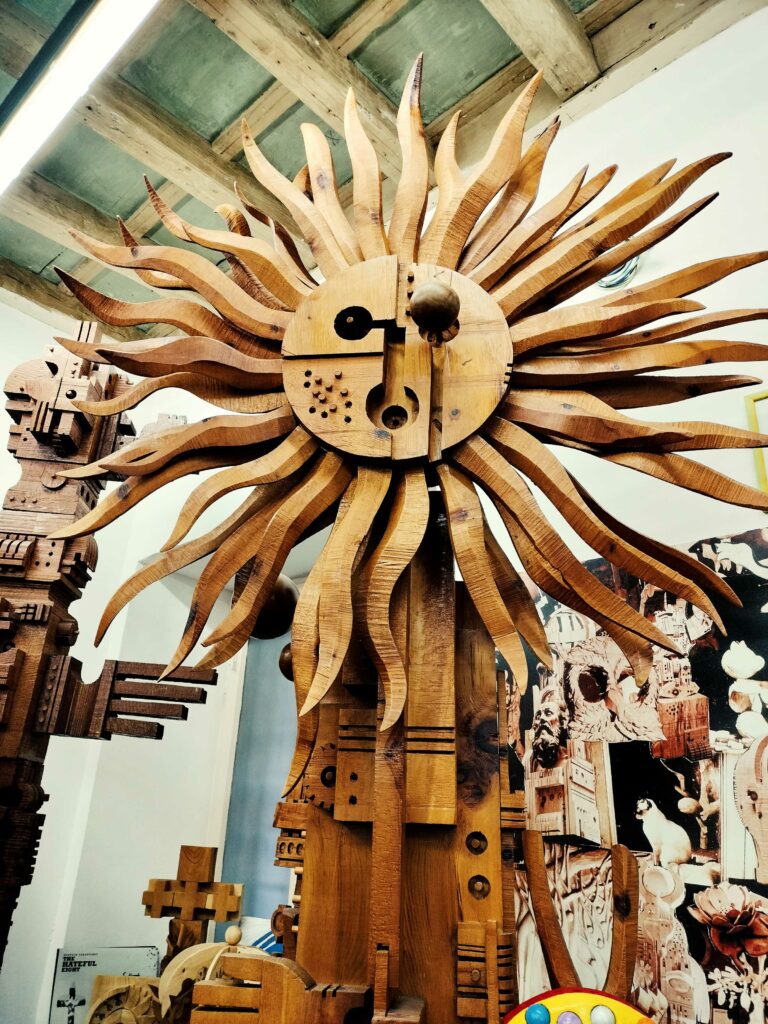 If travelers take the time to look closely in the windows and doorways of Rome's shops, they will be richly rewarded. At the corner of Via dei Pianellari and Via dei Portoghesi is Rome's oldest barber shop, Genco Sala da Barba. High on the exterior wall on Pianellari, Codognotto has provided a carefully carved pair of scissors and an antique shaver. Across from his studio on Pianellari are approximately thirty carved signs directing the traveler to Rome's sites. Among his more humorous expressions among the signs are images of a seagull with an arrow pointing up and another sculpture of a cinghiale, a wild boar, with an arrow pointing down to the street where cinghiali now regularly roam, even in the historic center. They have become both a problem for city officials and an amusement for residents.
In our favorite wine shop, Il Vinaio on Via dei Portoghesi, Codognotto sculpted a creative sign and abstract pomegranate tree that sits prominently in the middle of the shop. Around the corner, on Via della Campana, he has sculpted the name of the shop's dog, who sits prominently on a cabinet before the door where he inspects everyone who enters his domain. Around the corner on Via d'Ascanio, in the doorway of Coiffeur Brigida, is Codognotto's abstract sculpture of a well-coiffed woman adorned with flowers. The name of the shop is craftily carved in the body of the figure. He always brings a creative twist to his work that both surprises and delights the viewer.
Just down the street on Via dei Prefetti is our favorite pizza al taglio, (not to mention its exquisite daily pasta dishes, best-consumed road-side at a table on Prefetti). Codognotto has provided Pizzeria da Pasquale with a creatively sculpted rendition of the restaurant's name above the door. Among my favorite, not far away in Piazza delle Coppelle in the window of the famous Ristorante Maccheroni, is an oversized plate of rigatoni, replete with carefully carved ridges. It is impossible not to stop before this piece and wonder at its skillful carving while chuckling at Codognotto's sense of humor.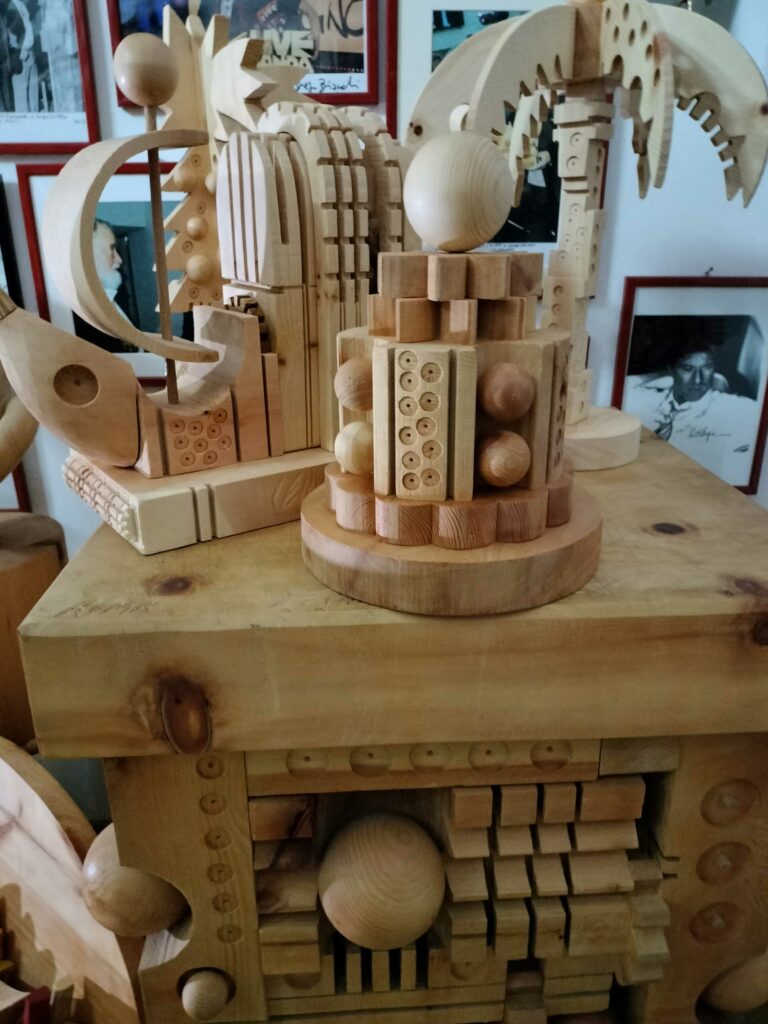 Codognotto is not only a consummate artist working in the refined tradition of Rome's great sculptors, he is a Roman treasure, an artist who has not only dedicated his life to his craft but who has brought his art to Rome's residents and visitors. If you miss a visit to his gallery or fail to experience his works throughout the historical center, you will miss an essential aspect of Roman life and culture.
Ken Scambray's most recent book is Italian Immigration in the American West: 1870-1940 (Univ. of Nevada Press).