The humble chickpea, a small yet mighty legume, has quietly shaped the culinary landscape of the Mediterranean for millennia. Its story is woven into the very history of the region itself, in a narrative of civilizations rising and falling, trade routes, and cultural exchanges. With their unassuming appearance chickpeas have been a staple in Mediterranean diets since ancient times, prized for their versatility, nutritional value, and the ease with which they grow in the region's varied climates. They found their way into a myriad of dishes, from hummus to the more intricate falafel, showcasing their ability to adapt and flourish in diverse culinary traditions.
But in our beloved country, chickpeas are known and loved also for their flour. Made by grinding dried beans, it possesses a unique flavor and texture that lends itself to an array of culinary creations. The versatility of chickpea flour is particularly evident in the assortment of regional dishes that evolved around it, each distinct in character yet linked by their shared main ingredient.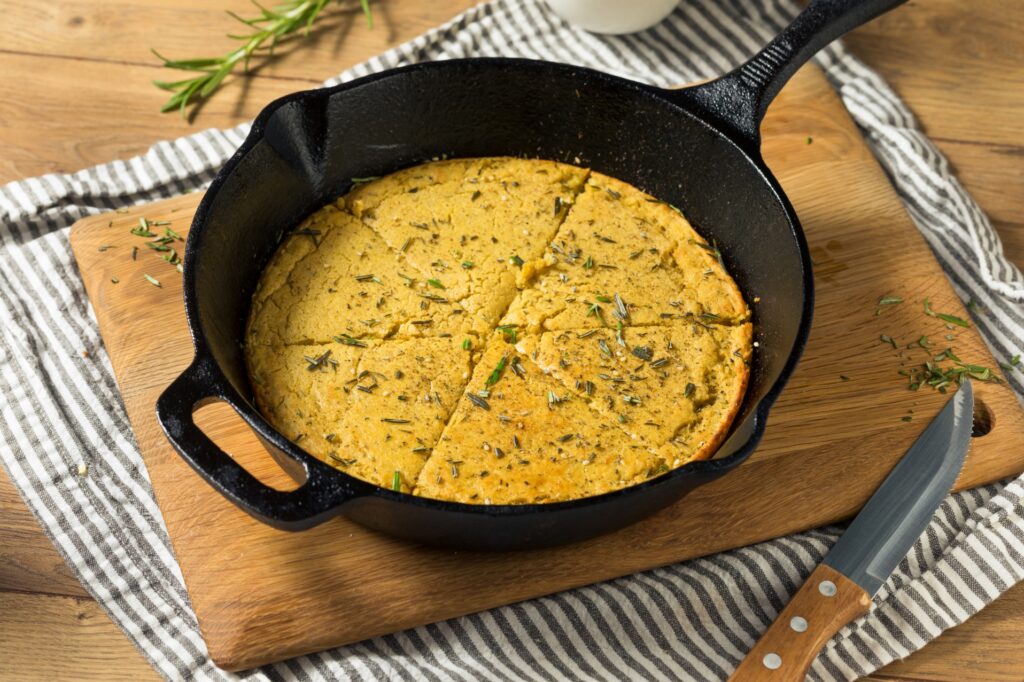 Leading the parade of these chickpea flour-based delicacies is farinata. I admit that farinata holds a special place in my heart because, while growing up, I would watch my father skillfully prepare it in our stone oven, alongside pizza and focaccia. These moments left an indelible mark on me and transformed farinata into both a favorite food and a cherished childhood memory. This simple, yet delectable dish, hailing from Liguria, exemplifies the rustic elegance of Italian cuisine, where minimal ingredients, when combined with traditional cooking methods, yield unsurpassable flavors. 
Truly, farinata is steeped in history and simplicity. This golden-brown delicacy likely has Roman roots, but legend has it that its invention came later, in 1284, and it was a serendipitous event: amid a storm, Genoese sailors accidentally mixed chickpeas with oil and saltwater so, in an attempt to salvage their provisions, they spread this mixture to dry, inadvertently creating the precursor to farinata. Others suggest Roman soldiers might have roasted chickpea flour on their shields, contributing to its origin story.
The essence of farinata lies in its modest ingredients – chickpea flour, water, olive oil, and salt. These elements are combined into a thin batter and then baked in large, round copper pans in a wood-fired oven. The cooking technique is crucial, yielding a crispy exterior and a creamy interior, striking a perfect balance of textures. Farinata is both gluten-free and vegan so, it's really perfect for most. While the fundamental recipe of farinata is consistent across Liguria, regional variations add local flair. In some areas, rosemary or onions are added for extra aroma and flavor, while others might finish it with a sprinkle of black pepper or a drizzle of olive oil, enhancing its rustic appeal.
Interestingly, and very much in line with Ligurian culture, which has always been based on sea trade and communications, farinata's charm extends beyond Ligurian borders, influencing Mediterranean cuisines in other areas.
But just like the bean from which it is made, chickpea flour is a staple in Mediterranean cuisines, too, which gives rise to an array of dishes across the Belpaese and beyond. Starting in Tuscany, we encounter cecina, a close relative to Liguria's farinata: like farinata, cecina is made from a straightforward mixture of chickpea flour, water, olive oil, and salt. Baked in a hot oven, it emerges as a thin, crispy pancake, often enjoyed simply, sometimes with a sprinkle of black pepper. Its simplicity is its hallmark, which very much reflects the Tuscan ethos of using quality ingredients to create unpretentious, flavorful dishes.
Crossing into France, in the sun-drenched city of Nice, we find socca, a perfect symbol of the transcultural journey of chickpea flour. Socca is the same as farinata and cecina in its basic composition and cooking method but is often served with a more generous helping of black pepper, aligning with local tastes. Enjoyed hot and fresh from street vendors, socca is a beloved snack, embodying the casual, convivial spirit of Niçoise cuisine.
Back in Liguria, panissa offers a different take on chickpea flour. In this variation, the flour is cooked into a thick porridge before being left to set. Once firm, it's cut into pieces and fried, resulting in a snack that's crisp on the outside and soft inside. This textural contrast sets panissa apart from its baked counterparts; in Genoa, it's a popular street food, often enjoyed as a quick, satisfying bite. Intriguingly, Nice also has its version, panisse, reflecting the shared culinary heritage across the Ligurian Sea.
Our journey culminates in Sicily with panelle, a dish that holds a mirror to the island's incredible history. Believed to have Arabic origins, panelle are small chickpea fritters, seasoned with salt, pepper, and parsley. They're typically fried until golden and served either on their own or as a filling for sandwiches, notably in the iconic pane e panelle, a staple of Palermo's street food scene. Panelle encapsulate Sicily's ability to integrate diverse influences into its cuisine to create something both distinctive and deeply rooted in the island's culinary identity.
From farinata to panelle, these dishes, while united by their main ingredient, tell a story of regional identity and culinary ingenuity. They demonstrate how an unpretentious ingredient like chickpea flour can be the foundation for a rich array of traditional pietanze, each connected with the flavors and history of its region. At the same time, they also embody the simplicity and ingenuity of Mediterranean cuisine, where each ingredient tells a story and illustrates how anything, even the simplest bean, can be elevated into something both culturally significant and delicious.
The journey of farinata from simple sailor food to an icon of Ligurian cuisine is shared by all of its "cousins" around the peninsula and underscores the enduring appeal of Italian cuisine: a celebration of simplicity and quality to create dishes that are, at once, humble and truly extraordinary.