Time machines — how many of us have imagined strapping into one, flipping a few switches to then find ourselves whisked into a whirling vortex — finally plopped into some ancient land of long ago? Only in our dreams or a good movie would this be possible, but there does exist one such place that is as close to a real-time machine as we might ever experience: Turin's Museo Egizio – or Egyptian Museum.
Museo Egizio holds the honor of housing the largest collection of ancient Egyptian statuary and artifacts second only to Cairo. "But why Turin?" many a visitor asks…including myself. The seed was planted in 1630 with the arrival in Turin of the elaborately inlaid Bembine Table of Isis, an early Roman period relic made in stylized Egyptian form. A little over a hundred years later, King Charles Emmanuel III became fascinated with the piece, prompting commission in 1753 of archeologist Vitaliano Donati to acquire Egyptian relics. Three hundred pieces later, the foundation of the museum had been laid.
By 1824, the amassed antiquities grew to include over 5,000 objects collected by Consul Bernardino Drovetti during his service in Egypt — it was time to open a museum! The initial collection found its home in the heart of Turin, housed in the elegant Palazzo dell'Accademia delle Scienze. Hieroglyphic code-cracker Jean-François Champollion's famous declaration "The path to Memphis and Thebes passes through Turin" proclaimed the remarkable collection now open to the public.
Impressive accumulations followed. A private stockpile of more than 1,200 items was purchased from collector Giuseppe Sossio in 1833, with other private additions to follow. Perhaps the largest and most spectacular accrual was from Egyptologist Ernesto Schiaparelli. His twelve expeditions between 1900 and 1920 reaped an impressive number of finds including two intact tombs.
Despite its extraordinary offerings, the museum's appeal had faded by the turn of the millennium, save for academics coming to study. As cramped, dusty and outdated as a forgotten mummy, the museum desperately needed a facelift. A novel pathway was chosen by the Italian government: privatization via a foundation. City, regional, and business entities came together in 2012 and grabbed the reins: the race against a thousand-day deadline with a fifty million euro budget had begun.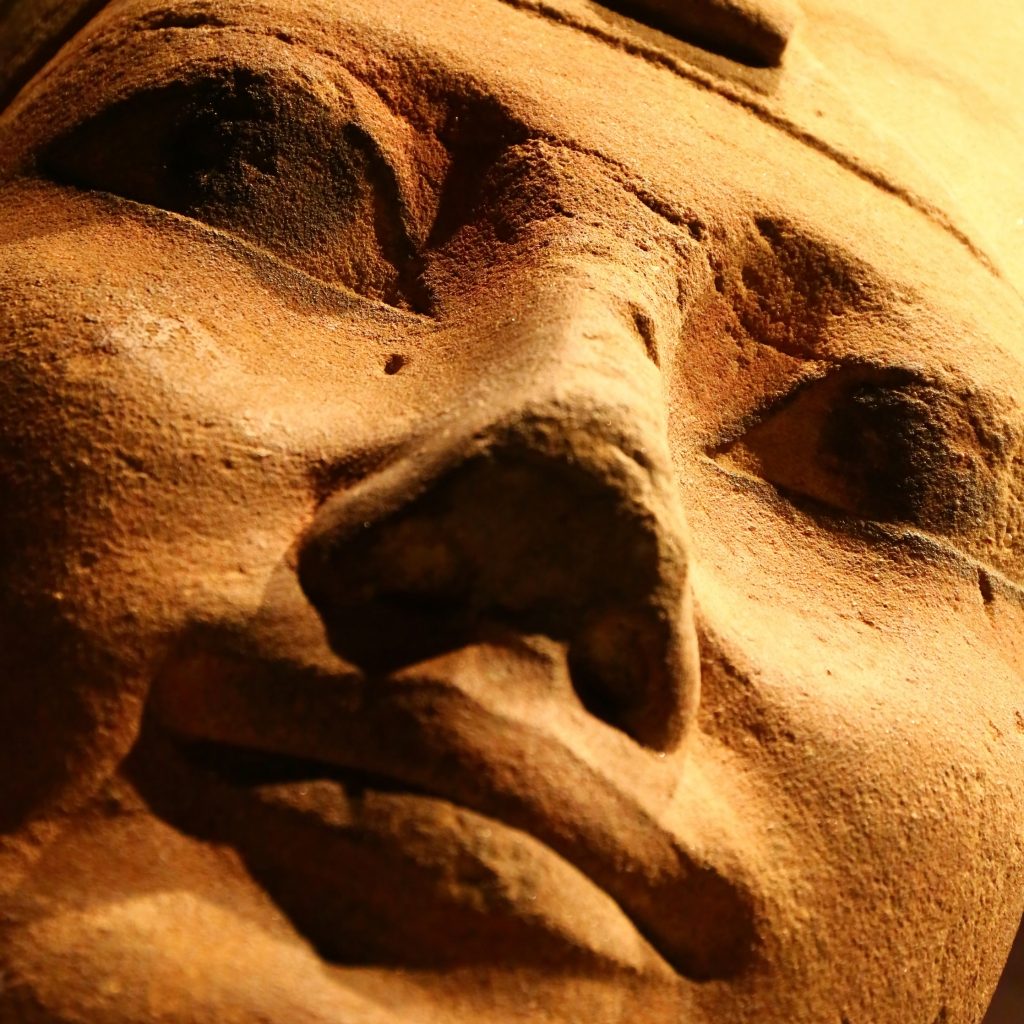 What awaited my visit to Turin's Egyptian Museum is testament to a magnificent vision of what-could-be that came-to-be. Re-opened in 2015 after extensive renovation and redesign, space has doubled to enable display of over 6,500 objects ranging from massive statues to the tiniest of everyday objects. It's an exhilarating ride through roughly 7,000 years of Egyptian life.
Two massive lion god statues stand guard at the dignified entrance, omens to the wonders that await. Once tickets and audio-guide headsets (a must) are procured, the well-laid-out journey begins. All in chronological order, the initial displays begin during pre-Pharaonic 4th century BC. Emotions are immediately gripped as one gazes at a 7,000-year-old desiccated fetal-position body placed respectfully in a circular display mimicking the burial hole. A scattering of objects surrounds it, positioned as they had been originally found. His intact skin, fingernails, possibly even an expression on his face, create wonder and reverence and awe. My thoughts raced…What was his life like? Who did he love? What made him smile? Throughout the museum, questions such as these linger as this ancient civilization comes to life.
The entire museum and its vast collection are magnificent. However, several highlights leave one in almost reverent silence for the opportunity to have witnessed them. And Ernesto Schiaparelli is to thank.
Not only an Egyptologist whose expeditions wrought massive historical finds, Schiaparelli was also the museum's curator from 1894 until his death in 1928. His discovery of three intact tombs remains a crowning moment in the world of archeology. Concentrating his focus on Deir el-Medina on the west bank at Luxor, and Gebelein, about 15 miles south of Luxor, Schiaparelli unearthed here the first of his important finds: the Tomb of the Unknown. Virginio Rosa, Schiaparelli's young assistant, meticulously hand-drew the uncovered tomb, as well as the findings. The entire tomb and its contents have been re-erected in the museum due only to Rosa's work. Although not the glitz and glamour of Tutankhamen's resting place, this tomb gave up fascinating everyday goods such as furniture and objects of daily life, all at the ready for the afterlife.
Schiaparelli's second discovery revealed the temple of Iti, a high-ranking official, and his wife Neferu, a couple who lived during the First Intermediate Period (2118 – 1980 BC). Perhaps most notable are the fabulous wall paintings that were carefully removed and are now displayed in the museum. Remarkably vibrant, these murals illustrate daily life, stubborn donkeys and all. It's a marvelous thing to see how appreciably alike we are, despite the passage of time and difference in culture.
The most profound and exceptional find for Schiaparelli — and possibly the most memorable display in the Egyptian Museum — was the tomb of Kha and his wife Merit. Kha was an important figure, the Director of Works during three administrations of the New Kingdom (1428 – 1351 BC). This tomb was found in 1906, untouched and unseen by humans since the floor was last swept and the door sealed shut.
The wing containing Kha and Merit's life is phenomenal, as close to a time machine as we'll know outside of fantasy. The coffins, multi-layered like Russian nesting dolls, are elaborate and elegant, the paint and details as fresh as the day they were set in place. Perhaps most sensational, however, are the objects of everyday life. Display after display treats us to personal belongings: bedroom furniture, grooming paraphernalia, makeup bottles still holding Merit's night creams and ointments, jewelry, clothing. Afterlife snacks sit in bowls, dried but recognizable as fruits and nuts. Merit's human hair wigs look as if made yesterday and ready for wearing. Over sixty pairs of underworld briefs sit folded and ready for Kha's afterlife comfort.
Other museum highlights include the Papyrus Gallery and its most coveted treasure, a complete listing of the Kings of ancient Egypt. The massive Royal Gallery, a dazzling, mirrored room filled with massive statuary, is towards the end of the exhibits. Perhaps it should be placed earlier in the tour, I pondered. I was beyond saturated at this point, almost unable to grasp the glories of these ancient monstrosities that sat directly in front of me.
I can't fail to mention the amazing 3-D and high-tech displays placed throughout the museum. Planners did well to bring the advantages of modern technology onboard to further open a magic time machine window, allowing us to feel as if we've not just toured a museum, but become personally acquainted with a magnificent culture and people lost to the annals of time.