"Sweetie, where are you going on that bike?"
If you like oldies made in Italy, you are probably familiar with the refrain from the 1951's eponymous song, Bellezza in Bicicletta – incidentally, an interesting story, that of this song, but we'll leave it for another time!
Cycling is more than a healthy way to move around, it's the perfect way to discover new places at a nice pace, more in tune with natural and personal rhythms. While we are used to the idea of biking around the countryside to discover the beauties of our environment, we tend to forget that good old biciclette are a great way to explore towns and cities, too.
Recently, I've come across an interesting article on our national agency for tourism's website (ENIT), where they put together some of the best places to discover riding a bike. Here, I propose my favorites, leaving to you the pleasure to discover the rest of the suggested destinations directly at www.italia.it/it/otto-citta-darte-italiane-da-scoprire-in-bicicletta.
Let's begin!
Ferrara
No article about biking in the city would be complete without Ferrara, a place known lovingly as "the city of bicycles." Ferrara is also historically defined as the first modern European city, with reference to its economic, artistic and cultural growth under the Este family dominance. Its city centre is part of the UNESCO World Heritage, including famous landmarks such as the Estense Castle, the Palazzo Municipale, the Palazzo dei Diamanti – the "diamonds' palace," called so because of the particular texture of its outer walls – and the beautiful San Giorgio Cathedral. The relationship between Ferrara and bikes goes back to 1908, when the first bicycle lane was created. Today, a third of Ferraresi moves around town on a bike, so there is plenty of places where you can rent them and plenty of itineraries through the center you can follow, without any fear of being the only one pedaling away!
But Ferrara is also a great starting point for out-of-town bike excursions, because of the nearby Parco del Delta del Po, where there are plenty of walking and cycling itineraries to follow. You can find out more about the park at www.ferraraterraeacqua.it.
Lucca
I am quite sure I may have already disclosed to you my undying love for Lucca before. It was one of the first art cities I visited as a child, and it hands down remains one of my favorite destinations. It is understated, elegant and neither too small nor too big: just perfect. I also like the fact it is the birthplace of two of my favorite Italians: Giacomo Puccini and… Damiano Carrara, the pastry chef popular also in LA!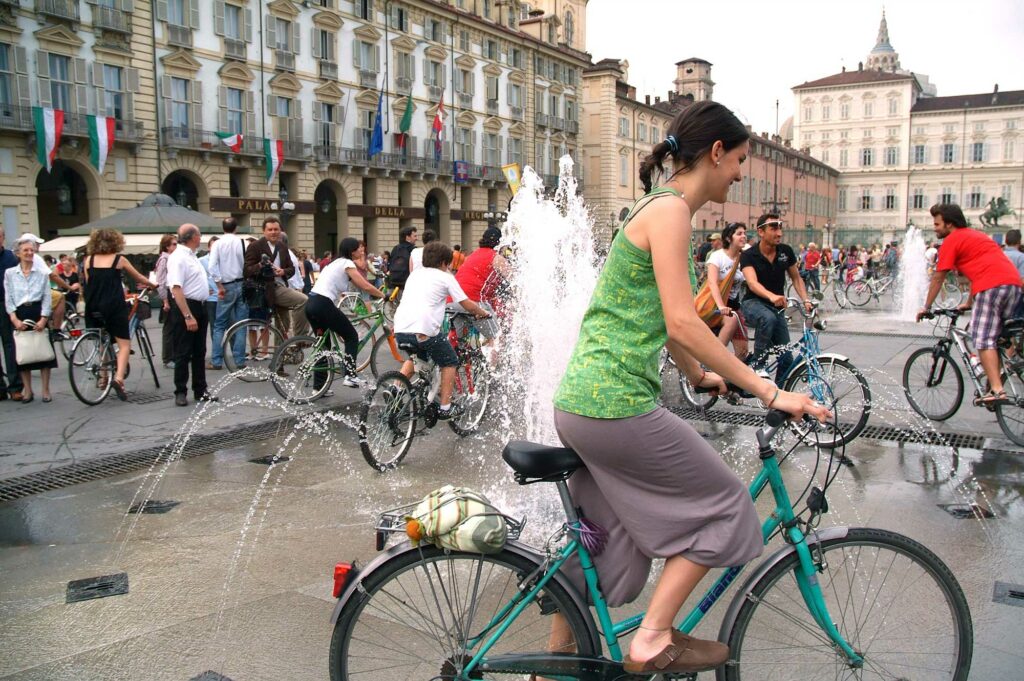 Lucca's entire historical center is closed to traffic, therefore absolutely perfect to be explored by bike – and on foot, of course, if that's what you fancy. You can cycle between Piazza dell'Anfiteatro, the Torre dell'Orologio and Palazzo Ducale, then reach Piazza San Michele with its Duomo.
But the most bike-friendly and unique experience to enjoy in Lucca is the bike tour of its historical walls: perfectly preserved since 16th/17th century. They stretch around the city center for 4.5 km (around 2 miles), which are fully cyclable; and if you fancy stopping for a coffee in town, you can, because there are several "discese" to connect the walls' top to the center.
Just like Ferrara, Lucca can also be a great place to discover the surrounding countryside, especially traditional country churches and ancient villas, like Villa Oliva and Villa Gabrau.
Pesaro
Pesaro has been recently selected as the Italian Capital of Culture for 2024, so we had to include it in the list! The Marche town counts just under 100,000 residents is known, beside its artistic beauty, Gioacchino Rossini and its beaches, also for having developed a cyclist-friendly initiative called Bicipolitana, a system of cycling lanes structured in a variety of lines, just like the metro. For instance, the blue line joins the port to Fosso Sejore, while the green will bring you from Baia Flaminia to Borgo Santa Maria, along the Foglia River. If it's the city center proper you want to learn about, then follow line 1, that runs through Piazza del Popolo and leads to Parco Miralfiore, passing by Gioacchino Rossini's birth place.
At the moment, the Bicipolitana has 12 lines, but there are more under development.
Ciclovia Spoleto-Norcia-Assisi
You can bring together love of arts, spirituality and nature with the Spoleto-Norcia-Assisi cycling trail – or ciclovia, to say it in Italian. The ciclovia is formed by two sections, one joining Spoleto to Assisi and the other – which follows the itinerary of the old homonymous rail line – joining Spoleto to Norcia. Each section covers about 50 km, with the first being a tad easier to cycles, as it runs mostly through flat lands.
If you like the idea of a more adventurous itinerary, go for the Spoleto-Norcia section, where you'll find dirt roads and hills to keep you entertained. Needless to say, the landscape is absolutely breathtaking whichever way you decided to go.