The laurel plant, or laurus as it is known in Latin, is a symbol of triumph and honor, a plant of divine origins that found its way into our kitchens and our traditions. But have you ever wondered about the journey of this evergreen plant, from the ancient myths of Athens and Rome to our modern-day culinary practices? Let's delve into the rich history and versatile uses of this remarkable plant.
It is native to the Mediterranean and mirrors the region's rich biodiversity. Its leathery, elongated leaves, which can be harvested in any season, are not only visually beautiful but also packed with flavor. Whether used fresh, with their intense aroma, or dried, with a subtler scent, laurel leaves have become an indispensable part of Mediterranean cuisine.
Our beloved laurel is solidly rooted in the soil of our history and heritage and holds a significant place in the traditions of the whole Mediterranean.
In ancient Greece, laurel wreaths were used to crown victors in the Pythian games, a precursor to the modern Olympics, as a tribute to Apollo: legends say that Apollo, the god of poetry and music, fell in love with the nymph Daphne who, while fleeing from his advances, was transformed into a laurel tree by Mother Earth. From that moment, laurel became sacred to Apollo, and poets crowned with it were known as "laureate poets." By the way, Daphne's metamorphosis was beautifully captured by Bernini in a statue today exhibited at Villa Borghese in Rome.
In Rome, the laurel plant held a position of high esteem and was deeply intertwined with the city's political, intellectual, and social life. Emperors, generals, and poets were often depicted with a laurel wreath, a symbol of victory, intellectual prowess, and divine protection. The laurel wreath was not merely an adornment but a powerful emblem that conferred status and respect. Roman emperors, for instance, were often crowned with a laurel wreath during their coronation ceremonies: this was a symbolic act, signifying the divine favor and protection bestowed upon them. Laurel was a visual reminder of the emperor's divine mandate and his duty to lead and protect the Roman people.
Similarly, Roman generals, upon their triumphant return from battle, were honored with a laurel wreath, not only to celebrate their military success but also to recognize their courage, strategic acumen, and leadership. Even today, the expression "resting on one's laurels," which is used to describe someone relying on their past achievements rather than striving for future goals, is a nod to the laurel's association with victory and honor in ancient Rome.
In the realm of arts and literature, poets were often depicted with a laurel wreath symbolizing their intellectual prowess and creative genius, an association derived, as we already mentioned, from the connection between Apollo and the laurel. The term "poet laureate," which is still used today to denote a poet officially appointed by a government or conferring institution, has its origins in this Roman tradition.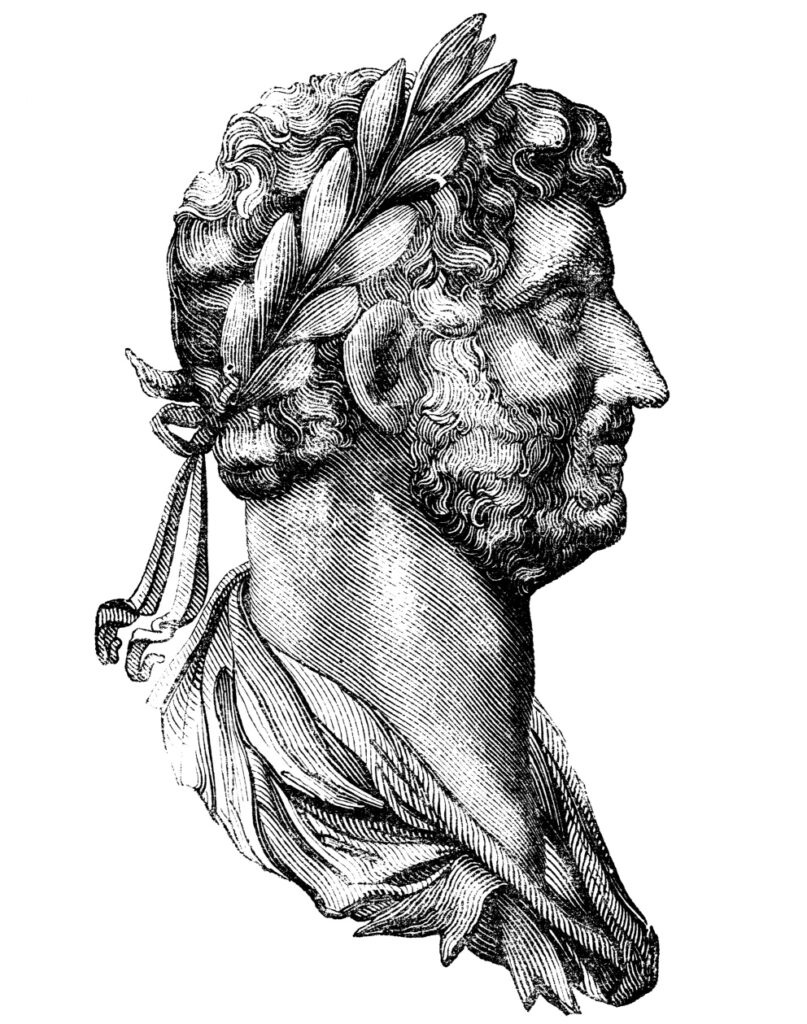 But this ubiquitous tree is not just a symbol of poetic achievement. It is a plant with many uses. Its leaves, rich in essential oils like geraniol, terpineol, and eucalyptol, are known to alleviate stomach disorders, reduce the discomfort of coughs and catarrh, and also have antiseptic, antioxidant, and anti-inflammatory properties. Indeed, laurel has been a staple in traditional remedies for centuries and even today, in an age dominated by modern medicine, these time-honored uses of laurel continue to hold relevance in many a family.
In the culinary world, the laurel plant well represents the ingenuity and resourcefulness of Mediterranean cultures. Its rich flavor and aromatic properties make it a versatile ingredient, capable of transforming the simplest of dishes. From the hearty stews of Italy to the flavorful soups of Greece, laurel leaves add a depth of flavor that is hard to replicate. It is often used to prepare court bouillon, flavor beans, or lentils, and is particularly suited for seafood dishes. The leaves also pair well with boiled chestnuts, artichokes in oil, and baked potatoes.
But the culinary journey of laurel doesn't end there, as we can learn in an interesting article by Cristina Gambarini from La Cucina Italiana. For instance, have you ever thought of using laurel-flavored vinegar to perfume your salads or give an extra touch to creams and sauces? It's a simple process that requires a little patience but rewards you with a truly unique ingredient: heat a liter of white wine vinegar, infuse it with 15 fresh laurel leaves, and leave it in the sun for three weeks. The result is a flavorful vinegar that adds a unique twist to your dishes.
And for those who enjoy – or need! – a good digestive, why not try a laurel infusion? Simply infuse five or six laurel leaves in boiling water and let them macerate for about ten minutes. The result is a natural remedy very helpful for digestion. Some also add the rind of a lemon to the boiling water, an antidote particularly helpful when you indulged in food a bit too much. For those who prefer something stronger, a laurel rosolio is an excellent choice: this liquor, prepared with laurel leaves, sugar, and pure alcohol, is a delightful way to end a meal.
The laurel plant's journey from ancient myths to our modern kitchens is a story of resilience and adaptability, a story that reflects the enduring appeal of this remarkable plant. Whether it's the laurel wreaths of ancient Greece, the medicinal remedies of traditional healers, or the flavorful dishes of Mediterranean cuisine, laurel proved its worth time and again. And it doesn't really matter if you're a seasoned chef or a home cook, some laurel leaves will always bring the taste of the Mediterranean and, why not, a touch of divine to your everyday meals.