Elephants, the gentle giants of the animal kingdom, are today found only in two places in the world, Africa and South-East Asia. But did you know that, a long time ago during prehistory, there were elephants in Sicily, too?
Yes, these beautiful animals of the elephantidae family used to be quite common around the Mediterranean. The Sicilian dwarf elephant, whose scientific name is elephas falconeri, was one of the main inhabitants of the island before Man took residence, around 11,000 years ago. We don't really know how elephants made it to Sicily, but scientists speculate that, possibly, they crossed to the island either by swimming or during a time when sea level was much lower: the idea of them swimming shouldn't surprise you, as elephants are still known for taking to the water quite happily today.
 It seems the  tiny elephant, that reached about 1 meter in height at the shoulder, evolved from the much larger straight-tusked elephant (elephas antiquus), a giant that roamed Europe up to 11,500 years ago. At 10 tonnes, this was a huge animal for a relatively small island such as Sicily: elephants are big eaters — they need around 400 lbs of food daily to survive — and  the main way they have to source food is to roam around, changing habitats on a regular basis. Clearly, this wasn't possible in Sicily, a land surrounded by water, which meant straight-tusked elephants would have soon run out of food — and left Sicily as dry as an old bone. Enters evolution: to better adapt to their new environment, straight-tusked elephants reduced in size generation after generation, following what is normally known as "the island rule," an evolutionary phenomenon common in every part of the world, wherever animals reside on isolated areas, separated by water from the mainland. Just to give you an example, the shrinking of Sicilian elephants is the same process that reduced the size of the hominids who managed to reach Flores, in Indonesia, and lived there between 190,000 and 50,000 years ago, when modern humans arrived. Flores men were only about 1 meter high (around 3 ft) and their size diminished to increase their chances of survival in a small habitat, where food could have soon become scarce.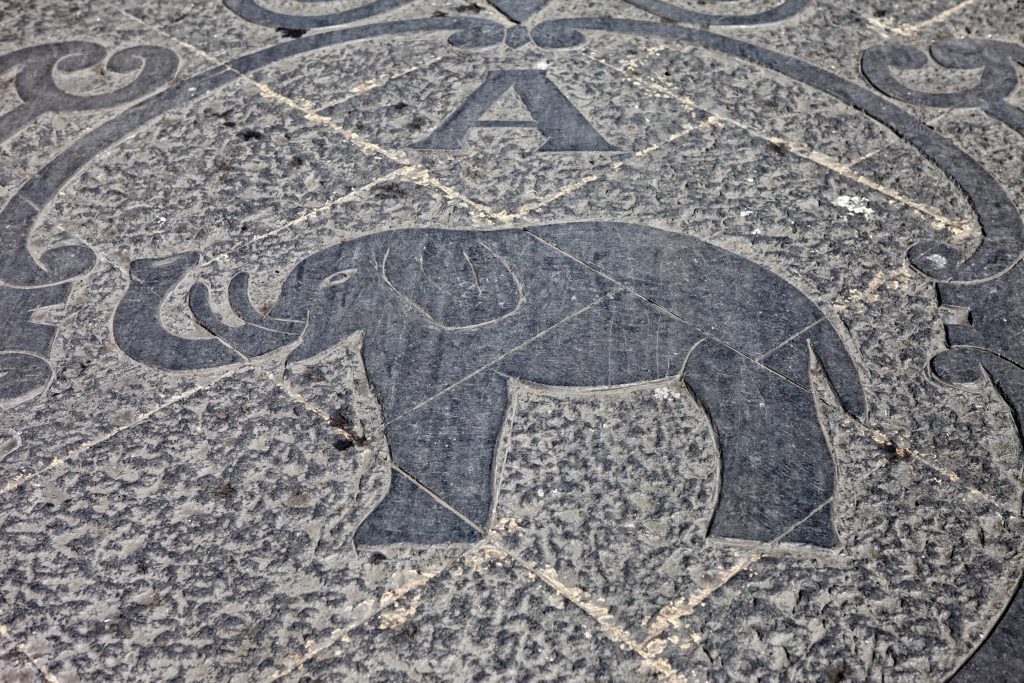 Experts came to the conclusion that miniaturization probably was complete relatively quickly, in order to allow the species to survive.
But what did the Sicilian dwarf elephant look like?
Well, as they disappeared 10,000 years ago, we can't really say for sure, but enough bones have been found to understand, at least, how big they were: adult males probably reached a shoulder height of 3.2 ft and weighed around 670 lbs, while adult females were slightly smaller, with a height of 2.8 ft and a weight of 370 lbs.
Sicily's little elephant went extinct around 10,000 years ago, after 1000 years sharing its habitat with another very hungry mammal: Man.
Recently, scientists managed to retrieve and analyze a Sicilian dwarf elephant's DNA for the first time. Mitochondrial DNA was extracted and sequenced from a skull found in a cave in Puntali, Sicily. But it isn't the elephas falconeri we are talking about, but yet another species, the elephas mnaidriensis, which came before the elephas falconeri and was considerably larger, even if much smaller than the straight-tusked elephant: it had a shoulder height of about 5.9 ft and a weight of about 2,400 lbs. Both the Puntali elephant and the Sicilian dwarf elephant evolved from the same ancestor, the straight-tusked giant.
And so, we found out that, among the many beautiful things in Sicily, once upon a time, there were also elephants: what a quirky idea, isn't it, that of seeing elephants as small as a Shetland pony roam the Sicilian countryside!