Thanks to months of rigorous lockdown, continuous monitoring and strict regulations, Italy is finally able to return to some sort of normality after Covid-19 hit its shores last February. This is truly great news for all Italians, who are able to enjoy at least some of their favorite activities: dining out, aperitivi and, considering we're in the right season, trips to the beach.
While our medical and scientific experts are adamant that the emergency is not over and that maintaining our guard high is crucial, the reduction of the virus' diffusion is essential also to allow the economy to gain back, at least in part, what has been fatally lost since the beginning of 2020.
Tourism, as we had the occasion to mention in other articles, particularly suffered and the sector hopes to pick up some momentum in the summer months, thanks especially to national travelers; but with borders open — for the moment only to EU countries but soon, probably, also to other parts of the world — we should think also to our international visitors, who are likely wondering which areas of Italy are safer to visit.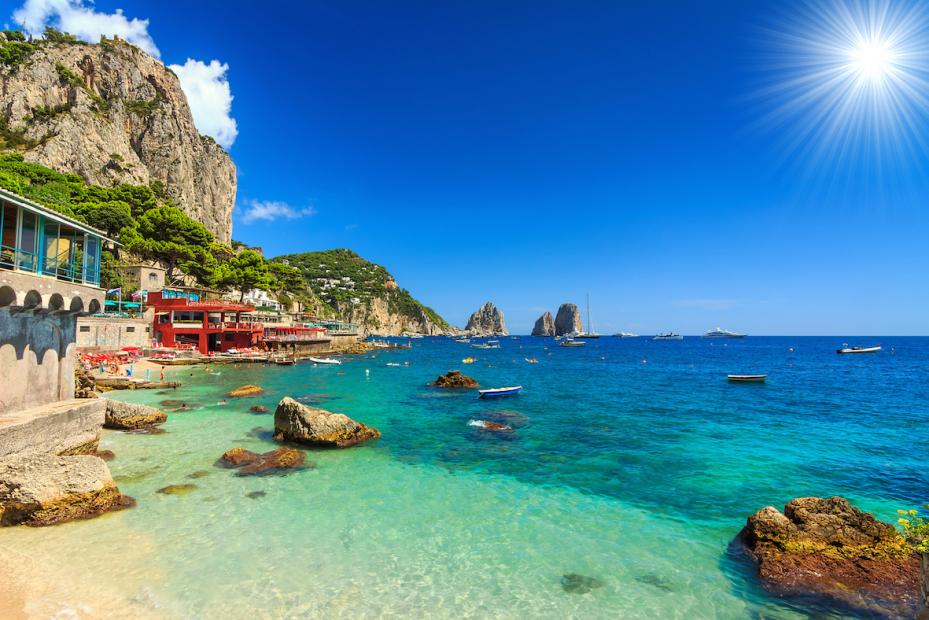 Let's begin with some reassuring news: the whole country is now a safe place to travel to, although precautions must be taken, as everywhere else in the world. Social distancing, hand washing and wearing face masks is — and must remain — a mantra these days, whether you're going on holiday or simply down the store to get a pint of milk. That said, we can begin enjoying il Bel Paese with a tad more tranquillity: first of all, all stores, restaurants and cafés have been complying with new regulations and making it quite simple for us costumers to keep safe. Al fresco seats have increased, tables indoor have diminished, free hand sanitizer and gloves are available outside all stores and community face masks are sold a bit everywhere. Are Italians complying with all regulation? Well…on average, yes.
Latest data show that in 11 regions of Italy (Veneto, Friuli Venezia-Giulia, Tuscany, Umbria, Abruzzo, Molise, Campania, Puglia, Basilicata, Sicily and Sardinia) both prevalence and the weekly number of new cases is below national average. In 7 regions (Valle d'Aosta, Liguria, Emilia-Romagna, Marche and Trentino Alto-Adige), prevalence is above national average, but cases are strongly diminishing. In Lazio and Calabria, the weekly number of cases is above national average, but prevalence remains below, while in Lombardia, which is still the most hit area in Italy, both weekly infections and prevalence are above national average.
The vast majority of daily new infections comes, indeed, from Lombardia: on the 21st of June, there were 224 new cases, 118 of which in Lombardia. Piemonte and Emilia Romagna followed with just above 20 cases each, then the rest of the country with numbers all below 10. 7 regions (Basilicata, Molise, Valle d'Aosta, Sardegna, Umbria, Marche and Abruzzo) had no new cases at all.
More in general, it has become evident that less densely populated areas have not only been less touched by the epidemic, but are also, today, at much lower risk: I can bring in, as an example, the province of Cuneo, in southern Piemonte, where I am from. Here, prevalence remained low throughout the emergency, because of the relatively low population density of the territory. This is confirmed by how regions with low population density such as Basilicata and Molise registered the lowest levels of infection. The same could be said for Sardinia and rural Tuscany or Umbria which are all, by the way, pretty popular tourist destinations.
So, where should we go to be safe?
Truth is, and we have to be honest here, il virus is still among us and, while it appears to be less aggressive, there is not enough research to scientifically prove it. The little spiky fella is here to stay and we better get used to it. This doesn't mean, however, that we cannot return to do what we most love, including traveling, provided we follow closely all the indication given by the WHO and our governments: it isn't simple, to get used to new routines, but we are resilient and adaptable, and wearing a mask when we go around town is not the end of the world, right?
That said, Italy is now considered a safe place to travel to, although some margins of risk remain, just as everywhere else in the world. If you want to stay on the safer side, then you should pick slow tourism over mass tourism, choosing lesser known areas and rural spots, rather than large cities. To be honest, though, the level of control and attention to regulations are so high all over the country you can quite happily book that trip to Rome without fears, if that's where your heart is set.
Until a vaccine is found, or Sars-CoV-2 looses its aggressiveness, we'll have to accept that our lives won't be quite the same and that no place will be 100% safe: but we can protect ourselves and our families and friends with simple habits and still take joy in what we like and love. Italy is here, awaiting for everyone to return. The world changed, we changed, but our country's remains the same: beautiful, ageless and welcoming.