It was a clear, sunny March day in Castellina in Chianti: Spring had just sprung, but inside the town's ancient church, we could see the fog of our breath hanging in the air.
As we stepped outside, we saw Laura walking up to meet us. Though we'd met her before, this was a new context: as "students" in one of her cooking classes at a Chianti winery just a few minutes north of town. Today's first "lesson" was to meet her at the church and then shop for the day's ingredients.
At the macelleria, we were the only customers in the shop. After we purchased the pork loin and some pancetta for one of the dishes we'd be making, we asked Laura and the butcher about cinghiale—the wild boar found on every menu in Toscana but somehow never found in butcher shops. This led to an impromptu "symposium" on the subject, about which both of them are passionate (the upshot: it helps if you know a hunter).
After our shopping, it was only a 10-minute drive from town to the vineyards of Querceto di Castellina. The property has been in Laura's family since just after the Second World War, when her father turned it into a farming estate. Laura and her husband expanded the buildings in 1988 to create an agriturismo. In 1998, her son Jacopo expanded the cultivation of the vast acreage for organic wine production. Jacopo's wife Mary, a New York native, now works with Jacopo to run the guest side of the estate, conducting tour visits and offering wine tasting lunches in their impossibly beautiful setting. Jacopo's brother Filippo now oversees the agriturismo.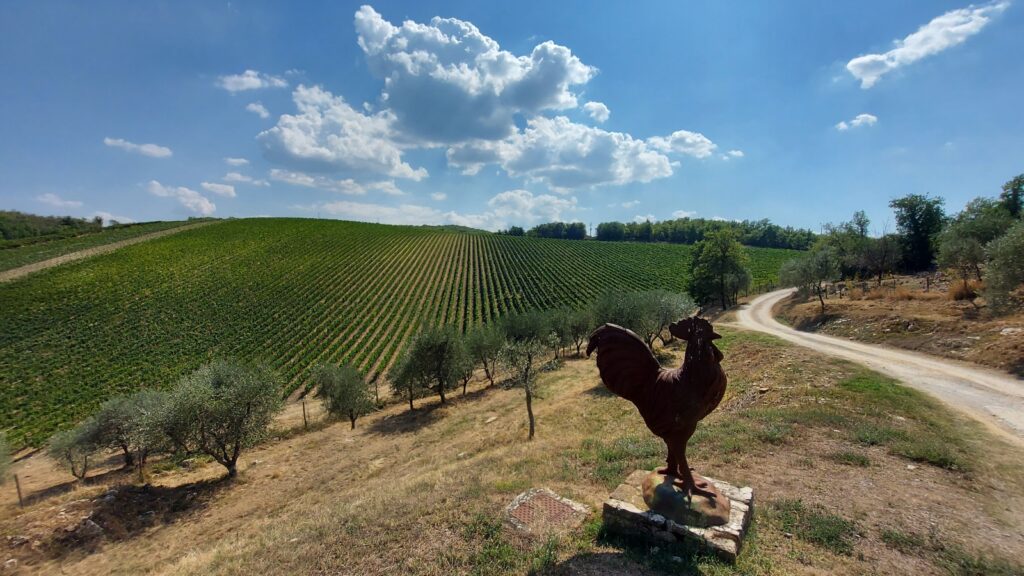 We've visited countless vineyards over the years of visiting (and now living in) Italy, but this place is extraordinarily breathtaking. Laura's house, where the cooking class takes place, sits at the top of the estate, commanding 360-degree views of rolling vine-covered hills and distant castles: it has a certain special quietness that's only found in places far removed from the bustle of even small towns.
We had asked Laura in advance if our class could focus on artichokes: we really wanted to learn how to clean and prepare these spiny but delicious vegetables without the risk of driving a knife through our hands —we are professional musicians, after all! She had prepared a menu including two dishes that used two different varieties, as well as the meat and pasta courses. Laura started her cooking school decades ago, along with the agriturismo; she has developed her knowledge and expertise in Tuscan traditions over decades, cooking with the women of her family and her husband's. Having one-on-one time with her in her kitchen was like getting a master class in traditional cooking from several generations of Tuscan nonnas.
As we worked in the kitchen, which is decorated with dozens of representations of owls, we asked her one question after another, about cooking and otherwise. What knives do we use for which type of work? How did she meet her husband (Giorgio, an architect who designed many of the buildings on the current estate)? Who started the family's fascination with owls? What was Tuscany like fifty years ago? Which varieties of artichoke were good for which dishes? How much oil or salt, or flour should we put in the pan or in the cooking water? (The answer often being "quanto basta, literally "how much is enough").
Laura is accustomed to conducting her classes in English, but our moderately functional Italian skills allowed us to switch back and forth. Often she'd relay a funny anecdote in Italian, only to laugh so much at her own story that her voice bubbled up into an adorable falsetto toward the end of a sentence —these moments stretched our comprehension boundaries, but they were incredibly endearing. At one point she explained to us that "mangione" is a slang term for "someone who eats too much." She had a good laugh when we told her that, ironically, the famous trumpeter Chuck Mangione (with whom we have both worked) doesn't eat that much.
We managed to clean and prep our respective artichokes with no mishaps or bodily injuries (although a couple of them looked like a gorilla had hacked them with a tennis racket), and we prepared the rest of the food without major incident. Cooking was another matter: the dishes that Laura had planned for us were quite complex, with many steps and many ingredients. But Laura had it all in hand, interjecting clear instructions at each step of the cooking process. The recipes were also printed out for us to take home, so we'll be able to recreate them with ease using the instructions combined with our memories.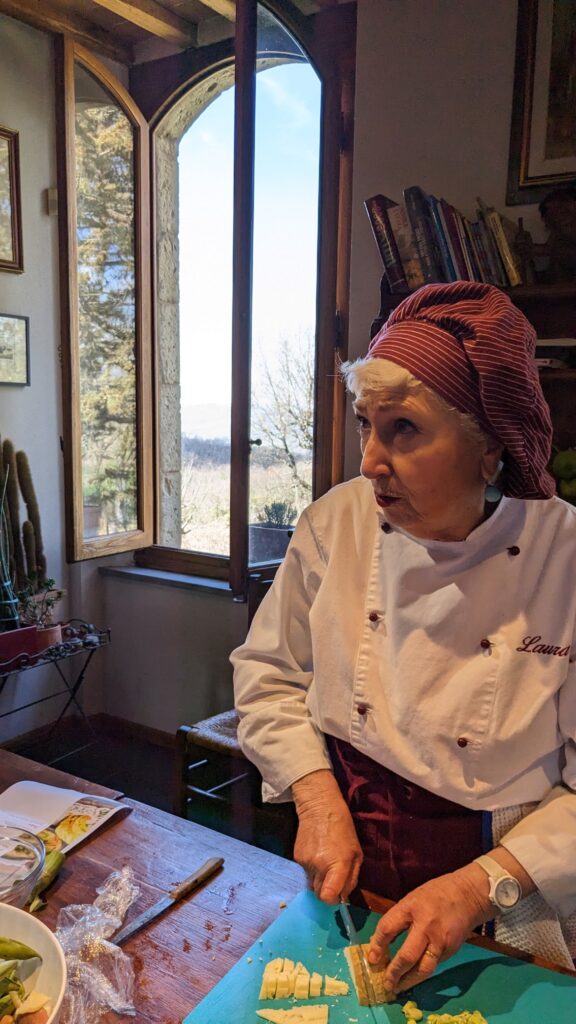 After a few hours —no doubt prolonged by our many and sometimes far-flung questions —the food was ready. We took a seat in Laura's vast vaulted dining room, where Mary had laid out a "flight" of Querceto wines for tasting along with our meal.
We learned something else about artichokes that we hadn't known previously: they're not a recommended food when tasting fine wines. Something about their chemistry plays havoc on the taste buds. Nevertheless, we managed to greatly enjoy the sampling of vintages. In any case, we'd had the great pleasure of tasting Querceto vino in the past; today was more about the cooking. It was all fantastic, despite whatever culinary malfeasance we may or may not have committed in the kitchen. The combination of Laura's congeniality and expertise, the delicious food and exquisite wines, and the picture-perfect setting: all of these things created an unforgettable lifetime experience.
Afterward, as we were getting ready to leave, Laura said, "Wait! I have something else for you." She rummaged through her freezer and produced a pack of big chunks of meat. "Ecco un pacco di cinghiale," she said. We thanked her profusely, which she waved off with nonchalance; then she winked and leaned in conspiratorially. "I know a hunter," she quipped.
———
About the authors: Zeneba & Matt moved from the U.S. to Italy in 2019, where they live and work as performing musicians. They are also authors of four award-winning travel guidebooks and a new memoir, "I Can't Believe We Live Here: The Wild But True Story of How We Dropped Everything in the States and Moved to Italy, Right Before the End of the World."