When we think about the quintessential Renaissance artist, thoughts – quite rightly – go almost immediately to Leonardo or Michelangelo, and only those with a passion for and some knowledge of art history would mention Benvenuto Cellini. But the Florentine goldsmith is as much a complete artist in his essence and work, as his more famous, above-mentioned colleagues.
Cellini was born in 1500, the second child of a musician and music instruments builder, Giovanni. Giovanni wanted a music career for him, but gold and silver were young Benvenuto's real passion and so, he became a goldsmith. He worked, throughout his career, in Florence, Siena, Bologna, Rome, Ferrara, and France, but what makes him a real example of pure Renaissance artistic flair is how he mastered more than one art: he wasn't only a goldsmith, but also a musician, a sculptor, and a writer. In fact, people are likely more familiar with his Autobiography and his famous treatise On the Goldsmith's Art, than they are with his visual and plastic arts' pieces.
Benvenuto was every inch the stereotypical tormented artist: restless, rowdy, and often in trouble with the law, having to leave a place to escape justice wasn't all that strange for him. But, oh boy: he was talented. And Cosimo I De' Medici, Duke of Florence and, later, Grand Duke of Tuscany, knew it well if it's true that he made him a court sculptor: it was under Cosimo I's patronage that Cellini conceived, designed and created what may well be his most iconic piece, the Perseus with the Head of Medusa, today in Piazza della Signoria's Loggia dei Lanzi.
The Perseus is a thing of beauty, almost classical in its aesthetic balance, but filled with opulent details and quirks, like the self-portrait Cellini shaped on the back of the hero's head, using his helmet and hair to create the illusion of a face. But The Perseus is not only beautiful, but it also has a pretty amazing story, a story that Cellini himself reveals in his autobiography. Cellini had very clear ideas about how to make The Perseus: he wanted to use bronze, which hadn't been used to make sculptures for some time when he received the commission (1545), and for a very specific reason. He likened the pouring of molten bronze into the statue's cast to the flowing of blood into a body: a symbol of life and vitality. And there was more because to meet fully this symbolism, the whole statue had to be made in one piece, in one cast, contrarily to what was usually done, that is, casting each section of the statue separately and then joining them together at a later stage.
The undertaking demonstrated to be incredibly difficult: while preparing the metal to pour into the cast, Cellini noticed immediately that the molten bronze – an alloy of copper and tin – was too thick, which meant the whole lot was unusable. If he wanted to save the day, Cellini explained, he had to think quick, and that's exactly what he did: he ran to his kitchen, picked all the tin pans and dishes he had, and even used some coming directly from the kitchens of Palazzo Vecchio. The extra tin made the bronze more fluid, enabling him to pour it without problems into the cast.
Truth is no one believed Cellini could make the whole Perseus in one go and, considering the size of the statue – it stands at over 5 meters (16 and a half feet) – and Perseus' posture, with his arms wide open and lifted towards the sky, failure could have been truly just around the corner for the goldsmith. Eventually, however, only part of the statue's right foot and calf had to be recast, even if Cellini himself wrote he only had to rework Perseus' toes. While neither restoration nor research managed to confirm or debunk Cellini's words, it appears that some parts of the statue, namely the Medusa's head, have a much higher content of tin than the rest.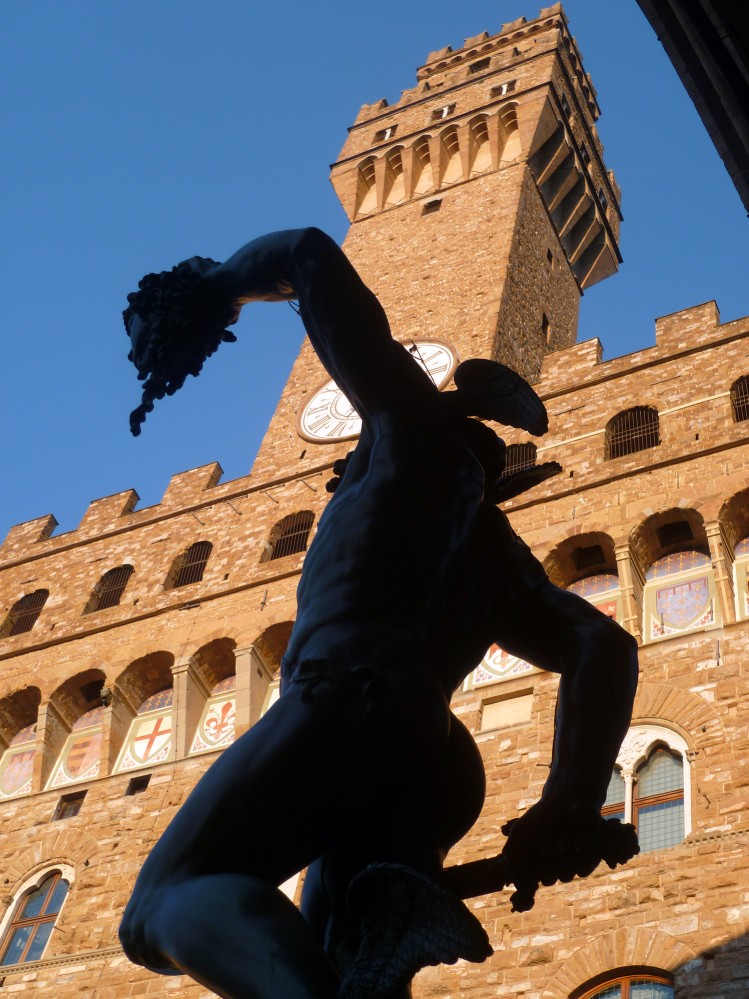 During the Second World War, as happened to many other works of art, The Perseus was removed from its location and kept hidden. When it returned to Piazza della Signoria, in the early 1950s, restorers analyzed its composition and discovered Cellini may have used some 100 pieces of tin crockery and pans to achieve the right fluidity and save the sculpture: legends say that Cellini even asked Cosimo I for a refund, as he had to melt off all of his kitchen utensils!
The Perseus underwent major restoration work in 1996 when both the statue and its pedestal were moved into the Uffizi. Once fully restored, the piece returned to Piazza della Signoria, even though the pedestal we see today there is a copy of the original.
Last but not least, we should mention that Cellini's Perseus made it into pop culture, too: we can see a "version" of it at the beginning of an episode from the 24th season of The Simpsons, where Cellini's hero has the not-so-heroic features of Mr. Burns' sidekick, Smithers.