Briny, tart, and surprisingly complex, the tiny Mediterranean caper has played a key role on dinner plates for several thousand years. Can you imagine Pasta Puttanesca or Caponata or Chicken Piccata – and don't forget tartar sauce -without the pungent, slightly sweet punch of these little flavor bombs?
You've seen them in tall cylindrical jars on the supermarket shelf, but where do these small, dusky green edibles originate? Capers are actually fledgling flower buds from the Capparis Spinosa plant, a spindly low-growing bush that supports fleshy leaves and beautiful white and purple flowers. But it's the precursor to the flowers – the tiny buds – that rule the day.
Caper bushes grow under cultivation and in the wild throughout the Mediterranean basin; however, the finest are believed to hail from two specific Italian islands, Salina and Pantelleria. Both are considered cultural treasures, and both produce, under very hard-knock conditions, what are considered the world's best capers.
On the small island of Salina, a part of Sicily's off-shore Aeolian Islands, caper production has been the community's lifeblood for centuries. The island's residents don't take it lightly, either, preferring to continue old-school methods of hand-picking the buds and painstakingly packing them in sea salt from the Sicilian salt beds of Trapani. Blooming occurs May through August during southern Italy's most scorching season. When the buds reach a dark green shade and are about the size of a kernel of popcorn, it's time to pick them. Harvesting occurs approximately every 10 days from 4:30 to 10:30 a.m., and then again from 5:30 p.m. onward to collect the youngest, most valuable buds when the heat is bearable. They are immediately laid out on matting to cool in the shade, then placed in containers with alternating layers of coarse sea salt and buds. For the first 15 days, the harvest must be moved from container to container to avoid fermentation. The remaining curing takes anywhere from one to three months before the capers are ready to sell. In the best years, Salina's farmers harvest and pack up to one million pounds of buds, along with the not-quite-ripe fruit known as cucunci (caper berries). A bit tougher and seedier, these bell clapper-shaped fruit are preserved and frequently served as appetizers throughout Italy.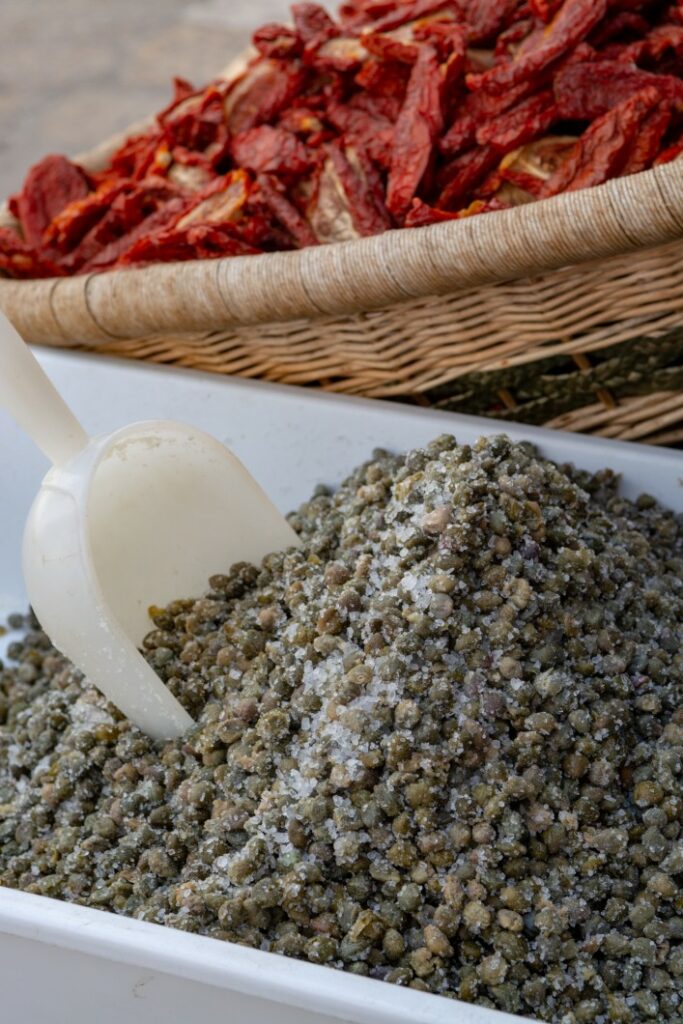 Rich volcanic soil, hot days with cool nights, and Mediterranean trade wades make for ideal conditions for these hardy bushes. They reach only about a foot in height but can spread their tendril-like branches three or four feet from the gnarled base. The plants are often found, as well, growing as volunteers from cracks and crevices in old walls, thanks to the lizards and geckos who drop seeds from gorging on the buds. Rome's Aurelian walls are quite well known for sporting this green décor…and the produce can be picked by anyone willing and able. But don't pop them in your mouth without proper curing – raw capers are bitter and harsh.
A journey from Trapani of about four and a half hours will bring you to Italy's other island famous for quality capers – Pantelleria. Salina and Pantelleria both claim to be home to the world's best capers – debatable I'm sure – but it's safe to say capers from either are the cream of the crop. Located midway between Sicily and Tunisia, this remote island offers year-round sunshine, tranquility, and spectacular views of land and sea. Tourism is a healthy industry here, but it's the capers that sustain both local economies and egos. Known as the "Island of the Wind," Pantelleria's rugged beauty might distract you, but it doesn't offset the harsh climate. Days are stifling hot; nights bring uncomfortable lows …and the unceasing wind blows over it all. Yet these conditions are what Capparis Spinosa thrives on. What would make a human miserable only brings out the best in the spindly plants, their aroma sweet and profitable.
Like Salina's harvest, the capers collected on Pantelleria are painstakingly cured before going to market. As the buds settle into their briny environment, they begin to release glucocapparin, a mustard oil responsible for the unique and piquant flavor we love. As is the case in Salina, harvesting is done only by hand, thus avoiding the waste and destruction of mechanical means.
Both islands have faced difficulties in the past ten years or so with fraudulent competition from knockoff products produced in nearby countries such as Turkey and Morocco, and even other neighboring Italian islands. Without a lot of recourse, many farmers have taken a "such is life" approach, link Santino Rossello of Salina: "The scale on which this kind of fraud happens is either the new normal in food production or, hopefully, receding into memory…" (Modern Farmer, Oct. 2013).
It's not all left to stoicism, however. In 1996, Pantelleria's prized buds received PGI status – Protected Geographical Indication. For the consumer, that assures that at least a portion of the process occurs in Pantelleria. For example, capers can be grown on the island but processed elsewhere, or capers from another area are processed according to Pantelleria's standards. Salina might be the winner of this contest, however, as PDO (Protected Designation of Origin) status was awarded in 2020, thus assuring production, processing, and preparation all occur within a specific place of origin…that being, Salina.
One litmus test remains, however, for those of us living far away from any Italian soil: capers packed in vinegar have never seen the light of day on either Salina or Pantelleria. Premium quality capers are packaged in either salt or olive oil, neither of which will mask or alter the natural flavor of the bud.
Of course, capers are not exclusive to just a couple of Italian islands. Indigenous throughout the Mediterranean, these spunky shrubs have been utilized for thousands of years, serving not only as cuisine but as the source of medicinal cures and even a biblically inferred aphrodisiac (Ecclesiastes 12:5). Recent research has revealed even more health benefits, including previously unknown high concentrations of valuable antioxidants such as quercetin and rutin. Even Pliny the Elder, Hippocrates, and Aristotle sang their praises in their writings.
Impressive, yes, but just plop a spoonful on my pasta – that's all the convincing I need!