Ever since I was young, I've had a penchant for all things Victorian and Gothic in aesthetics: this fascination naturally led me to the world of cameos, those intricate pieces of jewelry that seem to whisper tales and secrets of the past. My fondness for these beautiful and somehow mysterious jewels has always been well-known among my friends and family and, a few Christmases ago, I was gifted a beautiful cameo ring, which is today one of my most treasured possessions; indeed, my love for it is such that I have been considering starting a cameo collection: pendants, brooches, rings, bracelets, you name it… But it's not only the beauty of cameos that I love, it's also their history, a history that is one with that of the Mediterranean and Italy.
Cameos are handcrafted jewels that represent one of our Made in Italy's best excellences and, these days, they are apparently enjoying a resurgence in popularity. This ancient art form is being rediscovered worldwide, from Hollywood stars to Italian celebrities, all the way to the royal stages of Europe. They create a perfect blend of old and new and, in the realm of jewelry, few pieces can rival their timeless elegance and artistry. These miniature sculptures, often carved into gemstones, shells, or coral, have been cherished for centuries, their delicate profiles and scenes capturing the essence of craftsmanship.
The art of cameo carving dates back to antiquity, with the earliest examples found in the civilizations of the ancient Mediterranean. The Greeks and Romans, renowned for their artistic prowess, were particularly fond of cameos: they used them not only as personal adornments but also as signet rings and seals. During the Renaissance, the art of cameo carving truly flourished: Italian masters, inspired by the classical motifs of ancient Rome and Greece, breathed new life into the craft. They carved scenes from mythology, portraits of rulers, and religious iconography into shells and stones, creating miniature masterpieces that were coveted by nobility across Europe. Cameos were highly appreciated also during the Elizabethan era and the Napoleonic period: they were popular in England and France, with Napoleon gifting his wife Josephine the famous cameo tiara, now a Swedish crown jewel worn by Princess Victoria at royal weddings.
But it was in the 19th century, during the Victorian era, that they enjoyed a true revival thanks to Queen Victoria of England, who often wore cameo jewelry and gifted it to her friends. This sparked a trend that spread across Europe and America, leading to a boom in cameo production in Italy.
In time, the city of Torre del Greco, located at the foot of Mount Vesuvius, emerged as the epicenter of cameo production. The city's artisans capitalized on the abundance of coral and shells in the Bay of Naples, transforming these natural materials into exquisite works of art. The art of making a cameo is a meticulous process that requires a high level of skill and precision: it begins with the selection of a shell, which is then carefully carved to create a raised image. This image is often a portrait, but it can also depict a scene or a symbol — my very special ring is a flower. The carving process is done by hand, using a variety of tools to create details and, once the carving is complete, the cameo is polished to bring out the beauty of the material and the complexity of the design. This process can take several days to weeks.
Today, the cameo business comprises about 300 companies employing around 2000 people, and the growing appreciation for this jewel worldwide, especially in flourishing markets in the East, like China, Japan, and Korea, is a clear sign of its success. But it wouldn't be a real success if Hollywood stars didn't jump on the wagon, right? Well, they did: singer Rihanna created her own cameo collection, which includes rings, earrings, and pendants, with a focus on female inclusivity. Celebrities from Demi Lovato to Cate Blanchett and Sarah Jessica Parker have been seen wearing cameos on red carpets and, a while back, the trend had also spread to social media, with the hashtag #cameojewelry featuring thousands of posts dedicated to this traditionally Italian jewel.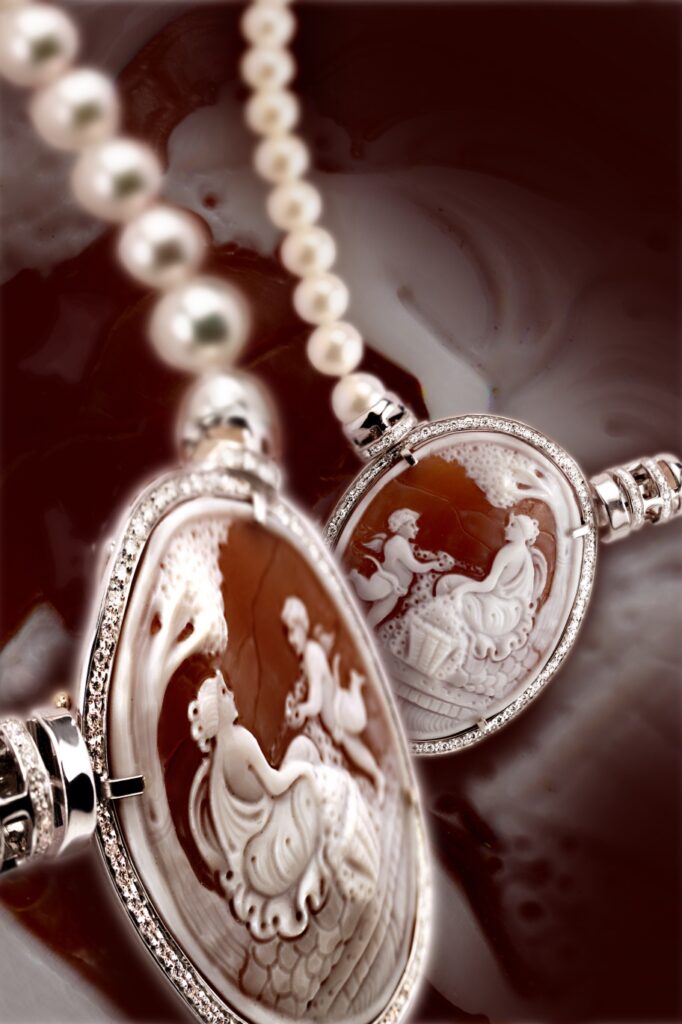 But what makes cameos so special? Certainly, their vintage, romantic allure is among the reasons people like them so much: there is something mysterious and saturnine about them, there is magic in their shape and in the way they are made. A few months back  Bianca Cappello, a jewelry historian and critic, explained to ANSA that wearing a cameo today fits into the contemporary aesthetic of "mix-and-match," where combining elements from various styles and eras reveals the wearer's creative ability and taste. But cameos are also liked because people understand and appreciate the level of craftsmanship required to create them. Cappello concluded her interview with ANSA by stating that "The beauty and expressive power of a cameo, engraved with the profile or body of a woman, depends not on the subject but on the artistic and artisanal quality of the hand that made it. Those who choose to wear a modernly revisited cameo, in unprecedented dimensions or with new trendy subjects or custom-made or humorous, show that they have a strong, curious character and love the possibility of surprising others with a new and personal point of view."