In truth, it isn't really their birthday we celebrate this August, but the 50th anniversary of their discovery. Since that day – it was the 16th of August 1972 – the Bronzi di Riace, perhaps the most famous classical statues in Italy, have entered the country's collective imagination and language: their perfect proportions embody classical beauty at its highest; their proud stance, the courage of warriors; their flawless making, the unmatchable talent of Greek artists who lived five centuries before Christ. They are classical beauty and even their name is synonym with it in our everyday language.
To celebrate the 50th anniversary of their discovery, plenty of events will take place throughout 2022 and 2023 in the whole country, but especially in their hometown, Reggio Calabria. But before taking a look at how the Belpaese will celebrate its most famous warriors, it may be interesting to know something more about them and their somehow mysterious history.
A great discovery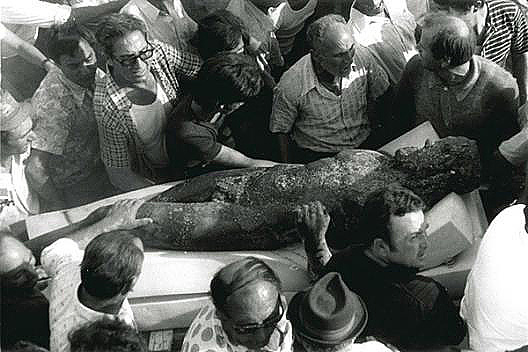 It was the summer of 1972 when Roman scuba diver Stefano Mariottini informed the authorities of Porto Foricchio di Riace Marina (Reggio Calabria) about the presence of two statues on the sea floor, not far from the port. A team of archaeologists led by Dr. Giuseppe Foti brought them back up to the surface, and immediately noticed something odd: there was no sign of other antique artifacts, which made the presence of the Bronzi in that particular segment of sea quite strange. This was the beginning of the mystery surrounding the two warriors, a mystery that still stands today, more than 2000 years after their creation and 50 since they've been rediscovered. We know that Porto Foricchio had been in use in antiquity and also during the Middle Ages and the Renaissance, but there is a paucity of archaeological and historical information about its role: for instance, we don't know to which city of the South it was related, nor whether there is a link between the port and the Bronzi.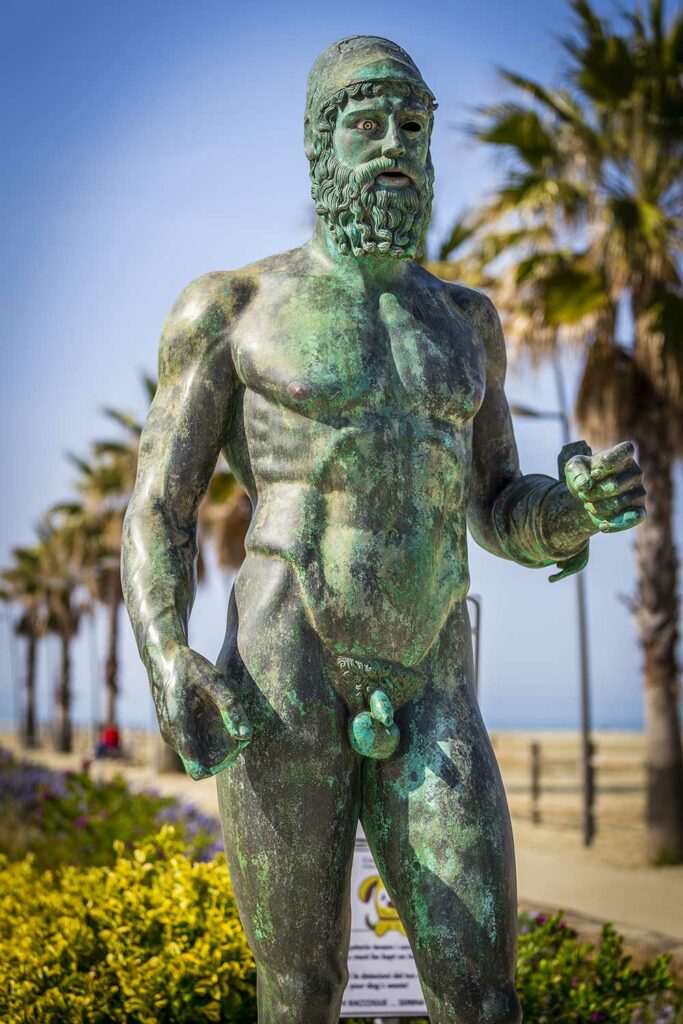 Immediately after their discovery, Warrior A and Warrior B – as they were christened – got some TLC at the Archaeological Museum of Reggio Calabria, but the most important and extensive conservation work on them was carried out in Florence, where they were transferred in January 1975. Restorers Renzo Giachetti and Edilberto Formigli worked in unison to return the statues to their original beauty, thanks to a thorough cleaning and an important hands-on study that enabled them to find out how they had been made. The whole process, which was carried out at the internationally renowned Opificio delle Pietre Dure in Florence, lasted five years.
From the 15th of December 1980 to the 24th of June 1981, the Bronzi were at the heart of a special exhibit at the Museo Archeologico di Firenze, which was an incredible success: so much so that then-President of the Republic Sandro Pertini asked for the two statues to stop at the Quirinale, in Rome, for a few days, while on their way back home, to Reggio Calabria. The Roman exhibition (29th of June- 12th of July 1981), was just as successful as the one in Florence.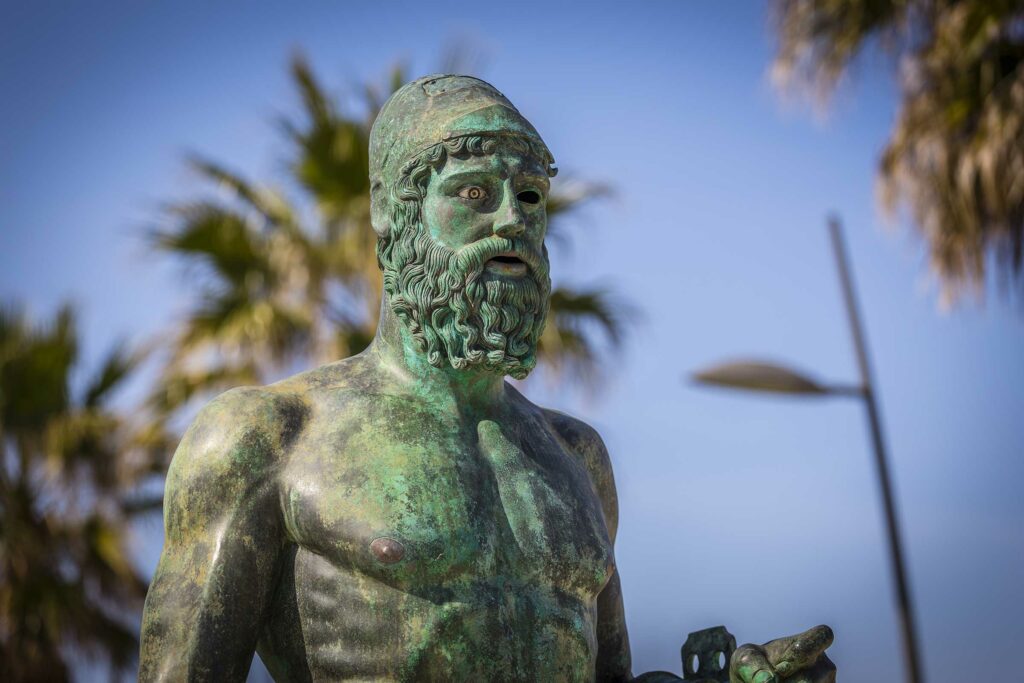 Beauty and history at risk
Despite the accurate and perfectly executed conservation work carried out in the 1970s, the health of the Bronzi remained at risk: both statues were filled with sediments which, during centuries and centuries of permanence under the sea, soaked up water and salt that were now seeping into the bronze and corroding it. A first intervention to empty the statues from the dangerous sediments took place in Reggio Calabria between 1992 and 1995; a second was carried out always in Reggio some 20 years later, between 2010 and 2013. After the two interventions, the emptied statues weighed half of what they did when they were discovered.
The secret colors of the Bronzi
There are many more things to learn about the two warriors of Riace. For instance, we are certain that, in origin, they were colored, as shown by the red hue of both their lips and nipples; their eyes – only Warrior A still has them, but we can guess Warrior B was the same – are made with glass paste and calcite, with small, pink stones used for their tear duct. Warrior A also has visible teeth, made in silver. But what probably stunned restorers and archaeologists the most is the way their hair and beards were rendered: the alloy used gave them a golden hue, which means they were both … blonde! The original, sunkissed nuance of their bodies was also created by mixing cleverly different substances, in this case, bronze and potassium sulfide.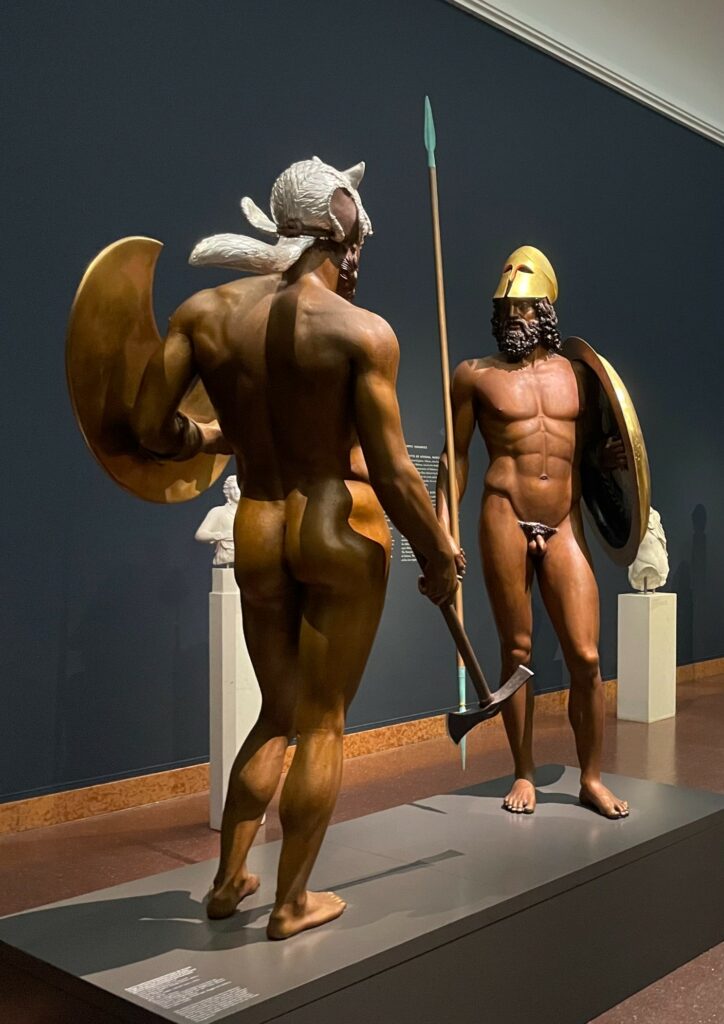 A bit more history
This is all very interesting, you may say, but what about their origins and how did they end up at the bottom of the Ionian Sea?
Thanks to modern archaeometry, that is, the study of ancient materials to date artifacts, we know they were likely made in Argos, in Peloponnesus. We know they were then transported to Rome during imperial times when Warrior B's whole forearm was recast. It is on this occasion that both statues were painted in black: traces of that paint are still visible today.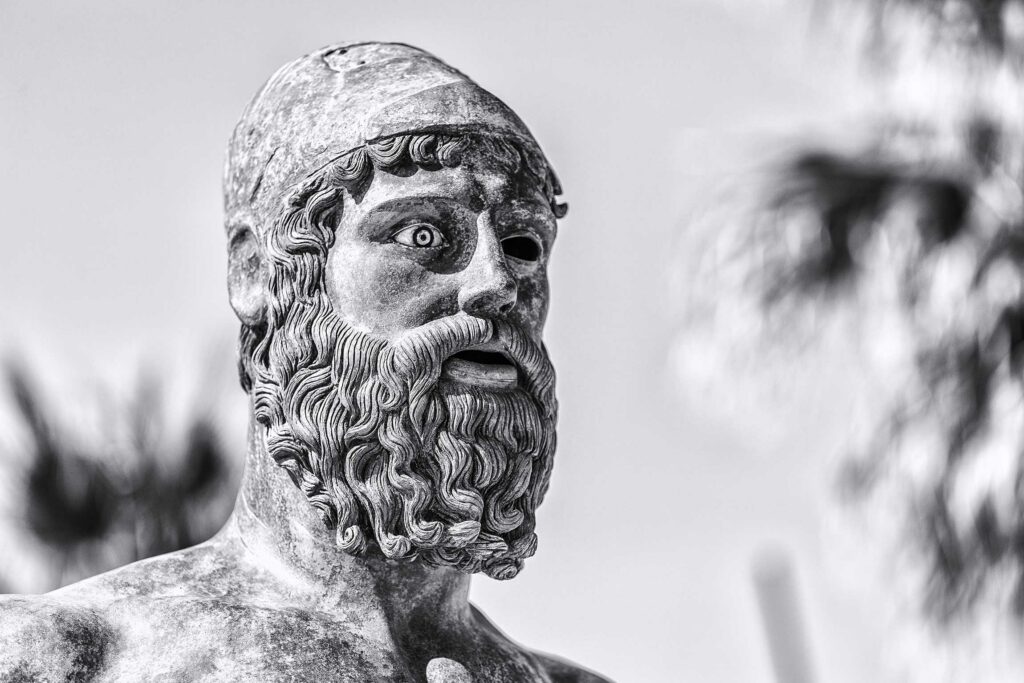 When it comes to the second question literature, as it often happens when it comes to ancient and medieval history, comes to the rescue. The Anthologia Palatina, a collection of Greek epigrams dating to the 10th century, tells us how Emperor Constantine and his son Constance II wanted an ancient Greek sculptural group housed in Rome to be moved to their new capital, Constantinople. Very likely, Warrior A and B were part of the collection, which however never reached the Middle East, but sank near Riace, in the Ionian Sea.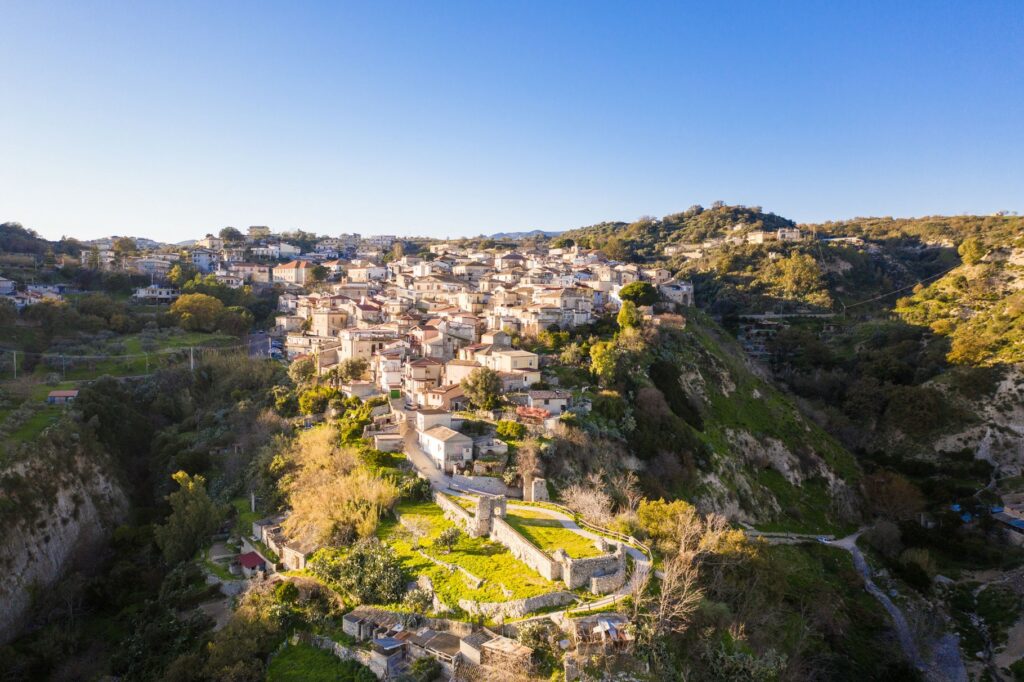 Is there a third warrior?
Back in 1972, Stefano Mariottini, the scuba diver who first discovered the Bronzi, declared he had seen a group of statues, one of them with arms wide open and a foot in front of the other: but this description corresponds neither to Warrior A nor to Warrior B.
The question comes naturally: are there more warriors to be discovered?
At the end of last year, Riace's mayor, Antonio Trifoli, announced that, on the occasion of the 50th anniversary of the Bronzi's discovery, a new archaeological dig will be carried out. The dig will be divided into three parts, all to take place in 2022, that should last for a total of 9 weeks: the team is also formed by American archaeologists.
Celebrating the Bronzi
Reggio Calabria and Italy want to celebrate their warriors with a plethora of events aimed at valorizing local excellence, history and, of course, the Bronzi themselves. During the whole summer, until the month of September, Calabria's museums will be at the heart of the action with a series of events and seminars. In Reggio Calabria, the home of the Bronzi, the very central Corso Garibaldi becomes this summer an open-air archaeological museum; on the 16th of August, anniversary day, Riace will take center stage with photographic exhibitions, a cultural-historical congress, and concerts. From October to the end of the year and throughout 2023, events will continue across Italy and Europe, with itinerant art exhibits and multimodal installations dedicated to Magna Graecia and the ancient history of Calabria. Audiovisual creations will also be protagonists. A documentary, I Bronzi di Riace, directed by Fabio Mollo and produced by Palomar will open the way for other works, including several TV shows dedicated to the warriors produced by RAI Cultura and Rai Play.
Italy is happy to celebrate the first fifty years spent with her Bronzi, ancient warriors, vestiges of a glorious past, and symbol of perfection, strength, and beauty. From them, we can learn a lot: to value our history, admire our ancestors' ingenuity, and to remember, always, that culture is the lifeblood of a nation.