Thin slices of peaches marinated in Prosecco, delicately wrapped around a scoop of vanilla ice cream and placed on a sauce of milk and lavender. An explosion of colors, shapes and lines that recalls the irrationality of an abstract painting but that, instead, finds its balance in the simplicity of its ingredients and in the combination of each individual flavor. "When I see an ingredient or a color, the dish comes to life by itself." Like for any form of talent, Chef Barbara Pollastrini's artistic vein needs no explanation, and when I ask her specifically how she created this spectacular dish, I get an unexpected answer. "I did it while I was on the phone with my brother, with the phone on my shoulder. But that's how it came to me. My dishes, especially the most creative ones, are never thought of, if I had to think of a dish then I would never create it! "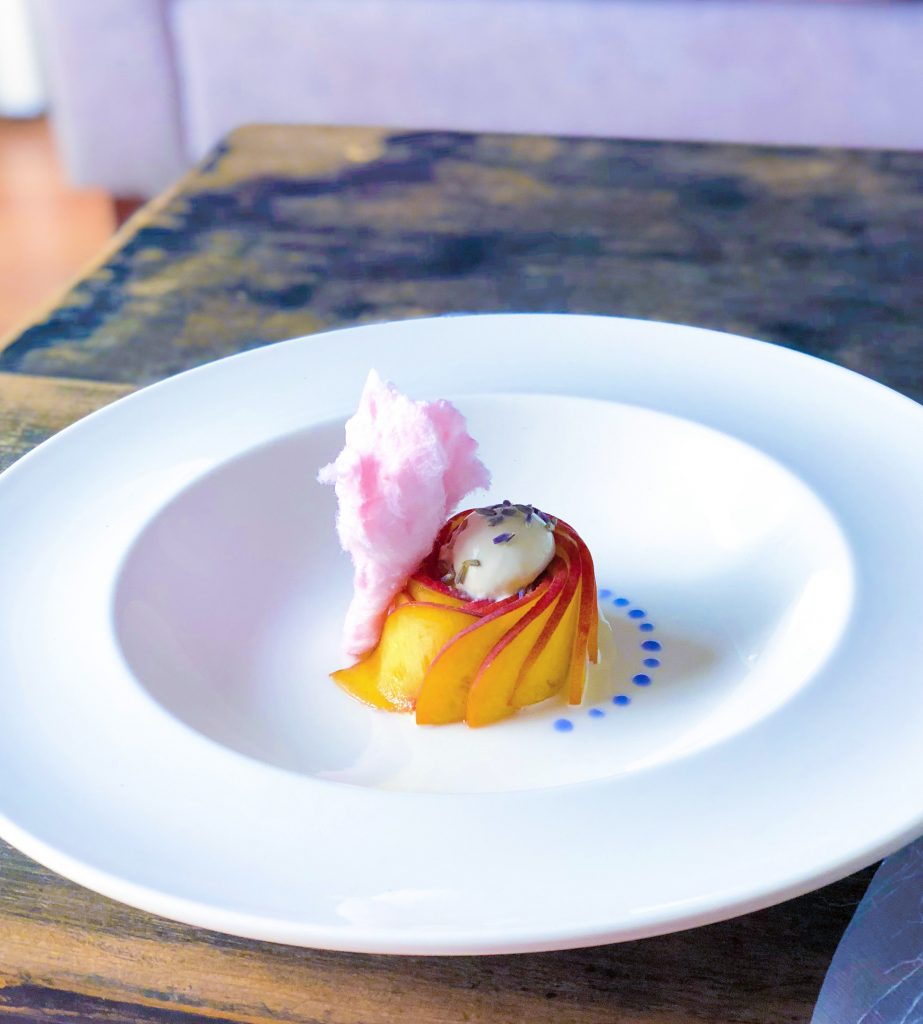 Barbara, among all your beautiful dishes which one represents you the most?
It is a blue pasta made with spirulina, a pasta dish that I called Santa Barbara, and not only because it is my name, but also because all products came from Santa Barbara: the butter made of sea urchins — the Santa Barbara's spot prawns. This is one of the dishes, I think, that represents me the most, full of flavors and scents. It looks like a rich dish, but in reality there are only three ingredients. And this is typical of my cuisine.
A simple way of cooking then?
Yes. What distinguishes my dishes is that when you eat them you are able to savor every single element which, in my opinion, is the secret of good food. My rules are: to use extremely high quality ingredients and to let the customer taste them one by one. My "ace in the hole" since forever.
You landed in Los Angeles in 2005 and started out as a food stylist on sets. What is that about exactly?
The food stylist prepares the food for every scene in which you see an actor eating something or if there is a shoot with food. It doesn't necessarily need to be beautiful, in fact usually the food you see is not edible because it has to stay under the lights for many hours; if the actor has to eat a plate of pasta it is generally not true (they don't eat for real). When I started this job I didn't know much about it, so I cooked some real food! And no one expected it, but at the end of the day the producers would take it home. This thing differentiated me from other food stylists.
The best meeting you had on set?
When I met director JJ Abrams on the set of Star Trek. We had created sandwiches that were seen during a fight scene with one of the actors opening a menu and a 3D sandwich appearing on a page. I created that one.
What experience was it?
It was my dream already when I was in Italy, because the figure of the food stylist doesn't exist there. It was my secret dream and it was the first job I had, as soon as I arrived in L.A. I've always been very lucky work-wise, I've always got everything I wanted.
I have interviewed many chefs in the past, and you are the first female chef. I wondered if this was a men's business. Is it?
Yes, it is considered a male business although in reality we all grew up with our mothers teaching us how to cook. But this mentality stems from the fact that women are thought to be unable to cope with long shifts in the kitchen, and that they are too emotional. I say yes, we are emotional when we create a dish because we put our heart in doing it. I am very proud to be the first woman ambassador of taste in America, a position that is a great honor for me because I represent Italian food in a foreign country. In my previous kitchen, there were all women. I have tried to hire men but they didn't last long. For some people, to have to take orders from a woman boss is still hard to accept. In the kitchen you have to be very strong and with a strong character, and to be honest I have found more emotional men than women in the kitchen. So women power in the kitchen!
What do you do as an ambassador of taste?
The Italian Association of Ambassadors of Taste is a non-profit organization, an expression of the excellence of Italian food and patisserie, with the goal to represent it in all its aspects and forms. Representing the Italian concept of taste all over the world is not an easy task.'
How important is it to educate and train about food?
It is essential, education in knowing how to eat comes from learning how to eat well. Behind every dish I create there is a story, starting from the recipe itself, but above all, from the choice of products I use. For example, when I serve pasta with pesto, I use 40/48 month Parmigiano Reggiano produced by the Consortium of red cows, and an oil that I get directly from Italy, then you realize that it is not just any pasta with pesto. There is a study behind every recipe and ingredient, to make it truly special.
How has your profession changed during the pandemic?
Surely it has changed. After leaving the restaurant where I worked as an executive chef, it was not easy. Covid destroyed culinary businesses all over the world. Now I am collaborating with an Italian Deli, where I was called to revive and revolutionize the menu, the recipes and much more. I brought back real home cooking, which by the way is my old love, the kind of cuisine that you carry in your heart. Fortunately, since I revolutionized the whole business, profit increased by 60%. Mom's cooking always wins.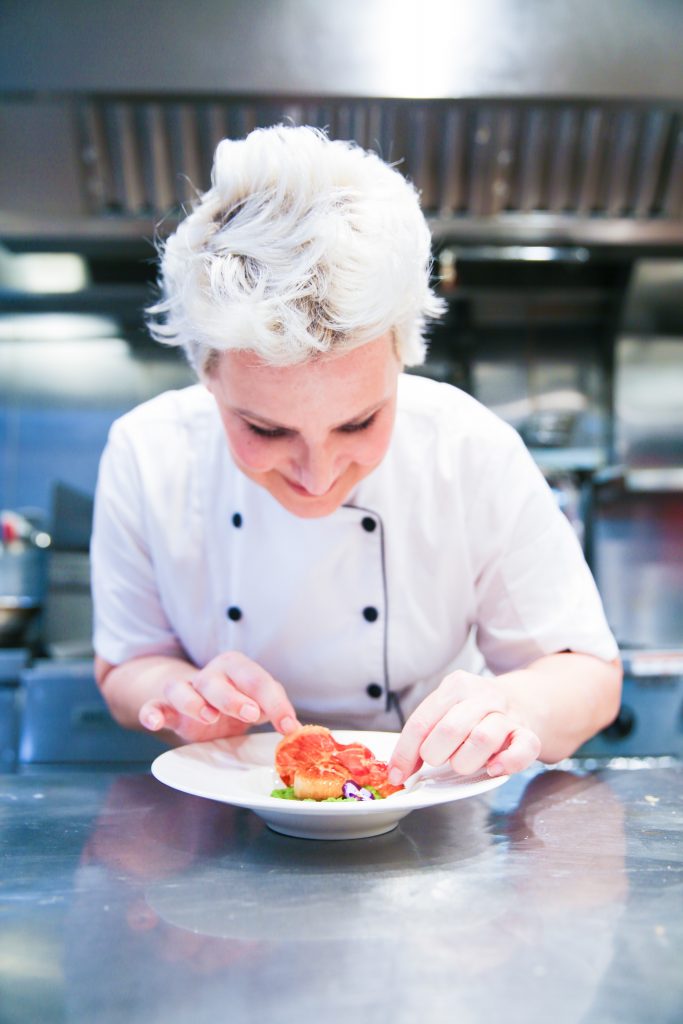 Was it challenging?
Yes, a lot. After changing the menu and seeing that things are going well, there is a lot of satisfaction. It wasn't easy, but now I'm very happy with the result. Then I dedicate the weekends to create fine dining dishes, which amuse me and always relax a lot.
Home cooking: can you give me some examples?
Meatballs for example. Just consider that in the Deli now they sell more than 50lb a week. Then I do eggplant parmigiana, lasagna. In every dish I always put something special, I always have this creative streak that must come out. I made a lasagna with braised beef, I made a fantastic fried dough sandwich, which is having a lot of success. Every day I look at the ingredients and create, so it's never the same.
You have achieved so many dreams, which one is next on your list?
Opening my restaurant would be the crowning glory of my career. And of course also getting a Michelin star. Let's see if I can make these dreams come true as well.
Will you ever go back to Italy?
Not anytime soon. I will go back to Italy, to Apulia, when I retire.