To be truthful, artichokes are almost a mystery outside of the Mediterranean: yes, we find jars of them on the shelves of our local grocery stores, but the fresh variety remains a bit of a rarity. Mind, carciofi are a delicacy even in Italy, where they are widely grown, especially in Liguria and in the South. You find them in winter and in the early spring, but their price is often prohibitive so, while our traditional cuisine is full of recipes to cook and enjoy them at their best, they remain a bit of a gourmet ingredient. Culinary historians, in fact, tell us it's always been like this: carciofi were never part of Italy's much-loved cucina povera.
Because of their tough exterior and thorny appearance, artichokes inspire respect and even a bit of deference: how do you clean them, and which parts can you eat? What do you need to discard and can you eat them raw – the answer is yes, but they need to be on the smaller side and very tender. You see? Artichokes are a bit of a mystery but it's time we debunk it.
Our artichokes (cynara cardunculus) derive from an herbaceous plant, cynara scolimus, that belongs to the asteraceae family – I'm done with the Latin, I promise. They were probably harvested from a wild variety of cynara, and they are ubiquitous in all Mediterranean countries.
We know the Egyptians already knew the artichoke, but it was the Etruscans who brought it to our shores, as attested by several depictions of it in the tombs of Tarquinia. The Greeks loved it, too: they called it cynara, from the name – legends say – of Cynara the muse, whose beauty attracted the unwanted attention of that serial cheating devil of Zeus, the father of all gods. Because she dared to resist him, Cynara was transformed into a thorny flower, the artichoke. This is traditionally considered the reason why this spiky yet fleshy vegetable is believed to be an aphrodisiac.
We know the Romans had a penchant for artichokes, too, as attested by Pliny's Naturalis Historia and Apicius De Re Coquinaria: our most famous ancestors cooked them in water and wine and served them with garum, their favorite fish condiment.
Its name in Italian, and in most European languages, comes from the Arabic word al-kharshuf, which means "thorny chard." Indeed, botanists think that artichokes are closely related to chards. We know that, during the Middle Ages, artichokes were a delicacy available only to the wealthy, and it continued to be so also during the Renaissance: for instance, it was a wealthy banker and politician, Filippo Strozzi, to make artichokes popular in Florence and Naples, and it was Caterina de' Medici who "exported" them to France, after her wedding with king Henry II. From France, artichokes traveled north to the Netherlands and, from there, they eventually reached the United Kingdom around 1530: old fox Henry VIII, who had learned about artichokes' aphrodisiac powers, wanted them in his own gardens at all costs.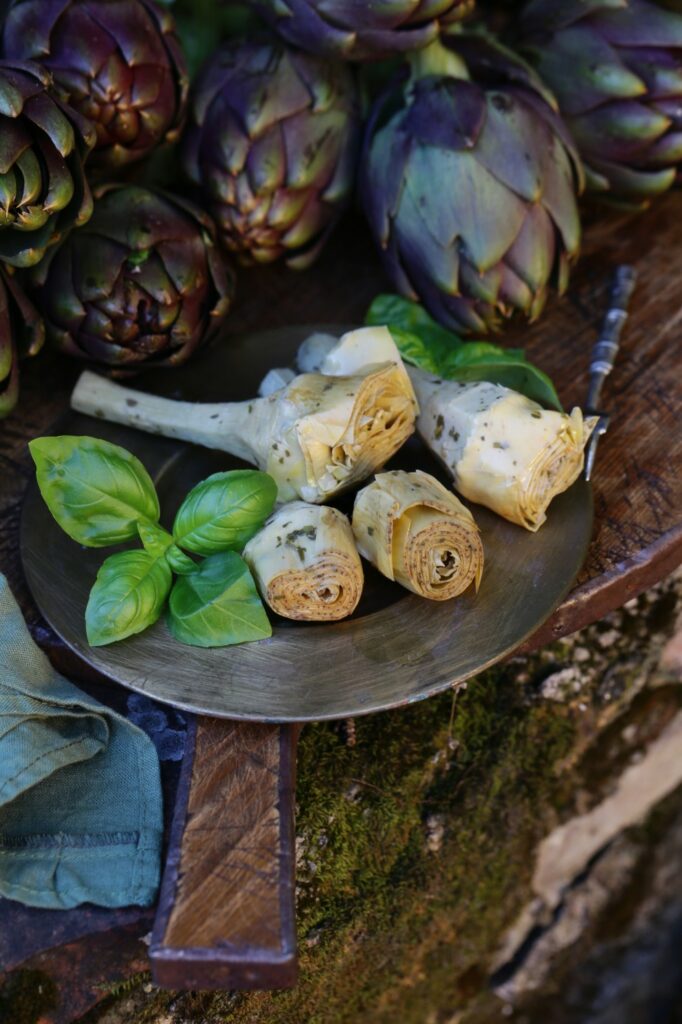 A vegetable for queens and kings, but also beloved by artists of all ages. We find artichokes in Giuseppe Arcimboldo's Vertumnus, and in Clara Peeters' Still life with cheese, artichoke and cherries. Perhaps, though, the most famous representation of an artichoke is Picasso's Woman with artichoke, painted by the Spanish master in 1941. Architecture showed a penchant for adding artichokes here and there since at least the 17th century, when the famous Fontana del Carciofo was built in the Giardini di Boboli, Florence, by architects Giovan Francesco Susini and Francesco del Tadda. We also find a similar one at the Parque del Retiro in Madrid, Spain (1781-82) and a much more recent one, created in 1956, in Piazza Trieste e Trento in Naples. Writers, too, find artichokes poetically charming: in his Ode to the Artichoke, Pablo Neruda, for instance, calls them tender-hearted warriors, in name of their delicate heart surrounded by tougher, thorny leaves.
Full of history and inspirators of art: but what can we say about artichokes when it comes to nutrition? Well, they are full of iron, minerals, and fibers, and rich in vitamins B and C. They also have antioxidant and purifying properties, especially for the liver, reason for which you often find them in detox concoctions. They are also rich in flavonoids.
Italian artichokes are among the most renowned around the world. We grow several varieties, from North to South: we have the Spinoso di Liguria and the Spinoso di Palermo, which are characterized by their very thorny appearance, but also the Violetto di Toscana and the Violetto di Venezia, known for their purple-like hues. The most famous, perhaps because they have been awarded a PGI denomination (protected geographical indication) by the EU, are Paestum artichokes from Campania and romaneschi artichokes (also known as mamme romane): the latter are easy to recognize because of their very round shape.
Last but not least, artichokes in Italy are also a … popular drink. Cinar is a famous amaro made with carciofi, known for its digestive properties and also used to make refreshing aperitivi.