Antonio Marras does not define himself as a fashion designer. "I don't walk around with that concept of myself because it is a restrictive and reductive definition. I cannot stand it," he says from his home in Alghero, Sardinia, facing the blue Mediterranean Sea.
The very sui generis designer, 62, is more like an artist-experimenter.
Besides creating dramatic, darkly romantic clothes, he paints and makes installation art. He is also a ceramist and a song lyricist. He wants art without borders that satisfies the inescapable human hunger for imagined experience in all its variations. "I make no distinction between fashion, art, cinema, dance, literature and theatre or between high culture and popular culture. For me, they are one," he says. "I am so lucky to do a job that allows me the most unexpected mixtures. From fashion, I cross over to other fields; I mix and discover new effects."
And every creation is a piece of his heart.
Mr. Marras debuted his eponymous brand in 1996 at Rome's high fashion week Altaroma and, from 2003 to 2011, served as artistic director of Kenzo.
His father's profession influenced his decision to pursue a fashion career, and so did Elio Fiorucci, a pioneer in the globalization of fashion who scoured the globe for underground trends.
Marras was born and raised in Alghero, "an island within an island, a seaside, border town and a former Catalan colony that welcomes by predisposition, forges by destiny and rewards for its extraordinary natural beauty," he says proudly. And even if he spends more time traveling, "Alghero represents the nest, the refuge, my Ithaca."
Mr. Marras, your Sardinian roots nourish your imagination and affect your designs, yet your clothes are imbued with multicultural moods.
Clothes are expressions of ourselves; we are all the result of a multicultural society. Clothes are the custodians of influences, passions, interests, and everything that happens in the world. We are like sponges and transmit our universe through our most suitable means.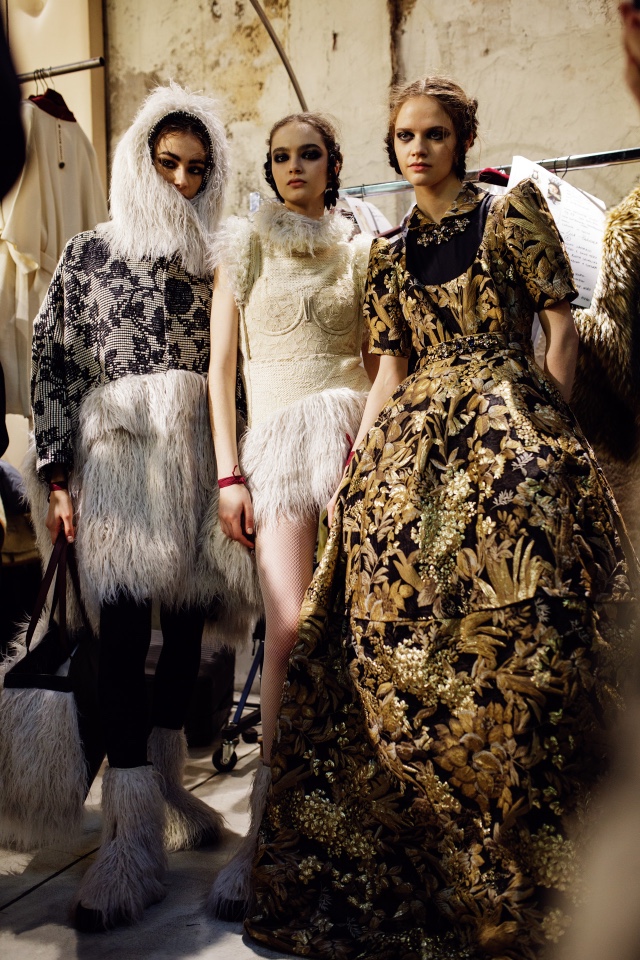 How do you explain this need to experiment through multiple artistic media? You showcased your paintings and drawings at the Venice Art Biennale.
My forays into art arise from an uncontrollable need that pushes me to intrude upon other fields. After all, art has always been a privileged source of inspiration for those who work in the fashion field. There is a close dialectical confrontation between the art and fashion worlds. They are two realities that meet and collide, feeding each other.
It is in the art that I seek, I scrutinize and investigate. I get lost in art, which always surprises me. I experiment with new materials and languages: looms, books, stitched canvases, terra-cottas, stitched books, embroidered maps, all works of rare beauty. I have a special relationship with art. It is a harmony of interests and ideas that lives on unchanged.
In Milan, you dedicated your Fall/Winter 2023/2024 show to the remembrance of Grazia Deledda, a Sardinian writer who won the 1926 Nobel Prize for Literature. We saw a bountiful collection of floral brocade dresses, outfits inspired by ancient Sardinian carpets, and wool sweaters with lace and embroidery. In Deledda's pages, moral dilemmas, human weakness and uncontrollable forces recur. Why is Deledda your new muse?
Grazia Deledda is a legend, a milestone of Sardinian culture and beyond. No one born on the Island can ignore her teachings. She has always been our point of reference, but out of reverential fear, we never allowed ourselves to inconvenience her.
The runaway set for your Milan show aimed to mimic an enchanted forest: a dark woodland where you can find a glimmer of light. Was that a metaphor for our contemporaneity?
I want to imagine it like this. The forest has always been a place of magic and enchantment. From A Midsummer Night's Dream to The Magic Flute to Orlando Furioso, the forest is the ideal setting to make fantastic things happen. And Sardinia forests are magical, a source of inspiration for Grazia Deledda. I wanted to give a double reading as also a troubled path of a woman who, stubbornly, comes to see the light thanks to her determination and intelligence.
The supermodel of the 2000s, Carmen Kass, 44, for almost twenty years the face of Narciso Rodriguez's fragrance, graced your runaway. Why did you want her to open the show?
Carmen Kass is an icon. She is a celebrity in Estonia and also a talented chess player. She seduced us at the time of Kenzo. We wanted her in a campaign. Then a couple of years ago, a magazine asked us to shoot a show at the Milan Triennale Design Museum, holding my exhibition Nulla Dies Sine Linea. We chose her as the protagonist. And now, we were looking for something more than a simple model for the Milan Fashion Week. We wanted a great woman with depth of character, so we thought of Carmen. She is entrancingly beautiful, timeless, independent, and committed.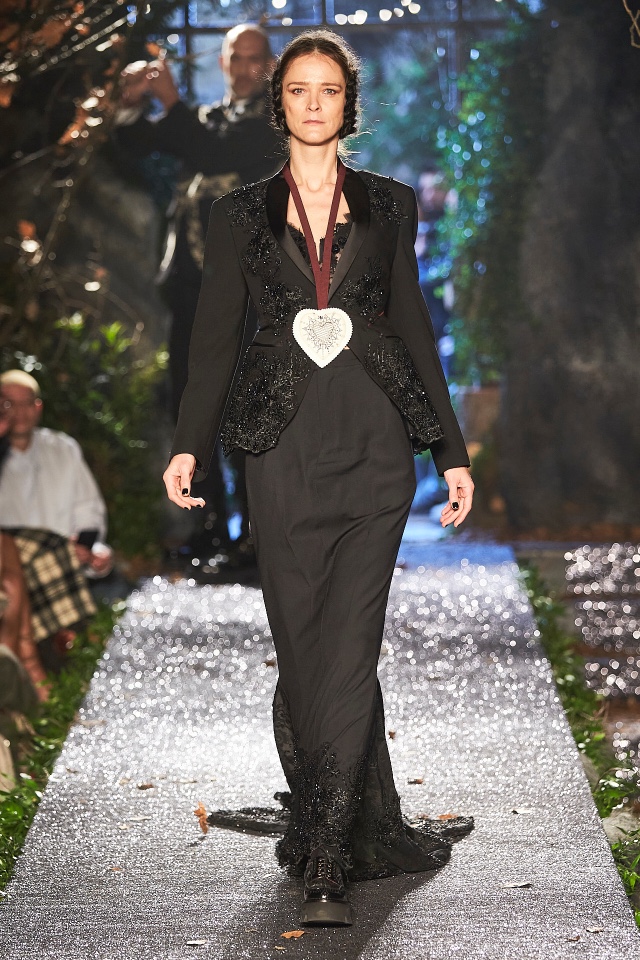 Your women are always strong-minded. Your first collection in 1987 was an homage to Bette Davis, the queen of Hollywood, and the rebellious writer Annemarie Schwarzenbach inspired your ready-to-wear debut in 1998.
My women, apparently so distant from each other, are all strong, intelligent, creative, and independent. Each collection tells a different story. The female reality is variegated, stratified and multiple.
I don't have in mind a precise type of femininity—some women attract me, for example, Pina Bausch, Silvana Mangano and Isabelle Huppert. When I draw, I dream of a free woman who can express and realize her dreams and desires. Thus were born the collections dedicated to women such as Maria Lai and Camille Claudel, among many others.
You break the usual approach to using fabrics by employing layers of fabrics through new combinations and interventions such as raw-cut hems, stains, and tears involving precious materials. You mix past and contemporaneity as a textile archeologist. Is your research conceptual?
We live in a historical moment that allows us to range over space and time. Horizontally you can draw on all the world's geographies and vertically on all the eras that have preceded us and then tangle, juxtapose, and cross everything. It is a great fortune to draw on such disparate sources and make them your own by proposing them your way. "Art is a continuous theft," said my mentor, the great Sardinian artist Maria Lai. She was so right. The moment art passes through your hands, it becomes yours. It is like what happens with fashion.
Last September, the Italian innerwear, hosiery, and swimwear Gruppo Calzedonia took a majority stake in your company. What does this agreement mean to the Antonio Marras brand?
This decisive step represents a new chapter in Antonio Marras' history. Now there is a community of purpose with a large group, the possibility of taking advantage of a joint synergy, and the awareness that your work will be preserved, guarded, and valued. I can only be even more motivated and enthusiastic about the creative work I have dedicated my whole life to.
Style is something innate and a personal thing. It is the ability to dare, naturally and freely. It is the courage to try, experiment, and go beyond the boundaries and the rules. It is a deviation from the norm, even with tiny detail. Those with a sense of style do not fear the excess and eccentricity triumph over the flatness and banality of ordinary dress. Those who do not adapt to the prevailing prescripts and seek the gap, contrast, and error have style.
What do you love most about today's fashion world, and what do you like least?
I like that it is cosmopolitan; by contrast, it refines and values diversity. I can't stand and don't understand the phenomenon of influencers. And I detest the lack of memory, an inherent disease in the fashion world.
Your father had a fabric store. Is it where you found your vocation as a designer?
As a child, I frequented "Les Botigues," the historical shops my father and uncle owned in the historic center of Alghero, where I familiarized myself with all types of fabrics. I started working with my father, taking care of the shops that later my father turned into the first local boutiques. I remember that I was thirteen, and it was the month of June when my father took me to Buccinasco, 4 miles southwest of Milan, where Elio Fiorucci had his warehouse. I recall walls with bracelets threaded into a rack, hundreds and hundreds of bracelets from Uganda. There were tin buckets from India, a thousand objects, clothing, accessories, notebooks, umbrellas, ornaments, photographs, stickers, and plastic animals that Fiorucci collected on his travels worldwide.
My father was very avant-garde and very open to novelties. His shops, over time, had become a point of reference for all of Sardinia.
You were an insecure child with dyslexia. You couldn't read, yet "Poetry made me breathe," you said. Who was the first poet to capture your attention?
Aldo Palazzeschi. I was in primary school when I read his poem Rio Bo which I still know by heart. As an adult, I love Giuseppe Ungaretti.
Do you write poetry?
I adore poetry but enjoy writing song lyrics.
You adopted the so-called Ligazzio Rubio: a red thread, a true fil rouge, as a trademark of your fashion production. Is it a good luck charm?
Yes. The Ligazzio Rubio, the Marras red ribbon, is a lucky charm and an object symbol full of meanings. It guides us through the world's labyrinth by showing us the way. It unites and ties knots of affections, feelings, and emotions. The Ligazzio Rubio is resistant to time and wear.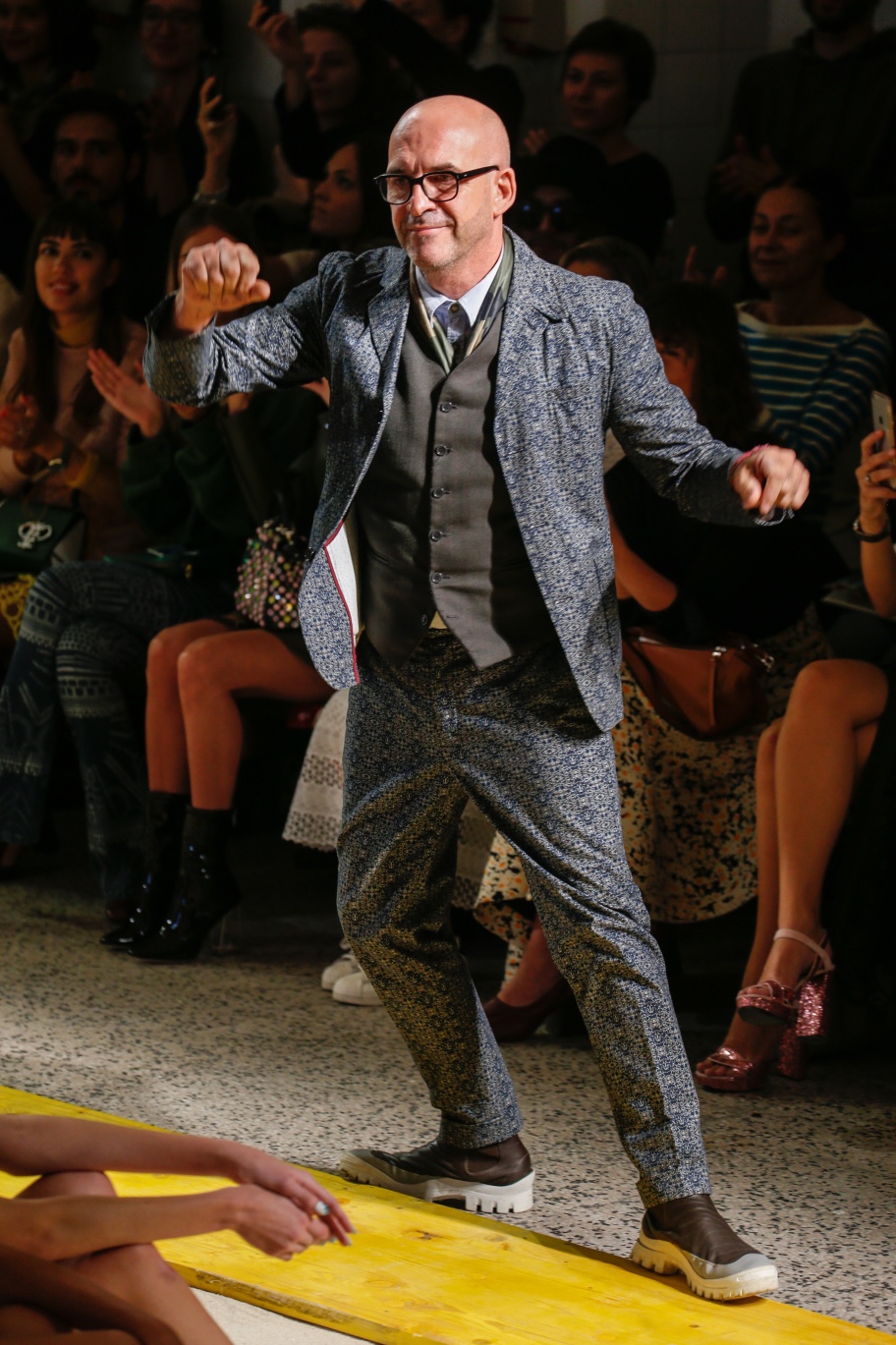 Why do you like the color red so much?
Red conveys the meaning of blood as a life force, purification, regeneration, flow of experiences, movement, heart, feelings, warmth, protection, and passion. My red is blood red. It is crimson with a hint of burgundy that has been immodestly renamed Marras Red. This choice has ancient origins: it is the legacy of the Phoenicians, whose name means purple. The Phoenicians collected murex shells, mollusks from which they obtained the pigment used to color the red-purple fabrics that were products of extreme luxury throughout the Mediterranean. They extracted only one gram of the dye from a murex, making those fabrics almost priceless.
You are also a ceramist. How did you develop a passion for ceramics?
I approached ceramics after intense years of painting that resulted in the Milan Triennale exhibition. In my ceramic work, you find themes that also usually make up the collections of clothes in the form of ideas dear to my poetics: travel, ties, and the taste for personal artisanal detail. My thought is in constant balance between the celebration of the past and a creative present.
You are an eclectic collector of objects, furniture, clothes and books. You said, "Inside me, there are traces, textures, memories, and memories of people who still want to live." Is this a way of honoring the memory of our predecessors? And is your creative approach anthropological?
It's instinctive and dictated by Stendhal Syndrome, by the coup de foudre, love at first sight. When I see a painting by an unknown painter or a design object, I can't rest until I own them. Once, on my way to Amsterdam by bike, I told the person with me to stop suddenly. I spotted an old scale that now makes a pretty sight in my kitchen. Too bad we risked falling into a canal.