America: its name alone has been enough to bring a sparkle in the eye of several generations of young Italians. A sparkle of hope, initially: hope for a better life, hope for a future free from hunger and poverty, just as the one our migrating ancestors must have had in their eyes when sailing through the Atlantic for the first time. But also a sparkle mirroring opportunities and dreams, endless possibilities and fresh starts.
Indeed, America to young Italians was, and still remains, a land where dreams – all types of dreams – can turn into reality. No other place on Earth has been so incredibly attractive to our youth as much as the US, its only competitor being perhaps the UK, a geographically closer option for those not ready to take the big leap to the other side of the pond, and reassured by being only a couple of hours' flight away from their families and friends. Yet, when thinking of the country offering the most, the place able to fulfill aptly and completely one's expectations, America is unbeatable.
Of course, there are many reasons for this. It is undeniable Italians, especially young Italians, are besotted with the US, its culture, its history even. Since the 1970s, the vast majority of us has grown up watching American shows on tv, listening to American music, reading American novelists and coveting American clothes. For my generation, it was all about Chuck's, Nirvana and Friends. Today's kids prefer Vans, rap and The Big Bang Theory, but the Geist remains the same: it's America, it's the place where all happens, the land of what we want to become "when we grow up." In the eye of a young Italian teen, America is where all trends are born, where people turn rebellion and angst into the best music, where the sky is bigger, bluer and freedom reigns.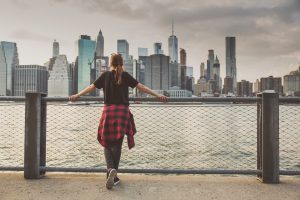 Yes, freedom. Because it all started with history, to be honest. It all started with the way America rebelled against injustice and domination, all those centuries ago, creating the earliest example of constitution where equality among individuals was considered a staple of the nation's life. But freedom lies also in the immensity of its landscapes, the width of its roads and the overwhelming sense of having no boundaries when traveling on one of its highways for the first time. And then America fought against slavery and saved Europe from oblivion during the Second World War, showing the world how much liberty still counts to its people. This is what young Europeans, young Italians, often see when dreaming about America.
And then, we're talking about the country that gave to the world Nathaniel Hawthorne, Sylvia Plath and Johnny Cash. How couldn't one be besotted with it?
As important and rooted in extraordinary ideals, the US is more than Italy's everlasting teenage dream, it has been – constantly and continuously – a safe harbor to develop ideas and to grow potential and innovation. Take famous Nobel Prizes Enrico Fermi, Rita Levi Montalcini and Renato Dulbecco: educated in Italy, they however found the right support to develop their projects and life saving research in the US.  Closer to us in time, we have Renato Capecchi, geneticist and Nobel prize winner, Giorgio Bellettini and Giorgio Einaudi, both physicists or Elisabetta Vitali, who is part of the Armenise Harvard Foundation and has been working between the US and Italy for the past 20 years.
Today more than ever, these successful examples of Italians in America strike a very sensitive point for many. Because we cannot speak of American dream and new generations' attitude towards the US without mentioning the dreaded topic of Italy's "brain drain." Yes, "brain drain," that phenomenon causing a large amount of young, talented Italians to escape their – always loved – country to build a better, more rewarding and just professional career abroad; needless to say, the US is a favorite destination, and rightly so. In the end, as the examples mentioned above – but also many others of young, talented Italians making a name for themselves in America show – we are talking about a country that, when it comes to giving the right opportunities, rarely disappoints. Or, if it does, it's certainly to a much lesser extent than Italy. Because in the US hard work pays and it's how people build their careers; because in the US, young Italians sense, ideas, resilience and dedication can really make a difference. Because in the US meritocracy still exists, and for people coming from a country where years and years spent studying or working to gain meaningful professional experience usually land you the same salary as an unskilled laborer, it means an awful lot.
Young Italians – millennials, to say it with the cool kids – still dream the American dream because in spite of it all, the US still offers fair opportunities to them, fairer than those they may be getting in their own country. In America, they can embrace their teenage reveries, see with their own eyes what they learnt to know from TV, visit the streets where their music idols grew up and, while doing that, they are free to think their intelligence, hard work and determination can count for real. And this is why many Italians choose to leave and settle in America, even if our national economy has been slowly recovering.
But there's something more to consider, as leaving home is never easy and, everyone knows it, there isn't a people as attached to their country as much as we Italians are. America feels naturally like a second home to us, because of the innate warmth of its people and, well, because so many Italians have been there for so many generations; it's like moving in with a beloved aunt, who'll take care of us while we grow up and get ready to make it on our own. Someone who is there to show us the way, without ever asking us to forget where we come from.