Today's word is delicious! Panforte (pan-for-tai) is a type of traditional cake from Siena, made with nuts, candied fruit, honey, sugar and spices. The word comes from the pane, "bread," and forte, "strong" or, in this case, "firm."
Panforte hails from Siena and it is a traditional cake made during the holiday season. It comes from a 10th-century delicacy called panmelato, a sort of bread sweetened with honey and enriched with apples. Contrarily to panforte, though, panmelato was made all-year-round. When, in the 13th century, trade with the East made spices more common in Italy, bakers added pepper to it and transformed it into panpepato. With time, more ingredients were used for panpepato, which turned into a cake with more complex flavors, then named panforte.
In the olden days of the Medicis, panforte was a delicacy only the really wealthy could afford, because of how expensive and exotic its ingredients were. Today, the real panforte from Siena is made with seventeen ingredients, each for every contrada in town, following a recipe dating from 1675.
Panforte has a very chewy yet crunchy texture, because of the nuts in it. It is rich, decadent and somehow exotic, because of the spices in its recipe: coriander, nutmeg, cloves and mace. But it has also all the flavor of the Mediterranean, with its almonds and candied citrus peels!
Panforte is not a cake for everyone, because of its peculiar texture and intense flavors, but it has all the richness and beauty of damask velvet, much like another iconic Italian dessert, la cassata.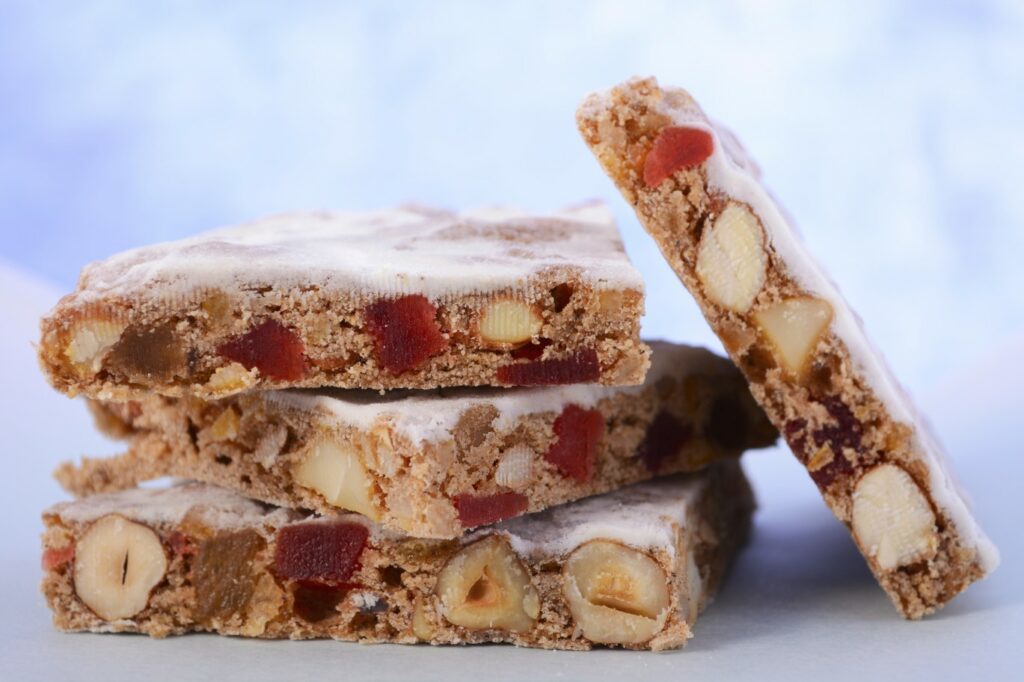 Se vai a Siena, compra un buon panforte!
If you go to Siena, buy a good panforte!
Mi piacerebbe provare a fare il panforte a casa
I'd like to try and make panforte at home
Non sono sicuro di amare il panforte: lo trovo gommoso!
I am not sure I like panforte: it's kind of chewy!