As a wine region, Friuli is arguably better known for its wonderful white wines. With grape varieties such as Friulano, Malvasia Istriana, Pinot Grigio, Ribolla, Verduzzo and Picolit, Friuli white wines epitomize a style one might describe as clean, lean and aromatic.
But Friuli has remarkably delicious red wines too, which are produced from indigenous varieties and should not be overlooked.
While at the 2017 edition of Vinitaly in Verona, I explored two impressive Friuli reds, Refosco and Tazzelenghe, totally worth your trouble to seek out. One is an up and coming star, the other a nearly disappeared variety but one with great potential. I especially enjoyed versions produced by the small, family-run winery of Jacùss located in the Friulian province of Udine.
Refosco dal Peduncolo Rosso is most famous and important among the confusing Refosco group of indigenous Italian grape varieties that untangle their intricacies with no less effort than one would unravel a bowlful of spaghetti. To enhance the confusion just a bit, most folks anyway refer to Refosco dal Peduncolo Rosso as simply Refosco.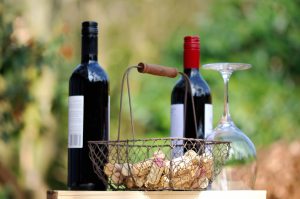 Primarily grown in Friuli (though can be found in Veneto), Refosco dal Peduncolo Rosso is Friuli's best known red grape variety. Like many other indigenous Italian grape vines that derive their names from physical attributes, Refosco dal Peduncolo Rosso derives its moniker from the fact that its stalk reddens when the fruit is ripe. And lest you doubt its pedigree, Refosco dal Peduncolo Rosso has been shown to be a parent to Corvina and grandfather to Rondinella, two grape varieties used to make the distinguished Valpolicella and Amarone wines of Veneto.
Refosco dal Peduncolo Rosso wines show good complexity, giving notes of dried red cherries, berries, herbs, almonds, and flowers, and can exert good tannic grip. Although aromatic, Refosco does not always deliver the longest of finishes. Not unlike the Cabernets, Refosco needs to ripen well, otherwise it can give green aromas/flavors to the wine if picked too early.
The rare Tazzelenghe is an indigenous red Friuli grape variety of great interest. The name Tazzelenghe evolved from local dialect tàcelenghe meaning 'cuts the tongue', a reference to the wine's ample acidity and high tannins. As far as I know, the variety grows only in Friuli, a fact which was affirmed while tasting with the good folks from Jacùss.  It strikes me that Tazzelenghe may be one of those varieties that one either loves or hates. In that regard, Tazzelenghe is a real underdog among other grape varieties which seem to make consumer friends quite easily with their approachable wines.
Formerly recognized as a member of the Refosco family, Tazzelenghe makes lighter-bodied wines with potential for aging. There exists, I'm told, only a few hectares of Tazzelenghe in Friuli. Whatever may have been the preceding circumstance – some say phylloxera played a role – it appears the variety had been disfavored by local producers. Even though Tazzelenghe has good resistance to disease, producer attention nonetheless shifted in favor of other varieties. A small group of dedicated producers found the wherewithal to accept whatever commercial and/or financial risk that came with making Tazzelenghe wine in quantities significant enough for commercial sale of the wine (especially considering a lack of any real established market).  I am grateful, as it would be a shame to lose this rare native variety. Thankfully, at least for the moment, wine lovers have a chance to experience and, hopefully, understand Tazzelenghe and, perhaps, play a role in determining its future course.
Tasting the Jacùss Tazzelenghe made me believe that, like Refosco, when made well, Tazzelenghe wines can indeed offer good complexity, showing notes of flowers, dark berries, and earth.
Unfortunately, wines made from Tazzelenghe appear to be still not so available in the USA. In fact, a search of the variety name at a well-known online sourcing site returned only a handful of results.
To taste either wine, I would direct you to the Colli Orientali del Friuli DOC. Recommended Refosco producers include Jacùss, Ronchi di Cialla, and Scarbolo. For Tazzelenghe, I refer you to producer Jacùss, although to my great surprise (importers, I hope you are listening) that producers appear unavailable in the US. Therefore, you may wish to try La Viarte, a well-regarded producer of Tazzelenghe with some US distribution.
You might enjoy pairing Tazzelenghe with both red and white roasted meats, as well as rich meat sauces. Refosco will flatter fattier meat dishes, roasted pork, and again, as with Tazzelenghe, rich meat sauces, and medium aged cheeses.
Jacùss Tazzelenghe
Notes of violets, berries, herbs and spice. While soft in the mouth, the wine has a certain intriguing austerity. Finishes with good tannic grip and a pleasant bitter note.