A dream comes true! You are finally in Italy, sitting at a lovely table al fresco, somewhere in Florence – or wherever you fancy, really! With the soft chit-chatting of people around you and the gentle breeze of late summer on the skin, you eagerly open the menu and read through all that's on offer: panzanella, ribollita, bistecca alla fiorentina, pappardelle ai funghi… che delizia. A bottle of Brunello would be perfect, too, and then, vin santo and cantucci. Hang on, though: there's this… coperto?! What on Earth is coperto?
Literally, the word "coperto" means "covered," but in this context represents a small service fee you may have to pay in some restaurants. While it used to be more common in the past – I still remember a standard coperto of 2,000 lire (the equivalent of one euro or a one USD today) in pizzerias when I was a teenager in the 1990s – you shouldn't be surprised to find still today.
But what does coperto cover and what's its history?
Popular food and culinary culture magazine Agrodolce comes to the rescue and explains us both.Strictly speaking, coperto is paid to use the table, cutlery, and crockery of the restaurant, as well as the cleaning after you finish your meal. Its history goes back many centuries, as it was introduced by medieval innkeepers who used to offer tables both inside and outside to their customers. Now, outside seats weren't certainly the comfy, picturesque affair we are used to nowadays, so it made sense that there was a price to pay to enjoy some more comfort under a roof, al coperto. The fee was applied only to the people who would bring their own food to the inn – yes, apparently you could do that, back then – and were charged for their seat and the use of cutlery and crockery. If, on the other hand, you came empty-handed and enjoyed what was on the menu, the coperto was included in the price of what you ordered.
It may surprise you to know that, in fact, bringing your food from home when you went to a tavern remained common up to the early 1900s, when the coperto started to include also water and bread. Didn't restaurateurs lose money that way, though? Apparently not, because in those years inns and taverns would make most of their money from selling wine, not food. Of course, we are talking about popular eateries, not certainly fancy restaurants for the upper classes.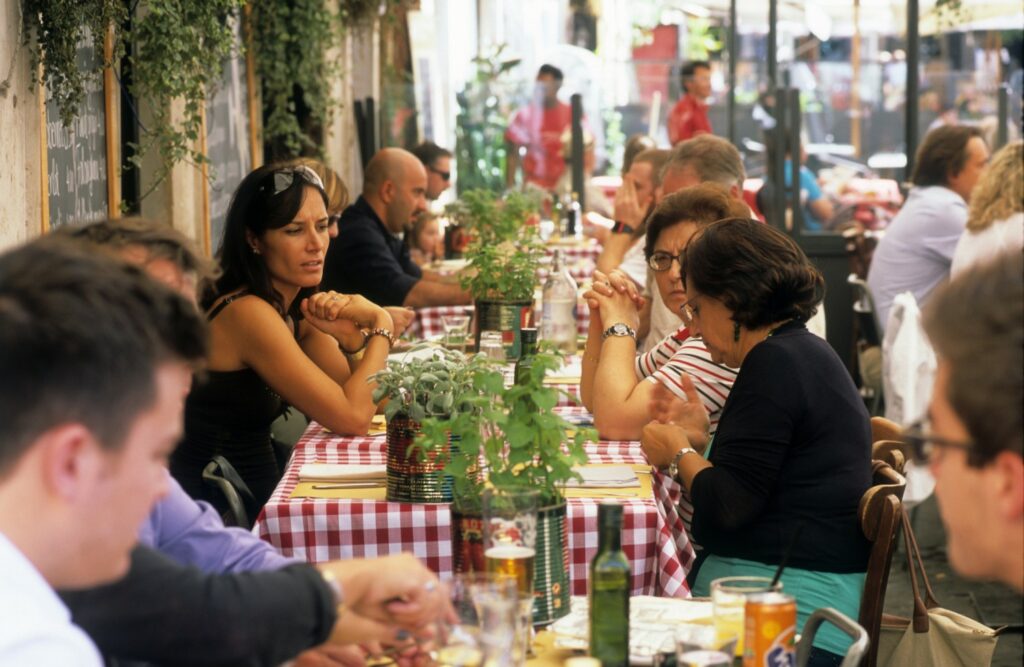 Since time immemorable, Italians have been waiting for the abolition of this little yet, for many, rather annoying fee, which has been annulled already in other parts of the world: our cousins the French did it in 1987, so today you get service, bread and a jug of water already included in the price of what you order, no additions. And because we don't have a national law dictating how restaurateurs must behave, it's all left in the hands of local authorities, which decide whether coperto must be paid or not.
In many parts of Italy, you'll no longer find the word coperto on the menu, but rather servizio, which means pretty much the same thing. Whether it's mentioned as a separate fee or not, we are always paying coperto, which is more often than not already included in the price of what you order. Lazio is perhaps the region that clarified the situation better with a 2006 regional law that bans the charging of coperto but allows that of servizio: again, though, it is the restaurateurs' duty to ensure that the indication is present and explained on the menu, so that customers know, quite literally, what they are getting for their hard-earned money. Don't worry though, because coperto won't set you back too much: the average price for it is between 1.50 and 2 euro (1.50 and 2 USD).