Nero, a madman!
Popular belief — and many a "sword-and-sandal" classics — convinced us all the red-haired son of Agrippina the Younger and last Emperor of the Julio-Claudian dynasty was far from sane, but is this the historical truth?
Born Lucius Domitius Ahenobarbus in 37 AD, he became Nero Claudius Caesar Augustus Germanicus when adopted by Emperor Claudius, who had married Agrippina. The name we know him with, Nero, comes from the ancient Sabine language and means "courageous," "valiant;" it was chosen for him by Emperor Claudius himself.
From a young age, Nero showed a liking for the arts: music, theater, singing, you name it, and didn't disdain to be on stage. He would often perform plays or recite poetry he had composed. Did he enjoy being at the heart of attention? Very much so, but this didn't make of him a madman.
Once he became emperor, Nero finally walked onto a stage where everyone could see and appreciate him: that of history. Little did he know that wasn't going to happen, at least for a good two thousand years.
Notoriously, Nero was considered for centuries the mind behind the Great Fire of Rome, which destroyed the Eternal City on the 19th of July 64 AD, which, apparently, he had excogitated as an excuse to openly persecute and kill Rome's increasingly larger Christian population. While modern historians agree, today, that Nero was not responsible for the fire, it cannot be denied his persecution of Christians was one of the bloodiest: Saint Paul and Saint Peter were both martyrized under his rule.
Nero was long considered one of the most ruthless, cruelest leaders in Roman antiquity: he had his own mother, Agrippina, his friend and educator, Seneca, and his first wife, Octavia, killed. Some believe even his second wife, beloved Poppaea, was killed by Nero in a fit of anger, while pregnant with their first child. Indeed, it is the aftermath of Poppaea's death that, for centuries, was considered the trigger of Nero's descent into madness: Roman sources told us he would force slaves to dress like his defunct wife and that it wasn't unusual for him to do it, too; losing Poppaea also made him more promiscuous and often violent with his lovers. Politically, Roman historians painted him as a heartless tyrant, who thought nothing of having his adversaries killed and his subjects starved.
One image represents this Nero better than any other: the poster of the 1913 movie Quo Vadis,  where he's seen playing his lyre while watching Rome burning.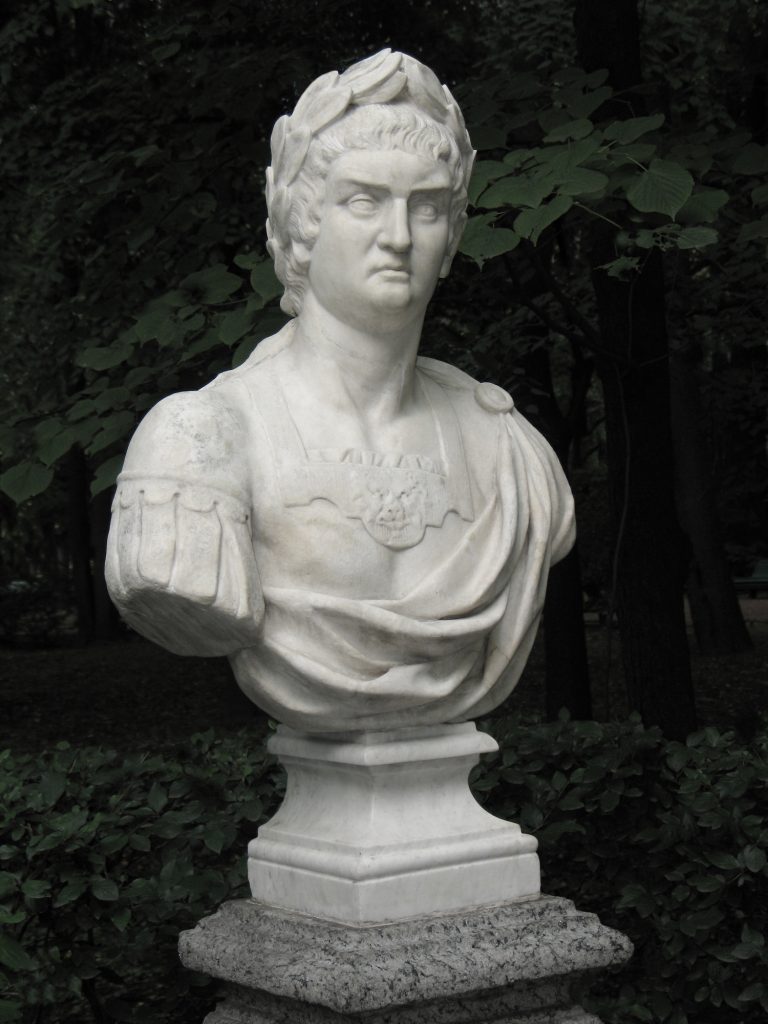 But was this the real Nero?
Contemporary historians are quite adamant that, no, the darkest of all Emperors wasn't that dark, when looking at him with unbiased eyes. Much as it has been happening for his uncle Caligula, possibly the greatest fiend of ancient Rome — at least according to popular culture — Nero's figure is going through a process of historical rehabilitation: while in power, he reformed the tax system in favor of the poorest, he promoted several public works for the upkeeping of the city and was, at least up to the great Christian persecution after the fire, quite tolerant towards other religions in the Empire.
Speaking of the fire, it is today known that he hadn't been responsible for it and that, in fact, he managed the tragedy quite well, supporting the quick and safe reconstruction of the city. Contrary to what historians coeval to him told us, common people were quite fond of Nero, to the point that his tomb, which once stood where Santa Maria del Popolo church is today, was cared for lovingly for the longest time by his former subjects.
"But he had half of his family killed," some of you may say: yes, he had, but we shouldn't forget how, in those time more than ever, being on top was a dog-eat-dog game, and you couldn't trust anyone, not even your own mother (quite literally, for Nero, in fact). He wasn't the first nor the last ruler in history who murdered people close to him, nor was he the only one who exploited others because of his position.
Was Nero a pleasant human being? Who can say… but he wasn't mad, and no more evil or malicious than other emperors or kings of our history. He was, however, a victim of the notorious habit of ancient historians to exercise damnatio memoriae, or character assassination, as we would call it today: no longer in charge and despised by those who rose to the throne after him, Nero had to be damned: if not in Hades, at least in the memory of history.