"We like the idea of ​​combining Americans' fresh mentality with our Italian taste, and with that unique ability, typical of those born and raised in our beautiful country, to think outside the box."
With films hailing from more than 70 countries around the world, the festival has featured over 4,500 films since March 2019. "We listen to the artists, we take care of them, and we make them part of a family in which they always feel welcomed and justified in their daring choices," Sergio and Anna tell me from their home, which is only a few miles from the most famous Strip in the world. "Everyone must have the opportunity to consolidate or build their career in the most authoritative and meritocratic way possible."
How did the idea of ​​founding a film festival come about?
We are also filmmakers and entrepreneurs who are deeply disappointed by the treatment of independent cinema by the Film Festival industry. By studying the market in the various forums about it, we soon realized that we were just a drop in an ocean of disappointed filmmakers. We found this carelessness so disrespectful, frustrating, and in some cases humiliating, that we realized this could be a battle worth our time and energy.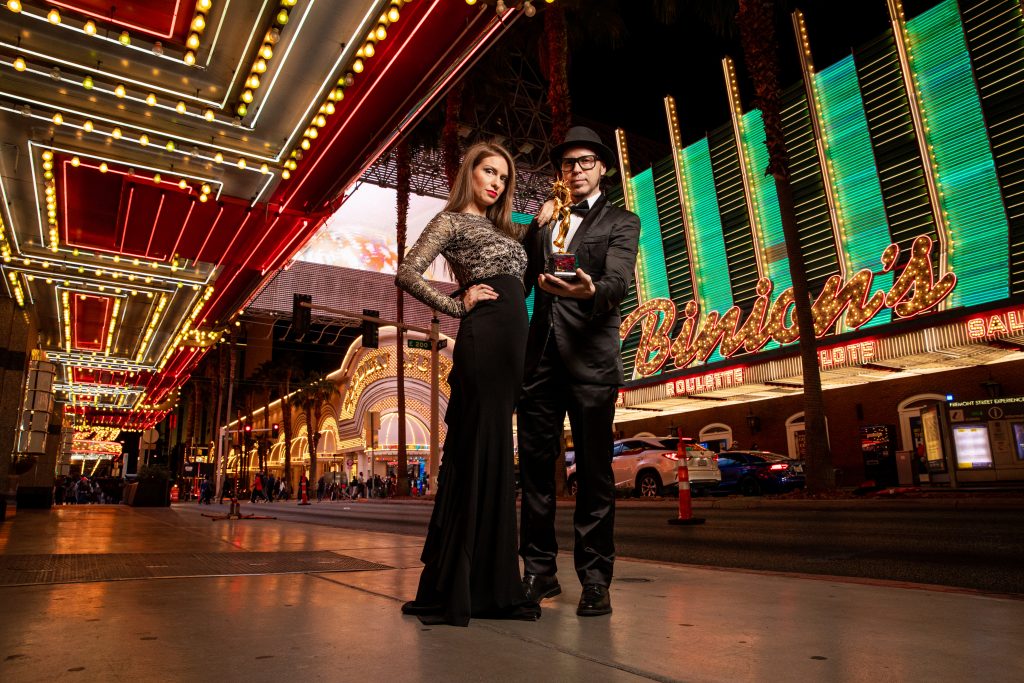 Why did you decide to dedicate the festival to independent films?
As an independent producer and director it seemed like a logical choice, first of all for a great personal passion and secondly because, at an entrepreneurial level, I (Sergio) always prefer to try my hand at something I know deeply. Furthermore, a common problem to all independent directors is not really knowing what to do with their work once it is finished; how to promote it, where, how, and who to rely on. We are here to answer those questions.
How does your festival help emerging directors and actors?
On an emotional level, the artist is exhausted from having created film, and as soon as they approach the world of festivals they end up in a whirlwind from which they generally emerge with a broken motivation. In our organization and our team, artists can find respect and continuous communication, essential elements of their experience with us.
We also promote the best winners, both online and offline, offering them in an exemplary way to an audience of over 10,000 professionals and their peers, in order to establish synergies and make it easier for them to find distribution and people who believe in their projects.
How do you interact with the artists?
Filmmakers use our website, www.vegasmovieawards.com, directly to submit their film or script, or the FilmFreeway platform which currently has more than 500,000 active filmmakers. When they want to talk to us, artists from all over the world find us at all hours on our Facebook and Instagram pages, and at our email address, info@vegasmovieawards.com
Why choosing an online festival with monthly competitions?
We loved the high-quality monthly online competition formula, where the winners of each edition could compete for our annual awards at a physical ceremony in beautiful Las Vegas. Independent cinema is overflowing with talent, eager for recognition for their hard work, and we knew we couldn't help enough people with just an annual competition.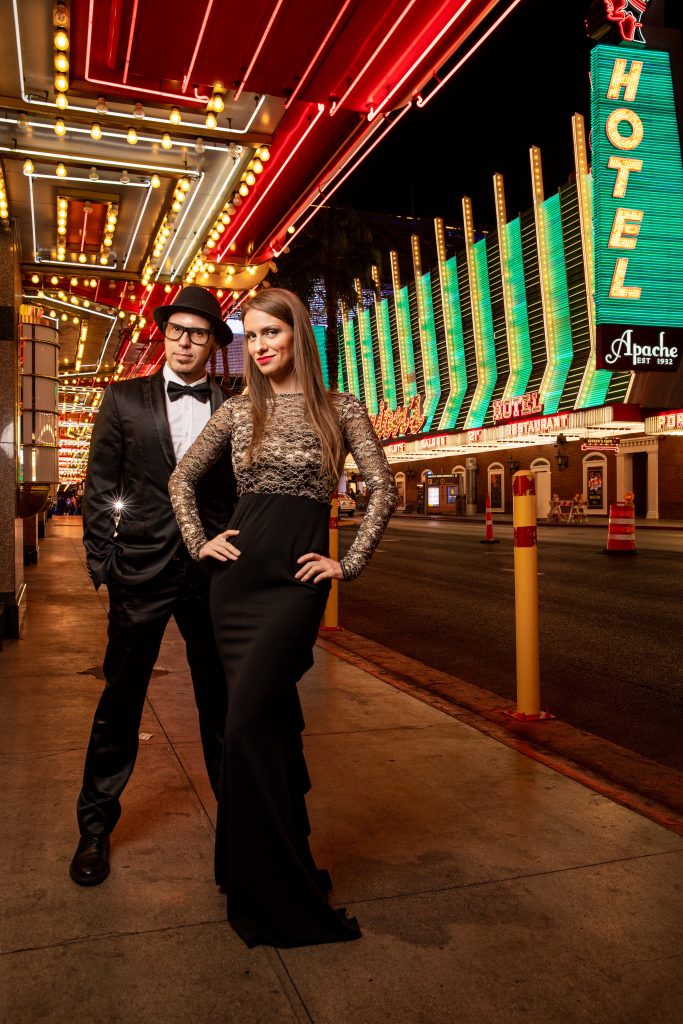 How did you manage the festival during the pandemic?
Despite the enormous efforts in terms of money and time invested we had to cancel our first big annual ceremony in Downtown Las Vegas, and refund up to the last ticket. If nothing else, since then our monthly competitions have become very popular, and we have invested all our time studying a lot, creating synergies in the city, and training our collaborators to create an impeccable organization that responds to an ever increasing number of participants.
How many categories and awards does the festival have?
Given the impressive number of filmmakers currently in circulation, making a lot of categories has always meant one thing for us: being able to give a voice even to those who usually have beautiful but risky / uncomfortable projects and, for this reason, are little considered by the film industry. And also, through specific categories such as Best Producer, Best Actor, but also Best Editing, or Best Choreography, we manage to somehow reward all those people involved in a film who work with passion both in front of the camera and behind the scenes, often without receiving any award, but who are the pillars of a cinematographic work's success.
What is your background and what did you do in Italy?
I (Sergio) have been an art director and graphic designer for 20 years, and I have made in recent years an animated series called SuperHillCool, about rival Italian rock bands grappling with crazy tours in the United States and around the world. It allowed me to win 15 international awards and get the interest of American entrepreneurs in completing the project. Anna has extensive multi-sectoral experience and thanks to her personality, and a decidedly out of the ordinary sensitivity, she has managed to make the most of every area, developing and honing incredible skills in business management, marketing and customer relations. She is also an excellent designer and has helped me a lot with my animated series.
Why did you choose the USA?
Our projects and ambitions were evidently too big for Italy's ability to understand, support and enhance art in all its forms. And it is a great pity, given that we were born and raised in the world's greatest cradle of art.
What did you find special in America and in Las Vegas?
Here in America, and in Las Vegas in particular, we have found people able to perceive the potential of our entrepreneurial vision, and this is finally allowing us to express ourselves at our best, albeit with great difficulty.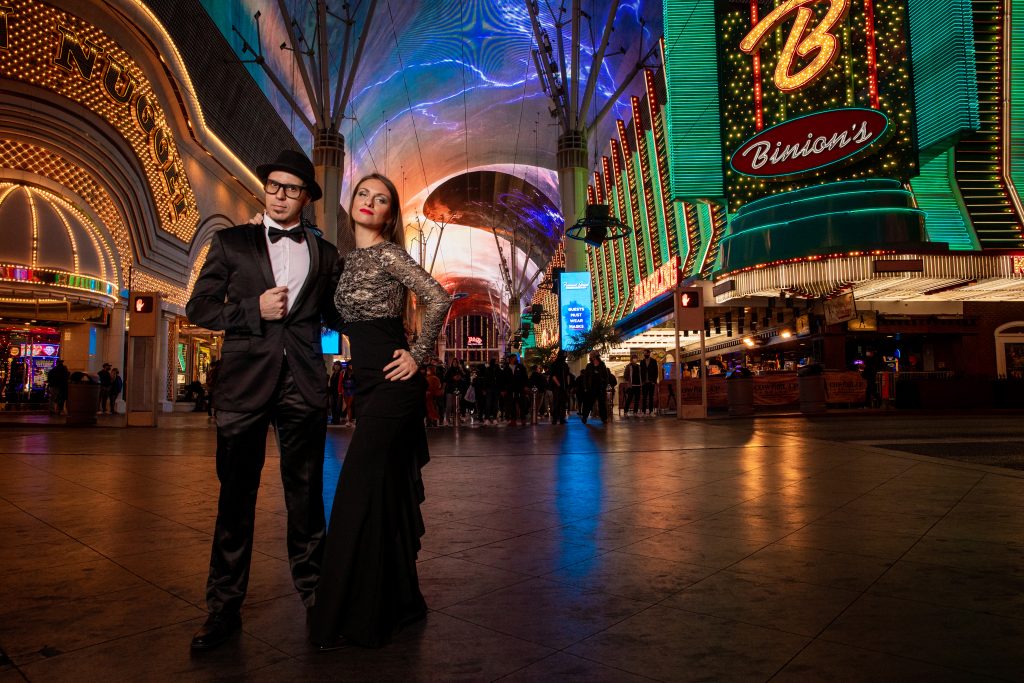 What do you like about Las Vegas?
Anna and I had the pleasure to notice how Las Vegas outside the Strip is a simple, extremely livable and dynamic city, made up of people who still know how to smile and be genuinely supportive. It is also full of beautiful and unaltered naturalistic views that we personally adore.
What are you most proud of?
In a short time and despite the pandemic, we have managed to make great strides, we have hired incredible collaborators from America and different parts of the world (including Italy). The Festival is getting closer and closer to the model we had imagined since the beginning. This is giving us the opportunity to expand and to consolidate the festival's international position, as well as that of our other projects.
What is your goal for the future of the festival?
We have already laid the foundations for the creation of platforms to protect our participants, implement their technical / artistic and entrepreneurial knowledge, to promote globally their extraordinary work, as well as to extend our collaborations with other festivals and sponsors. We hope that the Vegas Movie Awards ™ will become more and more a great, internationally prestigious platform, where only the best emerge, but where everyone can feel welcome and find inspiration for their careers and their lives.