Umbria is a region both timeless and beautiful: with its rolling hills and ancient towns filled with art and history, it is a well-known and beloved holiday destination for Italians and non-Italians alike. Yet, beneath the surface of its medieval charm lies an unexpected surprise – a vibrant, thriving pulse of music, and not just any music, but jazz.
Jazz has its birth roots in the vibrant cultural mix of New Orleans in the late 19th and early 20th century, and has always been about breaking barriers and cross-cultural dialogue. Born from the convergence of African and European music traditions, it is the embodiment of resilience, improvisation, and freedom. Much like the stories etched into Umbria's stonework, jazz carries within its notes a history of struggle and transformation.
In the warm heart of Umbria's idyllic landscape, every July, jazz's vibrant harmonies resonate through medieval streets thanks to Umbria Jazz. Born in 1973 from the shared vision of Carlo Pagnotta, a Perugian music lover, and Giampiero Feliciotti, an art enthusiast, the festival was a daring venture that sought to infuse the region with the spirit of jazz.
Pagnotta and Feliciotti saw jazz as not only a form of music but also a universal language capable of crossing cultural divides, bridging gaps, and creating bonds. Their daring venture aimed to capture the vivacious spirit of this music and distill it into the historic streets and charming nature of Umbria.
In other words, the festival's ambition was more than just about staging a series of concerts, it was a passionate effort to bring the world to Umbria and vice versa. Pagnotta and Feliciotti's endeavor sparked immediate success, attracting a congregation of jazz lovers from both local circles and international arenas. In its inaugural year, 1973, the festival welcomed the likes of Sun Ra, a pioneering figure of Afrofuturism, and his Arkestra. Also, in its early years, Weather Report, one of the preeminent jazz fusion bands of the '70s, made appearances at the festival. In subsequent editions, the festival continued to attract stars of the jazz world: legends such as Miles Davis, who is often credited as one of the key figures in the development of the genre, Dizzy Gillespie, a major figure in the growth of bebop and modern jazz, and Herbie Hancock, renowned for his ever-evolving expressions in jazz and his groundbreaking work in electronic music, have all graced the stages of Umbria Jazz. More recent editions have seen contemporary stars such as Diana Krall, Keith Jarrett, and Chick Corea, demonstrating the festival's commitment to showcasing a broad range of talent. In its aim to be a platform for all forms of music connected to jazz, the festival has also hosted non-traditional and cross-over artists, like the British singer-songwriter Sting and pop sensation Lady Gaga, who performed alongside Tony Bennett in 2015. Legends of alternative music such as Thom Yorke and music icons like Elton John and Liza Minelli also graced its stage throughout the years. The festival's reputation has grown so much that it is now considered one of the most important Jazz festivals in the world.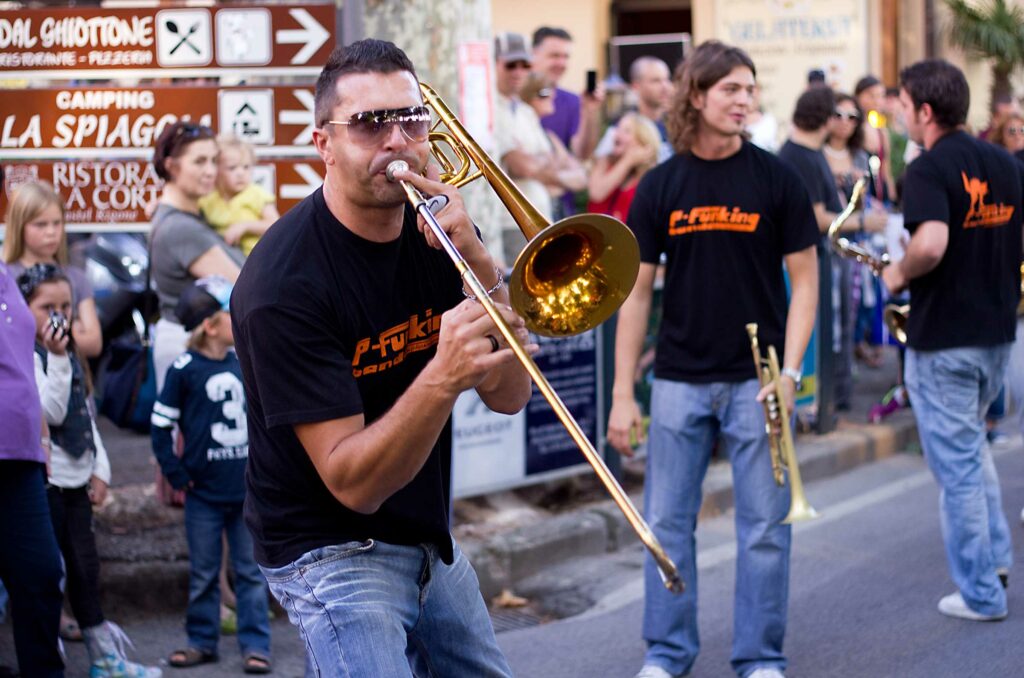 The event unfolds across a variety of venues in Umbria, each with its own unique character: the grand Basilica of St. Francis in Assisi offers a majestic backdrop for unforgettable performances, while the intimate clubs in Perugia's historic center provide an up-close and personal encounter with the music. In this way, Umbria Jazz is much more than a series of concerts, it is a total cultural immersion and a unique opportunity to travel through the region's rich historical and artistic landscapes, all to the captivating rhythm of jazz.
But the influence of Umbria Jazz extends beyond the realms of music and culture because the event has a transformative impact on the region itself. Every summer, as the festival takes off, a diverse confluence of people, cultures, and sounds sweeps across Umbria, breathing a fresh lease of life into the region. Of course – and it goes without saying – the festival is a godsend for both local trade and the tourism industry, and brings international recognition and prestige to Umbria, enhancing the region's cultural profile on a global scale. Thanks to it, Umbria became a recognized center for world-class jazz, and its role as a thriving hub of creativity, innovation, and cultural exchange, which the region holds since the Middle Ages, has only become stronger.
The program for the 50th edition of the Umbria Jazz Festival, taking place from July 7 to 16, 2023, continues to take shape.
On July 11, the outstanding jazz pianist Brad Mehldau will perform, accompanied by Larry Grenadier and Jeff Ballard. On the same night, the Branford Marsalis Quartet, established in 1986, will also perform.
On July 12, intelligent and sensitive artist Rhiannon Giddens delves deep into the roots of American folk music and beyond, in a duo with Italian guitarist and partner Francesco Turrisi. Also performing is Snarky Puppy, which has rapidly become one of the most popular names in the world of jazz and fusion. On July 13, Ben Harper, along with The Innocent Criminals, will take the stage. On July 16, in his only date in Italy, a great rocker and equally great bluesman, Joe Bonamassa, will perform.