In Catholicism, the Cult of the Dead is very important. Who isn't familiar, especially in America, with the traditional Mexican celebrations for El Dia de los Muertos? In Italy, too, religious events and spiritual moments of remembrance hold hands with more prosaic examples of the country's attachment to her faithful departed. Among them, we also find food, especially cookies and cakes, often made especially for our loved ones from heaven, who are said to come to visit us in the night between the 1st and the 2nd of November. It wasn't unusual, in the good old days, to leave a plate of these simple, wholesome treats on the table for them before going to bed, just like children of today leave cookies, milk and a carrot for Santa and Rudolph on Christmas Eve.
From North to South, these recipes strike for the simplicity of their ingredients, the heavy use of seasonal spices, like clovers and cinnamon, and almonds, especially in the South. And, of course, for the creativity of their names.
Le ossa dei morti ("the dead's bones")
These bone-shaped cookies are made with toasted almonds, sugar, whipped egg whites, flour and spices, including cinnamon and cloves. They are traditionally enjoyed with sweet vin santo.
Pan de mei ("millet bread")
This recipe comes from Milan and its name is in Milanese. However, it isn't millet to be used here, but cornmeal. Pan de mei was created to celebrate Saint George, the 23rd of April, who is considered the saint protector of dairymen. However, it also became a staple of All Souls' celebration in Lombardia's capital. It's made with cornmeal, regular flour, butter, yeast, hot milk, lemon rind and elderberry flowers. These cookies, as you may have guessed by their name, look a lot like small loaves of bread.
Il pane dei morti ("the dead's bread")
After the bones of the dead, here comes their bread. Il pane dei morti is common in Northern Italy, especially Lombardy and Tuscany and, just like le ossa, it was traditionally made "for the dead," so that they could eat when they arrived on Earth from heaven, on the night between the 1st and the 2nd of November. Some say that the ancient Greeks used to make a similar cookie to honor Demetra, the goddess of the harvest. Their ingredients are very simple: flour, cocoa, white wine, dried fruit – like dried figs, almonds and raisins – and spices – including cinnamon. More recent versions add also ground cookies like rich teas to the mix. They are shaped like leaves and placed on thin wafers. In many parts of the North, especially in Milan, you can find them in almost every bakery since the end of October.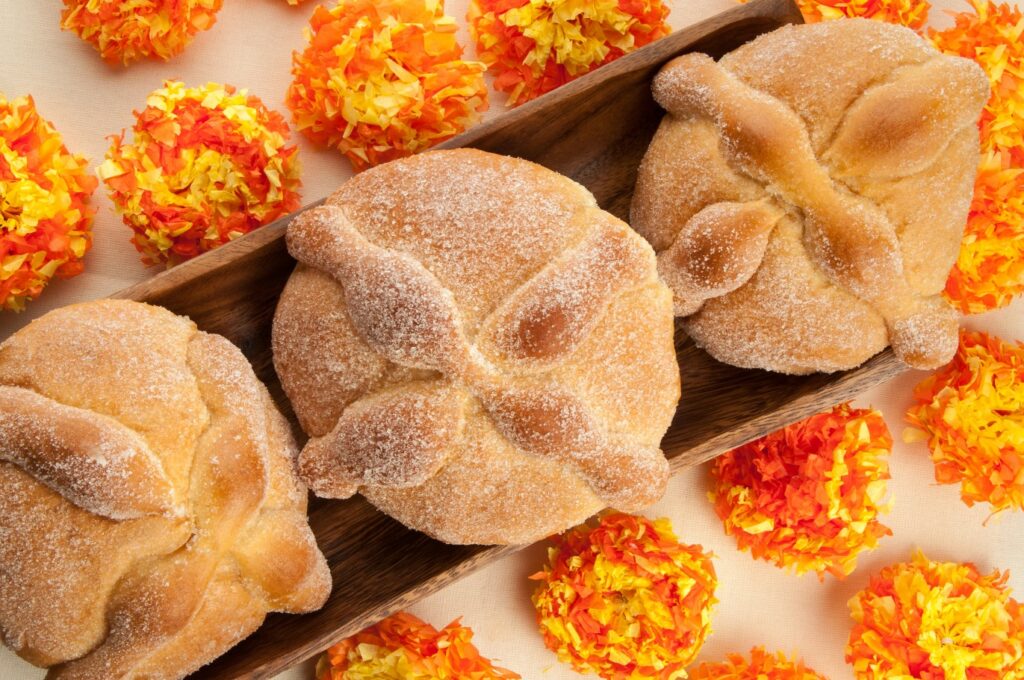 Le fave dei morti ("the dead's fava beans")
Le fave dei morti are traditionally served in Tuscany and Lombardy especially, as part of the already-mentioned plate of delicacies left out for the souls of our loved ones. In ancient times, actually, people would serve cooked fava beans, but the cookies ended up becoming more popular.
Who says that the dead can't taste food?
These oval-shaped cookies are made with almonds, sugar, egg yolks and egg whites, and they are among the most popular All Souls' treats we have.
La frutta Martorana
Frutta Martorana doesn't need any introduction, nor need its name to be translated. If you've ever been to Sicily – or to a Sicilian deli – you definitely know those colorful fruit-shaped sweets, made with almond flour. They inherit their name from the church of Santa Maria dell'Ammiraglio, or della Martorana, where nuns used to make and sell them. Tradition says that they created them to decorate their gardens – empty because of the season – on the occasion of a visit from the Pope. They are associated with the Fall and, perhaps for this reason, they are particularly popular around All Souls Day.
La pupa di zucchero, or pupaccena ("the sugar doll")
La pupa di zucchero is typical of Sicily's capital, Palermo, where it is made only to celebrate All Souls Day. It is literally what you'd expect from the name, a doll made of sugar: specialized bakers, known locally as gissari, create plaster or terracotta molds shaped like dolls, where a mixture of sugar and water is poured. The resulting candy is then colored and decorated with ribbons and tin foil. Their dialectal name, pupaccena, may come from the pupa a cena, a doll that was used to decorate the dinner table of noblemen, or pupa a cera, wax doll, like those you could find, once upon a time, in Sicilian convents.
Nucatoli
Our last treat for the dead are nucatoli, and they come from Sicily, too, more specifically, from the South-West of the island. They are "S" shaped and open on the top, so they can be filled with a variety of fillings, including dried figs, raisins, honey, cooked must, walnuts or almonds, always flavored with lemon or orange peels. They are then covered in royal icing. While they are made for All Souls Day, they are also common at Christmas.