If there is one thing Italy has been missing since lockdown orders were enforced again , it's aperitivo. Whether it was a quick one after the office, a weekly way to catch up with friends, or just a weekend occurrence to enjoy some social time while nibbling on nice food, most of us would have at least an aperitivo time a week.
Right now, things are a bit different: when are we going to be able to have aperitivo again? Who knows — although some hope, perhaps a tad too boldly, to be able to enjoy a spritz or two over Christmas time. Let's be honest: to live aperitivo time as we used to, we may have to wait a few months more, but that doesn't mean we can't be constructive with our time in the meantime.
To begin with, we can enjoy a couple with our loved ones at home, as our classics — Aperol Spritz, Negroni, Americano, Bellini… — have ingredient pretty easy to get at the supermarket. But you know what would be even more fun? Having an aperitivo drink while learning why it's called the way it is. So, go get the Aperol and I'll take care of the rest!
Aperol Spritz is probably Italy's favorite aperitivo drink: it's fresh, it's sparkly, not as strong as Negroni, but a bit naughtier than Bellini — more about them below. Made with prosecco, Aperol (a bitter orange flavored spirit), and club soda, we call it simply spritz in Italy, but why? To find out, we need to travel back in time to Veneto, sometimes in the 19th century, when the region was still part of the Hapsburg Empire. Back then, Austrians had problems handling the high alcohol content of our wines, so they would often ask innkeepers to add either water or bitter to their glass. And how would they do that? Simple: shouting spritzen!, which means "to splash."So, the name spritz comes from a German verb!
Another typical aperitivo drink in Italy is Negroni. Not for the faint-hearted, Negroni is a heady, aromatic mix of gin, Campari and red vermouth. If Spritz is a child of Veneto, Negroni is a true Florentine. It was created in Florence, sometimes between 1919 and 1920, when Count Camillo Negroni asked a bartender at the Drogheria and Profumeria Casoni, in Via de' Tornabuoni, to stiffen up a classic Americano. Now… we need to spend a couple of words of that cocktail, too: the Americano was, and still is, a popular mixed drink made with vermouth, bitter and soda water. Count Negroni wanted his Americano stronger, but with the same enticing ruby color of the original.The solution? Adding gin, of course. And that's how the Americano alla maniera del Conte Negroni and its name were born. If you are in Italy, you may come across someone ordering a Negroni Sbagliato, or a messed up Negroni, that is. Well, this is a pretty popular aperitivo too, which was — legends say — born by mistake when a bartender mistook a bottle of prosecco for the gin he needed for a Negroni. The result was quite nice and became popular in its own right.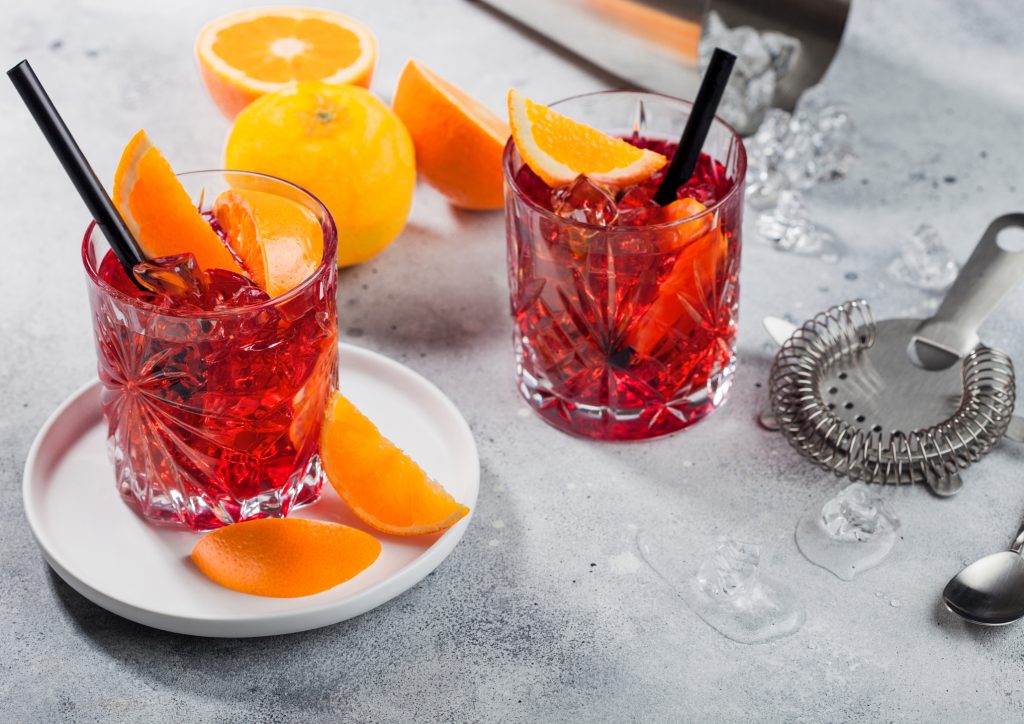 Bellini is another favorite of aperitivo time. Since we began enjoying brunch, we like to pair it with that, too, mostly because it doesn't have near as much alcohol content as Negroni, spritz and other aperitivo favs. Bellini was created in the late 1930s or early 1940s in Venice and it is a mix of prosecco and white peach purée. It owes its name to the painter Giovanni Bellini, and more precisely, to the fact that its color reminded Giuseppe Cipriani, the cocktail's creator, of a specific shade of pink found in one of Bellini's paintings.
Because white peaches were not that simple to come by, a series of variations on the Bellini were born: if you mix prosecco and mandarin juice, you'll have a Puccini; prosecco and strawberry purée give us a Rossini, while prosecco and pomegranate are the ingredients of Tintoretto.
Whichever version you pick, these are probably the most elegant and artsy of all our aperitivi!