Bound on three sides by water, Italy is a beach lover's paradiso.   But — come summer — Italians skip the tourist meccas of the Amalfi Coast and Cinque Terre.  When Italians crave the beach, they head to Cilento or to Puglia instead. Sapphire seas, minus the tourists, typify these Southern Italian regions.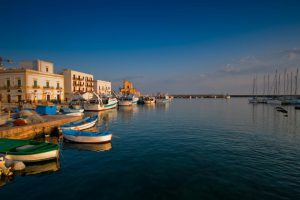 Just two hours from Positano, Cilento is a land of ancient ruins, fresh mozzarella and quaint fishing villages.  Cilento's pristine waters are no accident.  Since 1991, Cilento has been home to a national park that spans 700 square miles of land and sea. The park was created to protect the area's natural beauty and towns from development.
Puglia, the heel of the Italian boot, is on the country's east coast.  Its rocky shores boast countless sea caves, like the much-loved Grotta della Poesia. On sunny days, swimmers plunge into the grottoes' cool pools — shielded from the wind and the tides.  Brightly-colored fishing boats bob nearby in the bright blue sea.
Below are some of Italy's best-kept secret shores. Shh, don't tell.
PALINURO
The Palinuro peninsula juts out into the Mediterranean Sea. Spread along its rocky coast, you'll find unspoiled coves and crystal-clear waters. Some of the best swimming in here is reachable only by boat. Drop anchor in a quiet cove for the day with a private ship captain – as the waves lap against the shore. Boats can also take you to the peninsula's many grottoes – caves lit from below by sunlight reflecting off the white sand.
GROTTA DELLA POESIA (PUGLIA)
Puglia is home to some of Italy's most gorgeous coastline.  Cliffs poke out of the sea here, creating natural grottoes.  These stone coves are the perfect place to jump into Puglia's blue-green waters. Located near the small town of Roca Vecchia is the grotto della poesia.  You can dive from the grotto's stone walls into the calm pool below. Pack a picnic lunch and spend the day sunning and swimming.
MARINA DI CAMEROTA (CILENTO)
Found in the southernmost part of Campania, Marina di Camerota is part of the Cilento National Park.  Since 2000, it's won awards each year for its pristine waters.  Built into the rugged hills, Marina di Camerota is home to soft, sandy shores. Visitors might swim in the light blue sea, cruise the coast with a ship captain, or learn to make pizza with a local nonna. As part of a national park, beaches here are unspoiled – immersing you in natural, timeless beautiful
GALLIPOLI (PUGLIA)
The city of Gallipoli means "beautiful city" in Greek. And, for good reason. Gallipoli boasts a medieval fortress, crystal-blue waters and sandy beaches. The city's historic center is located on an island — ideal for exploring on foot.  Baroque architecture meets the Mediterranean in Gallipoli. Nearby, sea lovers can enjoy the pristine beaches of Torre del Pizzo or Punta della Suina. Here, you'll find some of Italy's clearest, bluest waters – locals even call it Italy's 'Caribbean.'
OTRANTO (PUGLIA)
Otranto, on Puglia's east coast, is one of Italy's loveliest seaside towns.  Otranto is famous for light blue water, stone cliffs and charming whitewashed homes.  Strolling Otranto's promenade, you'll spot fishermen hauling in the day's catch and sailboats bobbing in the bay. Otranto is also home to one of Puglia's sandier beaches, Spiaggia Azzurra – appropriately named for its clear blue cove.  It's the perfect spot to laze the day away by the sea.
"Born and raised in Turin, Laura Massoni helps  travelers to explore the authentic Italy. You can learn more at seeitaly.com or by contacting her directly at laura@seeitalytravel.com"