Seattle's Italian Cultural Center opens after months of planning
After months of planning and hard work, fueled by the efforts of many volunteers, Casa Italiana—Italian Cultural Center officially opened on May 29, 2021.
When fully realized, the new Italian cultural center will include an Italian library, exhibition space to preserve documents and photos that record the heritage and contributions of Italians in the Pacific Northwest, meeting rooms, offices, commercial kitchen, banquet space and an espresso bar that opened this spring. One of the offices now houses Seattle's Honorary Consul.
A small group of dignitaries were on hand to inaugurate the new center. These included Lorenzo Ortona, consul general of Italy, and Fabio Massimo Ballerini, consul of Italy – both from the General Consulate in San Francisco. The current and past honorary consuls for Seattle, Elisabetta Valentini and Franco Tesorieri, were also in attendance.
Washington state and several city officials were on hand on opening day: Schuyler Hoss, Washington's director of international relations and protocol; Jimmy Matta, mayor of Burien; and Stacey Jehlik, Seattle's international affairs director. 
Katalin Pearman, president of the Consular Association of Washington, and Andrea Reay, president/CEO of the Seattle Southside Chamber of Commerce, were also in attendance. The guest list was kept small because of pandemic guidelines restricting large gatherings.
Following opening remarks, Fr. Paul Magnano with Skagit Valley Catholic Churches gave the blessing, and guests were invited to tour the building, which is located at 13000 1st Avenue South in Burien, about 10 minutes south of Seattle. The 7,000-square foot building, now the permanent home of the Italian American community in the Pacific Northwest, was purchased last October from a Burien business forced to close its doors because of the pandemic.
Speaking at the ceremony, Ortona reflected that the day was a long time coming and was made even more special because of the challenges brought on by the pandemic. "The Italian American community in Washington state and the Honorary Consulate of Seattle now have a home…and we cannot wait to participate in all the wonderful events that will be organized by Casa Italiana in the years to come," said Ortona.
Ortona congratulated the Italian American community for following through on its dreams and he recognized donors for their outpouring of support. "The Italian Consulate General in San Francisco is committed more than ever to support our wonderful community in Washington state," he said.
Casa Caffè, located inside the new cultural center, opened in March. This welcoming space, currently open six days a week, serves coffee from local Italian roaster Caffè d'Arte. Pastry and other delicious treats are provided by pastry chefs from the Belle Epicurean and Honey and Harmony.
When the building was purchased last fall, it had been vacant for months and some clean-up work was required. The local Italian and Italian American community came together over many weekends to pull weeds, clear trash that had collected in the parking lot, clean out the basement crawlspace and paint the interior.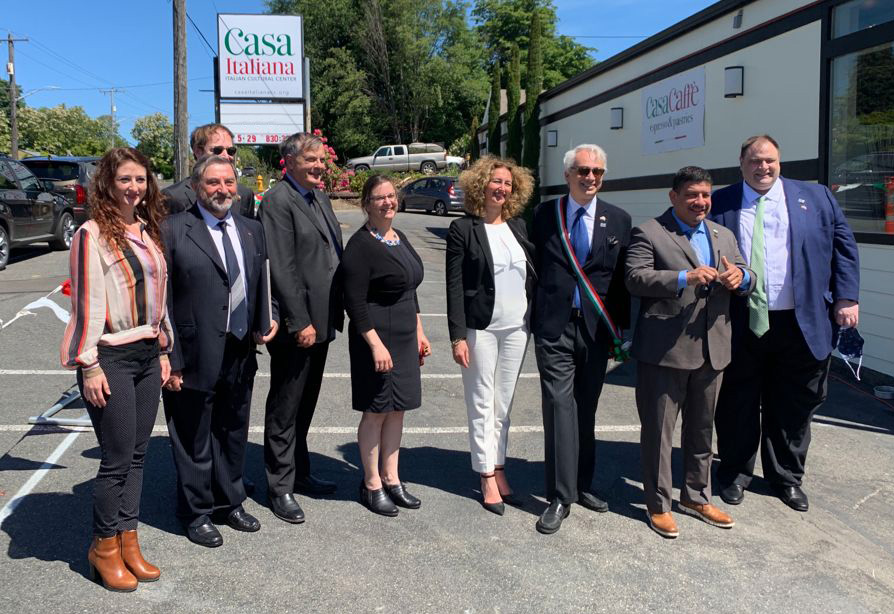 The property purchase price was $1.3 million. The bulk of the down payment of $450,000 was provided by Casa Italiana-Italian Community Hall and Il Punto. The rest was made up by private donations.
A fundraising campaign has set $3 million as its target goal. Some of these funds will be used to pay off the $850,000 loan within two years. The additional $1.7 million will be used to build a banquet hall, commercial kitchen and other building upgrades to accommodate events. Casa Italiana is also seeking in-kind donations, such as construction materials, labor by licensed professional contractors, experienced design professionals, furniture and equipment.
The organization plans to hold some fundraising events, as well. Those will kick off this summer with a raffle for a Vespa motor scooter which carries the colors of the Italian flag. The winner will be selected at the Vespa Festa in mid-June.
In early May, a $50,000 gift in memory of Gill and Alma Centioli was made by the Centioli extended family, which includes theCentioli, Biesold, McTigueandSauro families. The gift is one of the largest donations made to Casa Italiana since the fundraising campaign began. Gill Centioli was a business man who was very active in the local Italian American community. He brought fast-food burgers and chicken to the Pacific Northwest via Gil's Drive-In and a Kentucky Fried Chicken franchise. The family's next two generations followed in Gill's food-oriented footsteps, opening Pagliacci Pizza, Maggiano's Little Italy and Merlino Foods, among other businesses.
Community donations such as these, as well as volunteers who contribute their time and talents, will go a long way to helping Casa Italiana – Italian Cultural Center fulfill its vision: to create a permanent physical space dedicated to embracing and renewing the joy and vibrant diversity of the soul and spirit of Italy.
For more information or to make a donation, visit: https://casaitalianacc.org/donate/