For six years of my life, I lived in Liguria, before eventually settling back in my beloved Piemonte. While on the riviera, I had the habit to buy my vegetables and fruit from the farmers' market that, twice a week, animated the breathtaking main square of the village: with its traditionally Ligurian colorful homes and the majestic baroque basilica that dominated it, I can guarantee you that taking a stroll through it was a panacea for all ailments.
Anyway, the farmers' market! This time of the year, and well into the Summer, one of my favorite things to get was trombette, a variety of zucchini, lighter in color, longer but with a smaller circumference. While similar in taste to their more famous cousins, they are somehow more delicate and creamier in texture: they are delicious, like zucchini, fried with eggs, or cooked with olive oil and vinegar. Good, old trombette have always been a pretty common vegetable on my kitchen table, even during my childhood in southern Piemonte, where Ligurian produce is easy to find and is grown by our local farmers, too. So, you may imagine my absolute surprise when I discovered, just a handful of weeks ago, that trombette are, in fact, at risk of extinction!
I was surfing the net in search of recipes for a dinner when I came across a very interesting piece by Federica Miceli, a young Social Media and content marketing specialist, published on the colorful food blog Italia in Tavola, of which she is also a founder. The article presented 10 Italian excellences, from vegetables to cheeses to sheep breeds, at "risk of extinction:" among them, also my beloved trombette. This delicious vegetable was imported directly, centuries ago, by Ligurian sailors from America and it is considered at risk because its cultivation is not widespread outside of the region; it owes its name, which means "little trumpet" in Italian, to the fact it tends to turn onto itself while growing.
But trombette are not the only unsuspected product on Miceli's list, as we even find apples! Yes, this ubiquitous and popular fruit is having a hard time in Italy, or better, a variety of it is. The Campanina dell'Emilia apple, traditionally grown in the Modena province of Emilia used to be the most common in the region, so much so it's the ad hoc type for the famous mostarda di mele Campanine, a fruit preserve traditionally served with meats. Unfortunately, Campanine apples do not yield as many fruits as other varieties, so their cultivation has been, especially after the end of the Second World War, substituted with other, more productive types.
I was surprised to find out that my region, Piemonte, is also at risk of losing one of its agro-food excellences, the Sambucana sheep. This breed, which hails from the beautiful Valle Stura, in the Maritime Alps, is not only known for its delicate meat but also because it is key in the maintenance of the local eco-system's balance. FAO had already brought attention to the breed in 1985, when it had declared it officially at risk of extinction: back then, only 80 animals were alive. However, in a plot twist worthy of the best Agatha Christie novel, locals managed to save their iconic sheep from disappearing, by dedicating more time and space to their breeding. Today, there are about 5,000 Sambucana sheep in Valle Stura, and 10,000 lambs every year.
In beautiful Abruzzo, we encounter an iconic type of flour, which has been declared one of the rarest products in the world by the United Nations:  Solina wheat flour. Italy is not new to the rediscovery of old, traditional grains, but Solina wheat is incredibly special. The cereal, which is characterized by its resilience to cold and snow – as you would expect from a grain that grows high up in the Apennines – is another victim of the rise in popularity of highly productive wheat varieties that yield more for less investment and care. Will Solina wheat become one of the Belpaese resurrected grani antichi? Let us hope so.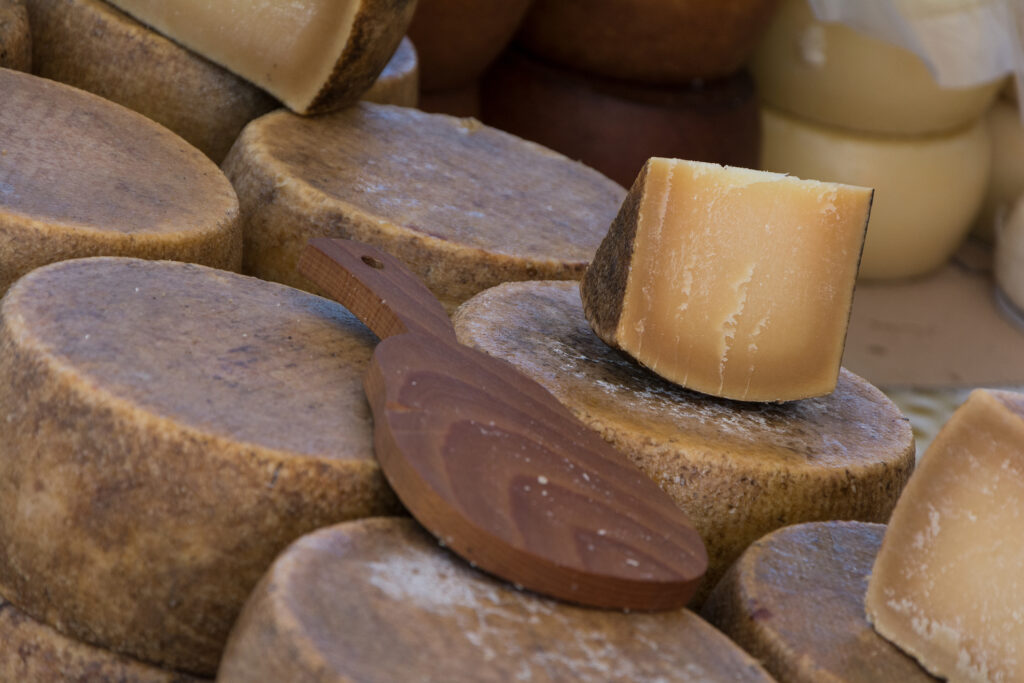 Last, but not least, a cheese. We must cross the Tyrrhenian and reach our emerald jewel, Sardinia, to find su casu cun s'axridda, a goat and sheep milk cheese, typical of the village of Escapalano, in the Cagliari province, famous for the peculiar technique used for its production. To protect the cheese from the Summer heat, local shepherds would cover it with clay: a method to preserve the cheese in time, but also something that gave it a special and unique aroma. Today, axridda is produced only locally and only by some families who have been keeping the tradition alive.
These are only a handful of the products mentioned by Italia in Tavola,  and I warmly suggest you go and check their full article, at www.italiaintavola.digital to get a fuller view of the matter and to enjoy a truly engaging read about the secret excellences of Italy we need to protect and save.