San Francisco Opera celebrates its first century after its foundation in 1923 and welcomes everyone to join its staff and creative artists for many events already underway. San Francisco Opera's centennial commemorates the glorious past as well as its Italian origins and welcomes the community into an exciting new era.
It was 1922 when Gaetano Merola, a charismatic Neapolitan conductor who had visited San Francisco while traveling, first produced Pagliacci, Carmen, and Faust at Stanford Stadium. Merola believed that San Francisco was ready to have its own opera company and began lining up supporters. In less than a year, the newly founded San Francisco Opera opened its first season on September 26 at the Civic Auditorium, with La Bohème starring Queena Mario and Giovanni Martinelli. Merola conducted an orchestra of mostly San Francisco Symphony musicians and a chorus of 150 that he trained over the preceding year. Ten operas were presented over 13 days, including Puccini's relatively new triple-bill Il Trittico and Boito's daunting Mefistofele. A decade in, in 1932, San Francisco Opera's new home, the War Memorial Opera House, opened on October 15 with a performance of Tosca, starring Claudia Muzio and Dino Borgioli, conducted by Maestro Merola. Act I was broadcast on the radio, with a growing excitement over the second night. The performance was relayed to speakers in the Civic Auditorium and the Civic Center Plaza. This first "simulcast" by SFO was heard by a crowd of 20,000.
We talked to Tad and Dianne Taube General Director, Matthew Shilvock, also San Francisco Opera's seventh general Director, as he oversees all artistic and business aspects of the organization.
Director Shilvock, what kind of organization did you find in 2016, and how things have evolved ever since?
When I came into the role, I had been here since 2005. I had a huge connection with the company and people and knew well how it worked. It was a real joy to come into a company that I loved so much and had experience with. That is not always the case when you come from inside an organization. You program three, four years ahead while developing an understanding of the audience and the company. I had the benefit of coming into this role working with the predecessor who had been here since 2005, too. It was a wonderful arc from one administration into the new one, which allowed us to keep doing the work we were doing and go through a seamless transition.
Looking back at the pandemic, how did the San Francisco Opera cope with these unexpected changes?
Once we had the understanding that this was not to be just a few weeks' stop we prioritized a framework to keep paying employees. We couldn't pay everyone 100% of their salary, but we worked with the Board to pay people as much money as possible. Then, we looked into the way to share our work with the audience. For years, we captured the performance of the opera on camera. We worked with the Union Chambers to release the footage for free every weekend. It was a wonderful way to keep the energy of the company in terms of production and music and remind people of the beauty that comes from our work. In the summer of 2021, we could not have a singer and a piano player in the same room, so it was challenging to create new things. We took advantage of what we could to keep creating and building, we went back into our costume shop and got ready for the reopening. We put together the Barbiere di Siviglia in Marin County using LED panels, the orchestra on the side, and connected it with technology, so people could enjoy live opera safely. It was such a painful time for artists and creators, suddenly being unable to communicate with the world, yet it made us understand why this art is so important.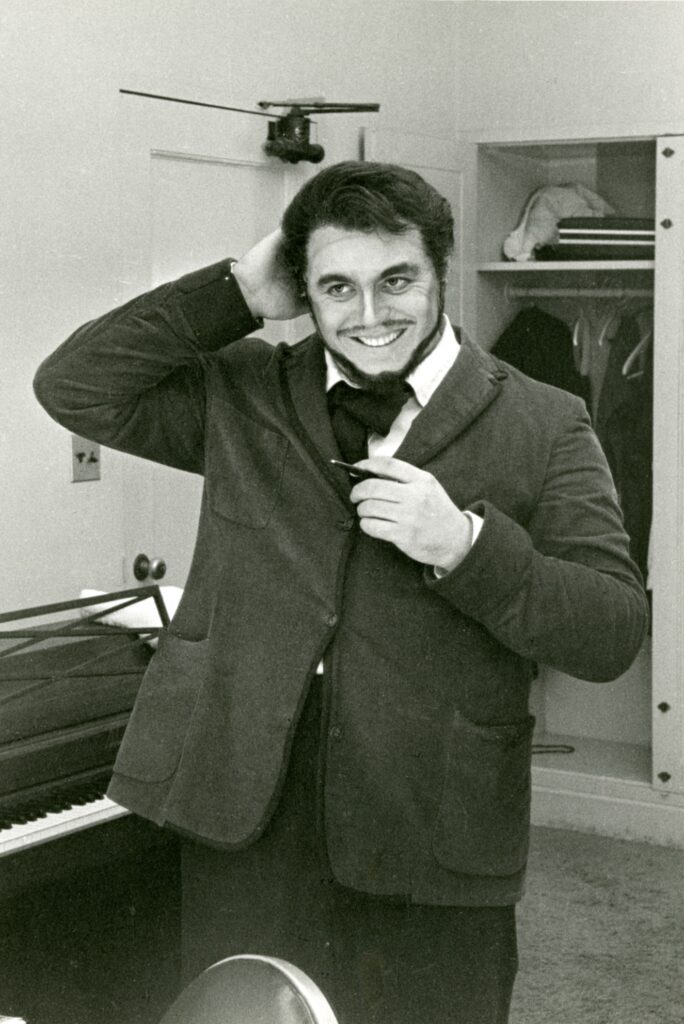 Talking about the legacy of the San Francisco Opera: which kind of elements have stayed the same and what has changed?
The company was founded with passion, determination, and quality of art: those were Gaetano Merola's driving principles. There were many opera companies at that time, but he wanted one in San Francisco. He was supported by Italian businesses and put together a prototype of what the opera could be. One of the daughters of those business families became Merola's administrative assistant. Since its foundation, the San Francisco Opera has been characterized by a deep passion for making things happen and it is still that way. I see the same hunger, passion, and devotion of the beginning still today. Over a hundred years, things have become more complex: with each generation, they have changed and you need to work harder and harder. In the '70s, only 10 people were working at the opera and now we have more than a thousand. There's a growing complexity happening over time.
Can you talk about some of the aspects that best represent your vision as a Director?
The two main elements are extraordinary quality and innovation. This is an organization that does that at the highest level of artistry and capability. It's the reaffirming power of the opera, being transported into an emotional place that you didn't know existed. How do we find new ways to connect with people and express art forms? It's the audience's innovation, and how you engage with people for new ideas and experimentation. Thanks to Bohème Out of the Box, people experience the Bohème for free in an innovative way. We had the Traviata and recreated one act as an immersive experience, between the actual opera and the visit to the opera house. The Dolby ticket program, in partnership with the Dolby family, offers tickets at $10 for people who live in the Bay Area and have not been able to attend a performance for at least three years. The Artistic innovation comes with the program Instigators, which brings new ideas and possibilities for the company. We have people specialized in Virtual Reality, architecture, a playwright, a chef, and each of them will explore the company and work on prototypes to bring to the audience. We invest in research and development and have the privilege to tell the stories in different ways – this earns us the trust of the community.
Looking at 2023, what makes this year's celebrations unique and worth attending?
It's a pretty extraordinary testament to a community that we've been serving for a century. It's generosity, perseverance, and belief in the arts. An opera company is a community of creative talents and people can show support. I hope people will be able to explore our programs and celebrate the impact of our company in their own community. It's a magical experience.
What makes you passionate about opera and the San Francisco Opera?
It's the people as a whole. It's a place that I love. From where I sit, I see the stage, the backstage, and look at people who make things happen. None of what we do is possible without the audience and the people who give back to the artists. It's a great privilege to be part of that.