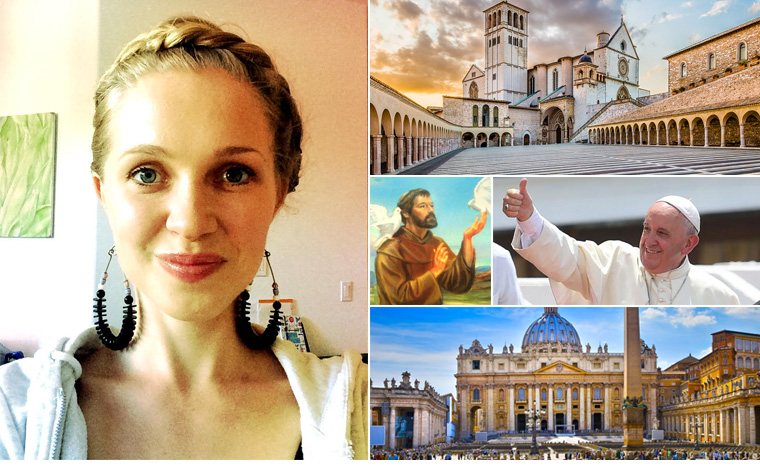 Elizabeth Key, a young traveler and globetrotter who just moved from Los Angeles, California, to London, UK will be representing L'Italo-Americano magazine in the international pilgrimage that will follow the footsteps of Saint Francis and will meet the Pope in the Vatican.
Wow, what a rollercoaster… since we got notice that the Saint Francis pilgrimage was a go, after the hold created by the disastrous earthquake that hit Central Italy, both the editorial and marketing teams here at L'Italo-Americano have been working non stop to make sure that we can grant the experience of a lifetime to one of our readers, who will be following the footsteps of Saint Francis in a pilgrimage that will bring ambassadors from all over the world to meet the Pope in Rome for a special Papal audience.
As we announced the Saint Francis pilgrimage and launched the selection of an ambassador for L'Italo-Americano magazine last Thursday, we started getting a huge volume of candidate applications from our community spread all over the United States, but also from readers of our magazine in Canada, Argentina, United Kingdom and of course Italy. By screening all candidates' applications for our selection of the ambassador to the Saint Francis pilgrimage we realized that we have many talented writers among our community. We also realized that the spiritual motivations that drove the tsunami of applications we received were, in most cases, stronger than the rush of getting a free trip. 
Both those parameters have been driving our selection process, as we wanted to make sure that our ambassador to the international pilgrimage, beside of having outstanding writing and reporting skills, would have been also strongly motivated by the true spirit of the initiative. Even by restricting the range of candidates under these screening parameters, the number of shortlisted applicants was still pretty long, and it took all our time and effort to focus and converge on "the chosen one". 
We needed to select only one ambassador to the Saint Francis pilgrimage, but we feel that all those who contributed with their valid input to our initiative equally deserve that title of ambassador of L'Italo-Americano community. We want to say a big THANK YOU to all of the candidates, and we really look forward to maintain a close relationship with each and every one of our applicants, the vast majority of whom definitely have "what it takes" to be our ambassador, at least among the many Italian American communities spread all over the United States (and beyond). We will be getting in touch with all those who dedicated their time and skills to participate to our initiative, because a personal thank you is the least we can do.
We also take the opportunity to say thank you to the Region Umbria and the Consortium of Saint Francis, organizers of the Saint Francis pilgrimage, and of course to our partners at ItaliaSlowTour, who were so nice to consider L'Italo-Americano when selecting the organization that should have been representing the United States for the Italian gathering of international pilgrims heading to Assisi and Rome, walking across the regions of Marche, Umbria and Lazio, discovering many hidden precious locations across Central Italy, and finally meeting His Holiness Pope Francis in the Vatican.
And now on with the introduction of our ambassador to the pilgrimage, Elizabeth Key, a young woman who just relocated to London (UK) from Los Angeles, California, after graduating with a thesis on Sicilian migration to North America. Let's hear a few words from the motivation letter she sent along with her canditate application to be the ambassador of L'Italo-Americano magazine to the Saint Francis pilgrimage.
My full name is Elizabeth, but I prefer to be called Libby. Writing for me is more than a hobby, it's a way of surviving. When I'm not writing you'll find me singing gospel, I love Anita Baker. Or being by the ocean – Malibu is my favorite spot. I also enjoy reading, specially Italian fiction books.
As a committed Christian, it would be an absolute honor to have audience with the Pope. The ways he has shown love have really moved me. I see him as a man of prayer and a leader of peace, a man that I greatly admire. 
The idea of going to Italy as a pilgrim, rather than as a tourist, really enthrals me. It's an experience that besides being the way of Francesco d'Assisi, has also inspired some of my favorite authors such as Dante and John Bunyan, and one I can't wait to take part in – a spiritual and literary journey.   
We will get to know Libby better over the next few days, as we will be following her footsteps and her travel, cultural and spiritual experience while she follows Saint Francis' footsteps in the pilgrimage dedicated to the saint patron of Italy. L'Italo-Americano magazine will be collecting her daily travel reports, that will be published on daily basis on the special section we are ready to launch on our website at https://italoamericano.org/saintfrancis2016
Follow us while we follow Libby in this once-in-a-lifetime adventure. We'll be also posting updates on the pilgrimage through our Facebook account at https://www.facebook.com/italoamericanonewspaper/ and we'll be summing up the entire pilgrimage report with a special article that we plan to publish on our paper magazine issued on October 13, 2016.