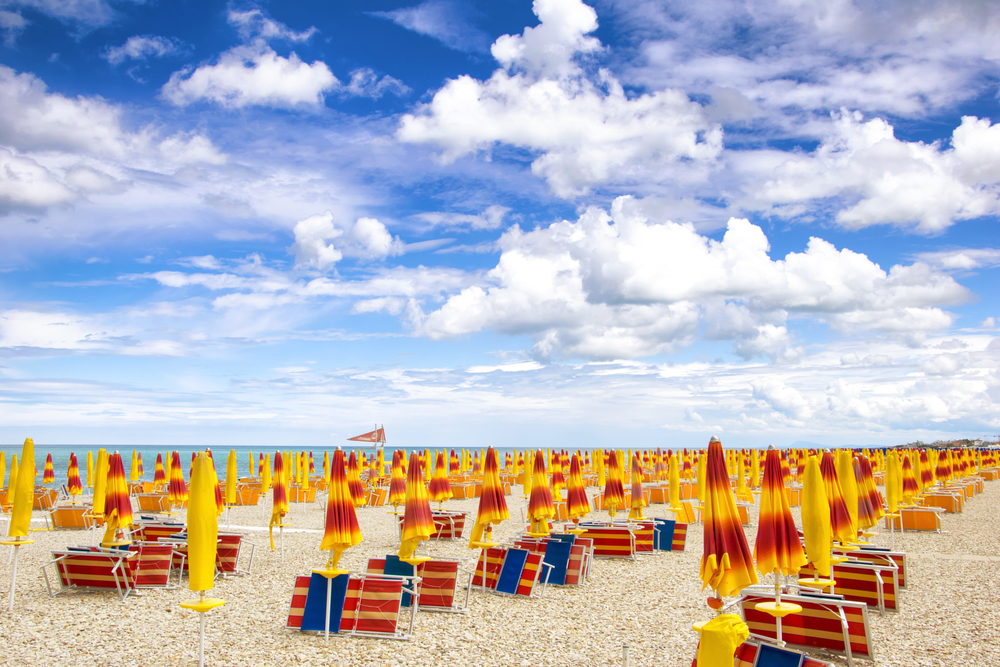 Like many coastal resort towns around the world, Rimini has a row of hotels right on the sand.   On the sandy beach that stretches the length of the city, the tourists mix with local onlookers, and other visitors, all casually enjoying a day on the sandy shore.
Behind the scenes, there is a lively, youthful town with a vibrant local culture, evidenced by historical ties to the presence of Federico Fellini.  The famous filmmaker was born in Rimini in 1920 and grew up there before moving to Rome.  While you are walking around the town you have the vague sense  that you are strolling through one his films.   Not surprisingly, there is a Federico Fellini museum in town.
One well-kept secret is that the price of hotels in Rimini is relatively reasonable, even in high season, when compared with other coastal areas in Italy.    Each of the zones along the coast in Rimini has its own character, and the coastal zone is divided into smaller sections like Miramare, Marina Centro, Rivazzurra, and Rivabella.  Regardless of your choice, there are great little restaurants and trattorias with seafood dishes all around town.  Some of the better places to eat tend to be a few blocks away from the beach where the meandering crowds thin out a bit.  If you don't eat seafood, it is still worth eating out as the atmosphere and hospitality in the local establishments lives up to what you would expect anywhere in Italy. 
One visible element of the local culture is the "green" nature of the town.   There is a lovely path and green corridor between the beach and downtown.   It is approximately one kilometer and the vast majority of the people are on bicycles.  There are families, kids, groups, workers on every type of bicycle, enjoying the opportunity to take a ride along the path.   Of course, there are also a few motorcycles/scooters that you encounter along the way along with pedestrians. 
If you want to check out Rimini and relax on the beach, it is easily accessible by train and is only a couple of hours by train or car from Florence.