Prosciutto crudo, known simply as "prosciutto" or "Parma ham" in English-speaking countries, is one of our Made in Italy's most renowned products. Who doesn't know it or hasn't tried it in a sandwich, on a pizza or layered delicately on a plate, for a perfect snack with fresh bread and some parmigiano?
Prosciutto crudo is produced in several areas of Italy, including Tuscany and the Cuneo province of Piemonte, but there are only two parts of the country that are synonym with it: Parma, in Emilia Romagna, and San Daniele, in Friuli Venezia-Giulia. Both products hold a DOP denomination (Denominazione di Origine Protetta), which means every step of their production must take place in a specific geographical area – most of the province of Parma for the first, the commune of San Daniele for the second. Both have a long history of quality steeped tradition. Yet, there are some differences worth noting, too.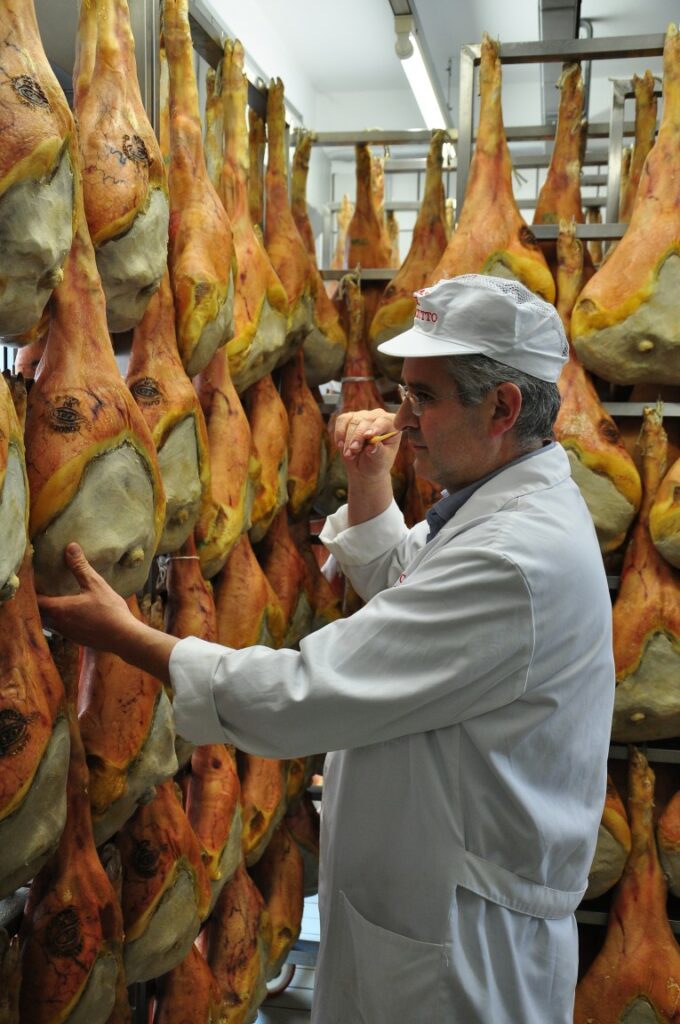 Let's start with their history. Mentions of curing procedures used to preserve meat are available in ancient sources from Roman times. Cato the Elder – we are in the 2nd century BC – for instance, had described a preserving method for pig legs very similar to the one used, still today, to make prosciutto. About a century later, in 37 BC, Varro offered, in his De Rustica a recipe to season, cure and dry pig legs the way commonly used in the Po plains, including the area we know today as the Parma province.
Legends say that, after Hannibal had vanquished the Romans along the river Trebbia (which flows in Liguria and Emilia Romagna), locals showed their respects by offering him salted and cured pig legs, which he greatly enjoyed.
Just like the Pianura Padana, the area around San Daniele in Friuli is historically connected with the production of meat products: according to the prosciutto di San Daniele official website, archeological research carried out in the village shows that pork was commonly consumed in the area already in proto-historic times, between the 11th and the 8th century BC, with some signs that curing and preserving of meat was also carried out. However, it is only in the 11th century, with the rise in relevance of San Daniele as a market town, that the art of meat curing seems to take hold in the area more strongly. With the Renaissance, prosciutto consumption – and therefore its production – was already well established in the area, as attested in Geremia Simenoni's De Conservanda Sanitate, dating 1453. We also know that San Daniele prosciutto was gifted to the bishops gathered in Trento for the 1563 Council, and that Napoleon had a penchant for this flavorsome Friulan cold cut.
Besides their long and glorious history and their DOP denomination, prosciutto di Parma and San Daniele also share the "raw material" they are produced with: pig hind legs, but here differences begin showing. First of all, the size of the leg, which is usually around 10 kg (20 lbs) for prosciutto di Parma, and around 12 (24 lbs) for San Daniele. The way the legs are cured is also different: while San Daniele prosciutto is seasoned only with dry sea salt all-over, the Parma recipe calls for damp sea salt for the skin and dry for the meat. Both recipes are clear on one point though: besides meat and pure sea salt, nothing else can be added.
Drying time lasts for a minimum of 13 months for San Daniele, while it is slightly shorter for Parma, which is left out to dry for seven months and then hung in the dark for another five to reach complete maturation. We are talking, here too, of minimum times. There are factors to consider when discussing the important stagionatura process, namely the size of the prosciutto – the bigger it is, the longer it'll take to dry – and the climate of the regions where San Daniele and prosciutto di Parma are produced: San Daniele prosciutto matures in a dry, semi-Alpine climate, so it tends to be slightly drier and, in general, more mature than Parma when aged the same time. Prosciutto di Parma, on the other hand, matures in the Pianura Padana, where the air is more humid, so it takes a tad longer to dry, and tends to have a softer slice.
When it comes to the area of production, prosciutto di Parma, as we mentioned, is made almost in the entire homonymous province, while San Daniele can only be produced in the area of the San Daniele commune; it's not surprising, then, that we can count about 150 prosciutto di Parma DOP producers but only 28 for San Daniele. Both products have, however, their own Consortium, which safeguards their quality.
You may like to know that the two products are distinguishable also at the counter, because of their slightly different shape: prosciutto di Parma is more rounded, while San Daniele looks more "elongated," because of the habit to press it during the curing period. And what about the taste? They are, of course, both delicious: flavorsome, complex and satisfying to the palate, Parma is considered "sweeter" while San Daniele more "mature."