Pizza finds a place on every country's table and is topped with countless delicacies, each country creating its own – more or less – orthodox version of this quintessentially Italian food. Yet it remains Neapolitan in the  minds of all of us and having a pizza in Naples is certainly on the bucket list of more than a foodie.
Neapolitan pizza, or "verace pizza Napoletana," as it is known in Italy, has been a "specialità tradizionale garantita" (S.T.G., a guaranteed traditional specialty) since 2010: this means the European Union recognized that a true Neapolitan pizza can only be produced in a certain manner, in a certain area. Manner: with a dough as supple and simple as that of bread and only a handful of allowed toppings, like Sammarzano tomatoes, olive oil, basil and mozzarella (di bufala) or fiordilatte (cow mozzarella), to create the perfect Margherita. Sammarzanos, garlic, oregano and olive oil for the humble and flavorsome Marinara. Area: Naples.
Making the perfect Neapolitan pizza is an art and the people of Italy, and of Naples in particular, have been hoping to see such patrimony of knowledge and history recognized by UNESCO since 2011, when the president of the Associazione dei Pizzaiuoli Napoletani (A.P.N.) Sergio Miccù, with the support of the Italian Ministry for Agriculture, proposed it to the relevant committee for the first time.
Unfortunately, UNESCO couldn't take on board the proposal for bureaucratic reasons then and the idea laid dormant for a few years. In 2016 the UNESCO Italian National Commission newly accepted the proposal, supported this time by the Ministries for Agriculture, Foreign Affairs, University, Environment and Economy.
The art of Naples' pizza-making could become a patrimony of the world: yes, because it's not the pizza itself to have been shortlisted, but rather the procedure, the ingredients and skills necessary to make it. If Italy's plea is successful, it will be a first, as never before UNESCO picked a culinary art to become part of its renowned listings. According to the proposal's supporting committee "the art of Neapolitan "pizzaiuoli" became an identifying element for the people of Naples and of Italy, and is a true symbol of Italy and being Italian all over the world."
The proposal has been supported internationally also through the hashtag #PizzaUnesco associated to a change.org petition launched by former leader of the Italian Green Party Alfonso Pecoraro Scanio in 2016.  Support came from everywhere: 150.000 signatures came from Asia, 50.000 from Argentina and just as many from Sao Paul in Brazil. An international success for pizza Napoletana and, according to Pecoraro Scanio, a necessary step to take in order to protect the origins and heritage of this traditionally Italian dish, threatened  – deliciously, mind – by the possible candidature of one of its most popular foreign alter egos, New York pizza. "This is a battle to make once again our own on front of the world one of Italy's best loved and ancient traditions" declared Pecoraro Scanio last year, while campaigning for UNESCO acceptance.
But exactly what would become part of UNESCO Intangible World Heritage if the art of Naples' pizza-making is accepted this Spring? The way Neapolitan pizza is made, of course: its ingredients and the unique techniques chosen to prepare dough and sauce, but also the cultural and social wealth of the "pizzaiuolo" profession, often learnt directly from the elders and passed on from a generation to the other. Essential is also the atmosphere associated with pizza-making in Naples, relaxed and jovial, where the working counter becomes a place of exchange and entertainment, with pizza makers often engaging with customers, showing their pizza rolling abilities and interacting joyfully.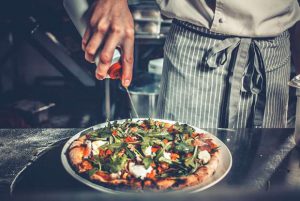 The importance of seeing the pizza-making art of Naples recognized internationally has been likened by many to Italy (and Europe)'s own quality and guaranteed origin labels  – think of DOP and DOC: just as they protect specific products and their integrity, making sure only those produced in a certain area and following certain canons can use the original name, so the UNESCO Intangible World Heritage nomenclature would ensure only true Pizza Napoletana, made in Naples by original "pizzaiuoli," could be considered as such.
Pizza is successful all over the world because it's versatile, delicious and creative: the varieties of pizzas, even within Italy, are countless as every pizza maker likes to add something personal in the way it's baked or topped. American pizzas, albeit different somehow from what you'd find in Italy, are equally good, great to comfort and fantastic to share. Yet, Neapolitan pizza has something more on its shoulders: history. It's only right such an amazing piece of culinary tradition and the true art revolving around it get the world recognition they deserve.