Sister-city friendships come with economic, artistic and cross-cultural benefits, but even more than that, they offer meaningful personal relationships and ongoing friendships. The idea of creating global understanding person-to-person was a driving force behind President Dwight Eisenhower's creation of the national sister cities program in 1956.
For five days in October, a 16-person delegation from Perugia (including spouses and family members) traveled to Seattle to celebrate the 30th anniversary of the Seattle-Perugia Sister City Association (SPSCA). The group from Perugia represented commerce, tourism, sports, education and the arts, and included Clara Pastorelli, head of sports and commerce for the city of Perugia; Mario Valentini, former mayor of the city of Perugia; ceramic artist and business owner Giorgio Moretti; Riccardo Spadolini, entrepreneur and longtime sister city friend; Katia Perruccio, president of the Lion's Club of Perugia; author and cooking instructor Marialucia Luongo; and Olimpia Bartolucci, director of the Umbria Library System.
Five jam-packed days awaited the delegates when they stepped off the plane at Seattle-Tacoma International Airport. There were dinners and luncheons, and visits to Seattle's Piazza Perugia and Casa Italiana. Members of the delegation toured the coffee-roasting operation at Caffé Umbria, visited the Amazon Spheres, traveled across Puget Sound on a ferry, and took a quick spin around Costco. A meeting with Seattle Mayor Bruce Harrell at City Hall was a highlight of the visit.
On Oct. 10, a gala dinner with more than 100 in attendance was held at the historic Women's University Club in downtown Seattle. The program, emceed by former SPSCA president Mike James, included remarks by Mario Valentini and Clara Pastorelli, as well as by current SPSCA president German Rodriguez, honorary consul of Italy in Seattle Elisabetta Valentini (daughter of Mario) and one of SPSCA's founding members, Saleh Joudeh.
To mark the occasion, the sister-city organization arranged for limited-edition ceramic plates to be fired and hand-painted by L'Antica Deruta. Made in Italy, the plates carry a distinctly Northwest design: an image of two brightly colored salmon circling each other, representing the cycle of life. The design was created by internationally renowned artist Marvin Oliver, a member of the Quinault and Isleta-Pueblo Tribes. Oliver, who died in 2019, designed the Sister Orca fountain in Perugia.
Although two very different cities, the bond between Seattle and Perugia has been strong for three decades. Perugia is an ancient town with Etruscan roots; Seattle is not quite 175 years old. Landlocked Perugia, home to about 165,000 residents, is an agricultural trade center known for jazz, chocolate and two universities. Seattle is a major seaport, biomedical center and tech hub with a regional population of more than 4 million.
Three individuals in Seattle were key in pursuing the sister-city relationship. Retired restaurateur Saleh Joudeh was a medical student at the University of Perugia in the mid-1960s. He later made his way to Seattle and started a popular restaurant called Saleh al Lago, whose menu paid tribute to dishes he remembered from his stay in Perugia.
Dr. Hans Lehman, a native of Germany, was also a medical student at the University of Perugia, but 50 years before Joudeh. During his days in Perugia, Lehman became friends with the Vicarelli-Saluzzo family. Years later, when he returned to Italy, he contacted Giuseppe Vicarelli-Saluzzo to renew the friendship. Eventually, their discussions turned to the idea of creating a sister-city friendship.
Lastly, there was Art Mazzola, a charismatic businessman who valued his Italian-American heritage and was active in numerous cultural and nonprofit organizations. Mazzola's many community contacts were instrumental in getting the sister city agreement off the ground.
These individuals and others met at Saleh al Lago to discuss creating a sister city relationship with Perugia. Seattle Mayor Norm Rice approved the idea in September 1991, and a Pact of Friendship was officially signed by Mayor Rice and Perugia Mayor Mario Valentini in 1993.
There were many individuals who kept the friendship strong over the years. In Seattle, early supporters included Dan Borracchini, Louise Clauss, Louis DeLaurenti, Donna and Mike James, and Rosanne Royer. In Perugia, early proponents of the sister-city friendship included Elisabetta Valentini, Bepi Vicarelli, Norma Raggetti, Riccardo Spadolini, Filippo and Rossella Vasta, and Rita Castigli. Daniela Borghesi, former director of the Office of International Relations, and her successor, Lauretta Vagnetti, worked tirelessly in Perugia as did their counterpart in Seattle, the Office of International Relations.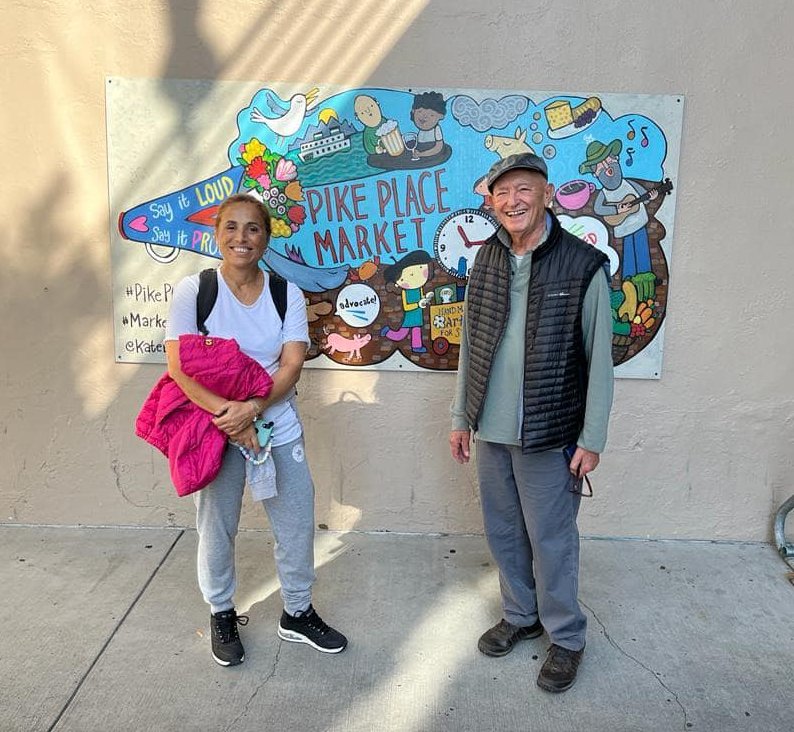 Residents from both cities have profited from the relationship over the past three decades. The cities joined hands to create language scholarships, art and cultural exchanges, a weeklong Italian film festival in Seattle (Cinema Italian Style), a calendar, and a cookbook. Italian artists exhibited their work at Seattle City Hall in 2011, while artists from both countries participated in an art exhibit on migration in Perugia's Palazzo della Penna last fall.
With such a heartfelt 30th anniversary celebration still resounding among those who participated, it's likely the next 10 years will bring even more cultural events and diverse activities, as well as a deepening relationship between two cities located an ocean apart.