"Like a soundtrack to our lives, music is a faithful commentary on our customs and society. Listening to it again helps us better understand our history and who we are, and explain it to a foreign audience. Across latitudes, music is the language par excellence, and knows no barriers." This is how Emanuele Amendola, director of the Italian Cultural Institute in Los Angeles, describes singer-songwriter Patrizia Laquidara's performance, a show that becomes an opportunity to relive the last 100 years of our country.
"June 21 is celebrated around the world as the Fête de la Musique," Amendola explains, "a day created in France in 1982 and open to all, young and old, professionals and amateurs, who wish to share their passion for this art form. In Italy, the initiative is sponsored by the Ministry of Culture and, last year alone, more than 800 Italian cities participated. Around the world, through the network of the Ministry of Foreign Affairs and International Cooperation, our Embassies, Consulates and Italian Cultural Institutes join the initiative, to make the Festival also a moment of promotion and celebration of Italian musical heritage. In Los Angeles, our Cultural Institute offers a concert by singer-songwriter-sometimes also actress, always poet Patrizia Laquidara, who gives us a journey through the history of Italian song, from the early 1900s to today."
Award-winning Patrizia Laquidara is considered one of the brightest figures in Italian singer-songwriter music. Born in Catania, Italy, but raised in Vicenza, Italy, Laquidara has released five albums and collaborated on many stage productions. In the show staged in Washington and Los Angeles, the Italian singer-songwriter dives poetically and playfully into the stories and emotions that inhabit Italy's popular musical imagination.
Patrizia, this is not your first time in the United States, what was your memory of the last tour?
It's been many years, I toured here in 2011 as a backup singer for a Brazilian singer named Céu. We had performed in New York, San Francisco, Seattle and Los Angeles. The memory I had was of a very warm and welcoming audience, something I found again at my first concert in Washington. An audience that gradually warmed up to the final standing ovation. There is always a fear about how a performance might be received, also because I do very Italian songs.
How did the idea for this show come about?
The show came about thinking that we can describe an entire century through songs, because songs tell us about us, they are our chronicle, our popular poetry. The idea was to start from the first modern Italian song, which dates back to 1918 and is a song written by a Neapolitan – even though it is not written in Neapolitan – and from there to go back through the whole century with music. There are songs that talk about historical events, and others that somehow form the sentimental education of a people.
And from there what other songs did you choose?
After the first song, I move to Italy's singer-songwriters, and go all the way to the music of the 1980s. I revisit the sensitivity and poetic language of Endrigo and Tenco, De Andrè, Guccini and Battisti, but also the rebel phase of 1960s' beats. Then, I touch upon the renaissance that, between the 1970s and 1980s, brought the musical culture of our country to its true peak: what was previously seen as "light music" became songwriting, a kind of critical and sentimental consciousness of the country up to the threshold of the early 2000s. There are also two songs of mine.
Is there an underlying theme that ties the songs together?
Not really. The theme could have been love but also political engagement if we think about our songwriters. Instead each song has a topic in itself, so the common thread is the song-form showing itself, excuse the wordplay,  in all its forms. Basically, what I tried to do was to reduce each song to the essential, so that the melody and lyrics could stand out. I used a very minimal arrangement, even where it was richer in the original.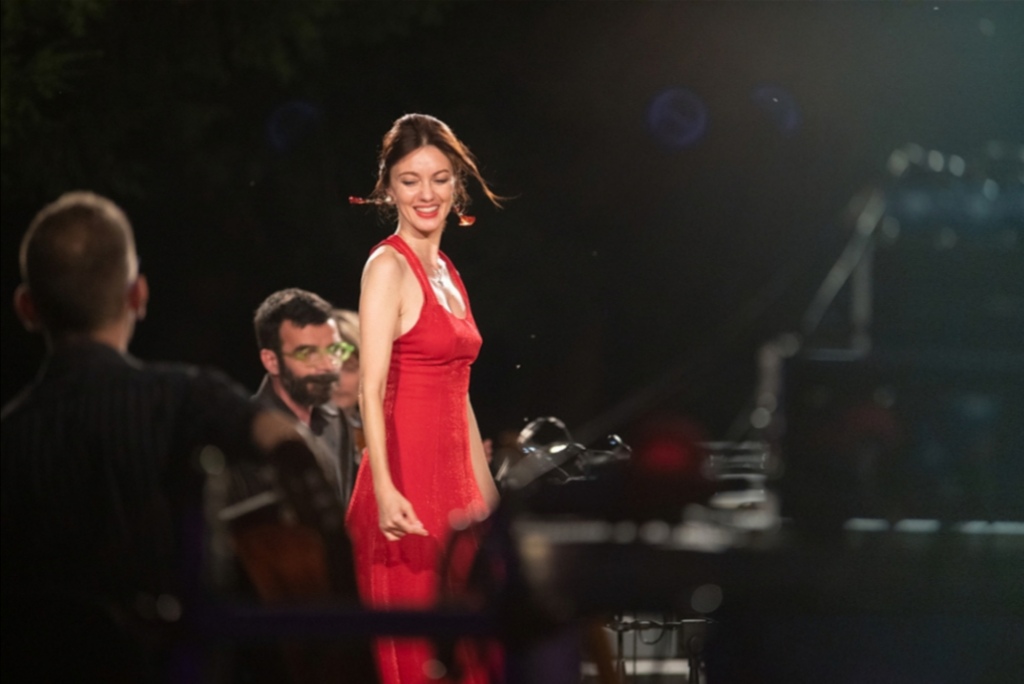 How did you get into popular music?
Years ago I won a competition at Mogol's school, CED, in the province of Terni, where I was able to study popular music from Veneto and Lombardy. From there I became more and more passionate about world music, from traditional Mediterranean music to South American music.
What are the strengths of songwriting?
The strength of songwriting is to mix lyrics with beautiful melodies. The greatest songwriters knew that a word could resonate very well with a certain chord and how that combination could excite. There is a painstaking work behind songwriting, a form of art I love very much because akin to popular poetry.
Do people still love songwriting?
Songwriting has had some great moments. It has a lot of melody in it, while genres like rap and trap, which are catching on in Italy, are extremely "talky." However, they, too, rely on very beautiful lyrics that leave the possibility of deep expression, something I admire and ency. At the same time, it is also said that a society that talks a lot is a depressed society.
Where do you get inspiration for the stories you tell?
When I write songs, sometimes I am more intimate, I write things that I have personally experienced. Other times, I am struck by other people's stories, for example there is a song called The Miracle Balance, which I also perform in the show, in which I tell the story of Philippe Petit, one of the greatest tightrope walkers who ever lived.
You have been called a "storyteller of the world" and a "poet of maudit extraction." Which one best describes you?
I really like the idea of being a storyteller, because I like the idea of telling stories through my voice. I wrote a book called I Saw You Yesterday, which came out a month and a half ago. I thought this book would be somehow different from music but, instead, the thing I was told the most is that the book feels like it's told through a singing voice, because there are a lot of o rhythm and timbre. This made me realize that also, in writing a book, this musical side of mine still came out.