Who says that good food must be complicated to make, or that it has to take loads of time to prepare? There is a lot to learn from the way our grandmothers used to cook: it may have been a royal-kitchen affair on special occasions like Christmas or Easter and even on Sundays, but during the week it was all about simplicity.
Even the greatest chefs of today, in the end, tell us that freshness and simplicity are key in the kitchen, and if we also add to that the adjectives "seasonal" and "local," all the better.
If you follow us regularly, you may have noticed we've been pretty keen on speaking about the simplest recipes of our tradition in recent months: we had cacio e pepe, insalata caprese and, today, we'll spend some time to discover the history — and the recipe — for another classic of Italy's simple cuisine, pasta alla Norma.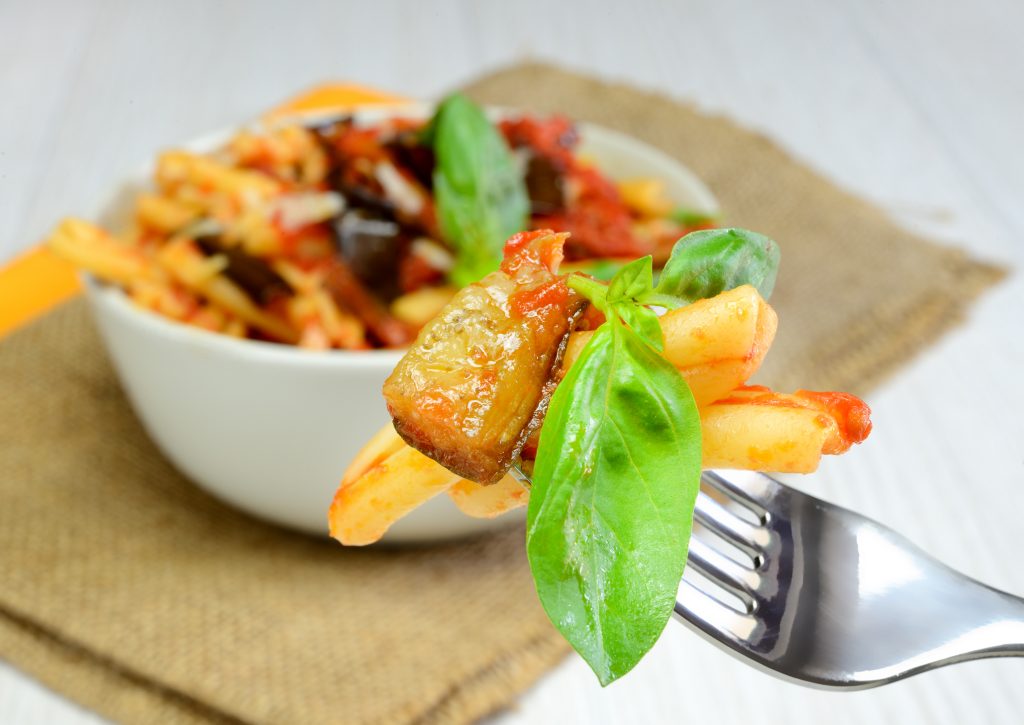 This dish is a true institution in the town of its birth, charming Catania, and just as appreciated on the rest of the island. Its simplicity is key: pasta (usually short like rigatoni or sedani) tomato sauce, fried eggplant and, of course, a touch of ricotta salata, that flavorsome delicacy unknown in other parts of the country, where the more popular and ubiquitous parmigiano is the go-to cheese to sprinkle —abundantly, of course —- on your plate. If you want to be fancy, you can add some fresh basil leaves on it, but there is really nothing more than that to this recipe. Still its deliciousness, the perfect balance of its flavors are such that even its name speaks about it.
Yes, its name. Italians do love having a good story to tell when sitting around the table, even better perhaps if it's about what they're eating, and the legends behind pasta alla Norma are just a perfect mix between colorful tradition and artsy, cultural tales: you know, they type of stuff we love so much in the Belpaese. But, as it often happens, more than one version of the dish's inception exist.
Those among you who like music certainly noticed that pasta alla Norma shares its name with a famous opera by Vincenzo Bellini, Norma. Now, Bellini was from Catania, just like our recipe, so the connection here is really strong.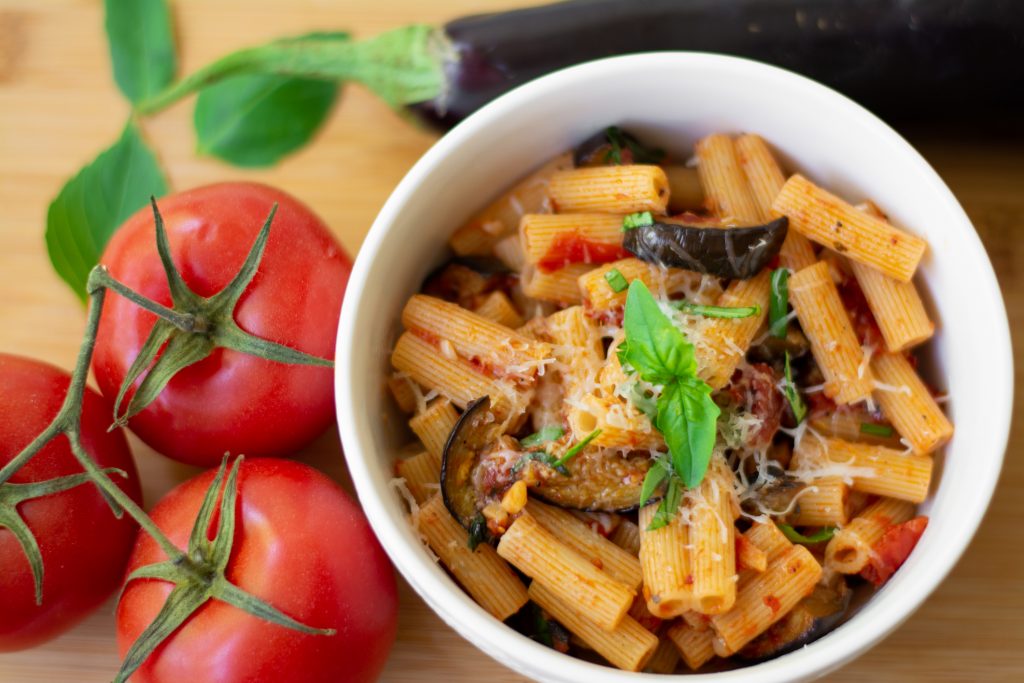 And then, what a beautiful homage to the composer's homeland: pasta alla Norma had all the scents, colors and flavors of Sicily, with that triumph of tomatoes, eggplant and delicious dried ricotta.
Of course, we all know that Bellini's Norma ended up becoming a success and the most famous among the composer's ten operas, in spite of what those cold Milanese thought initially. And a success was to be also the pasta dish created in its honor.
The second version of pasta alla Norma's origins is again tied to Catania and to the world of the performing arts. It involves two of the most significant figures of Catania's early 20th century theatre, Angelo Musco and Nino Martoglio. The two shared a long artistic partnership which was equally strong off stage, where they would often spend time together and with each other's families. On one of these occasions, in 1920, Martoglio and Musco were guests of the latter's sister, Anna, at her home in Via Etnea, in Catania. At the table with them were Anna's husband Giovanni Pandolfini, and his nephews Turi and Janu, along with Janu's wife, Saridda D'Urso, who had prepared, for the occasion, a pasta dish with tomato sauce and fried eggplant. Martoglio loved it so much he exclaimed: " Signora Saridda, chista è 'na vera Norma!," hinting at the success of Bellini's work. In fact, it's likely that the expression "alla Norma" to denote something done very well was already popular in town, considering how famous the operatic work had been for the previous 50 years.
The recipe in itself, as we said, is very simple and so are the ingredients, but there are some rules Catanese people follow: first of all, pasta should always be short (so, no to spaghetti alla Norma, even if you can find recipes for them around), nor to cheese other than ricotta salata. If we want to be truly faithful to the original, we shouldn't try to make this pasta lighter by grilling the eggplant instead of frying it, even though many do so.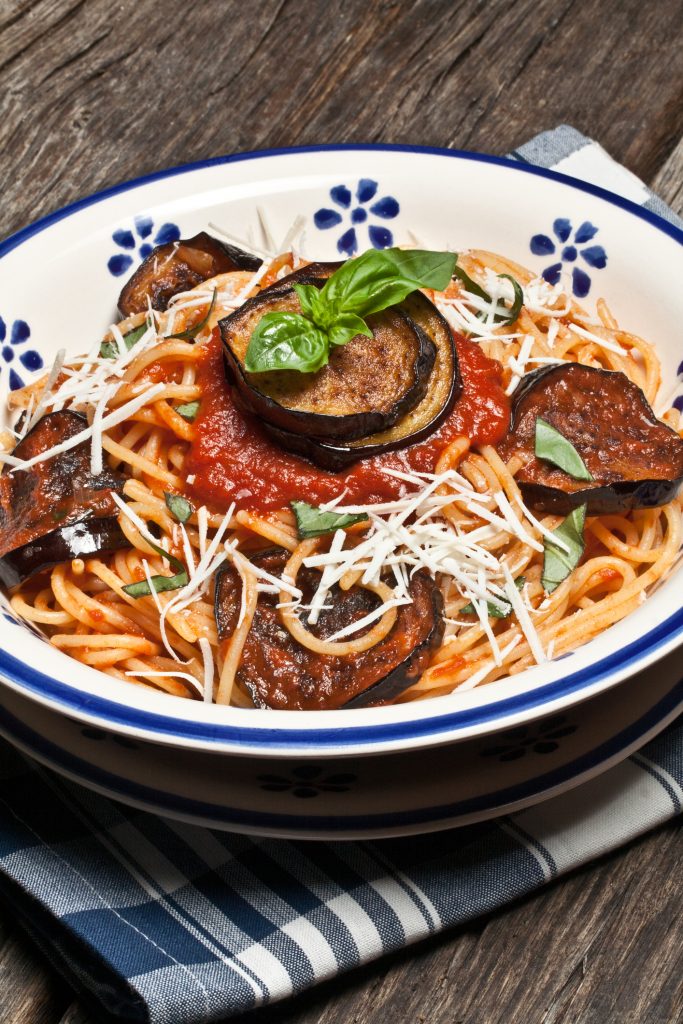 The only instance where even purists leave space to the cook's own preference is how to cut the eggplant: the original recipe calls for it to be sliced, but you can also cube it.
Pasta alla Norma (from La Cucina Italiana)
Ingredients for 4 people:
2 lbs of San Marzano tomatoes (you can use other varieties provided they are very flavorsome)
3 1/2 cups ( about 350 gr) of short pasta, like "sedani" or "rigatoni"
Fresh basil
Extra virgin olive oil
Salt
1 lbs of eggplant
1 cup of grated ricotta salata (you can usually find ricotta salata at Italian delis or online. If you can't source it, go for good parmigiano)
Fresh basil
Half onion
Frying oil
Chop the onion coarsely and sauté it in a pan with about 3 tbs of extra virgin olive oil.
Chop the tomatoes in large pieces.
Prepare a small bunch of fresh basil leaves and add it to the onions and then, after a minute, add also the chopped tomatoes, some salt and let simmer for about 25 minutes. A couple of minutes before turning off the heat, remove the basil from the pan.
Liquidize the sauce with a vegetable mill and set aside.
It's time to take care of eggplants! Wash them, make 3-4 mm (0.10/0.15 in) thick slices and fry them for 1 to 2 minutes in abundant, hot oil. Set them aside to drain on some kitchen paper.
Cook your pasta, adding salt to the water when it starts boiling and then the pasta.
Once it's cooked (follow the instruction on the package), add the tomatosauce you prepared and drizzle with some extra virgin olive oil.
Plate the pasta and top it with the fried eggplant and the ricotta salata (or parmigiano).
La Cucina Italiana suggests the addition, if you fancy so, of a sautéd or oven baked mix of cherry tomatoes and fresh, organic lemon rinds.