Few scents evoke an emotional response like that of bread as it rises to perfection in a hot oven. Taste buds awaken, eyes widen, stomachs rumble, voices cry out – "When will it be ready?" 
Each civilization since anyone's kept record has laid claim to specific made-from-grain products. Flatbreads of the Middle East, rich cake-like breads of France, hearty breads of central Europe, and so many other varieties have filled the stomachs of mankind since hunter-gatherers decided to set up a permanent camp. Wherever a grain or seed or root can be grown and ground into flour, bread is soon to follow, along with those of us who are ever willing to consume it. 
Italy's own history of bread-making is long and rich. Etruscans, among the earliest Italians, adorned their elaborate tomb walls with banquet scenes that included the grinding of grains, some of which surely went into the making of an afterlife aquacotta – the ancient soup still eaten today, featuring a base of bread. And anyone who's ever visited Pompeii has seen the remains of bakeries on almost every corner, most conveniently located near a wine vendor! 
Bread continues to hold high rank in the culinary world of Italy. However, only six types have procured the coveted status of DOP (Denominazione di Origine Protetta) — meaning that a product is guaranteed via strict regulation to be artisan and made with locally grown ingredients, using traditional methods. Of these six, only one possesses Tuscan roots.
Meet pane Toscano DOP. Rustic in appearance, with flour-dusted lines laid like a topography map across its domed exterior, a nutty colored crust the hue of a sun-bronzed face, and typically  served in proportioned slices propped in a wicker basket moments after hearing "Buongiorno!" from your cameriere (waiter). It's as common as pasta on a Tuscan table, and predictably, unfailingly bland due to not one pinch of added salt. 
Obtaining a DOP certification is no easy task. The question begs – how does a simple combination of yeast, water, and flour take on the title? After all, couldn't any of us throw these three ingredients together and – bam! – the bread's ready?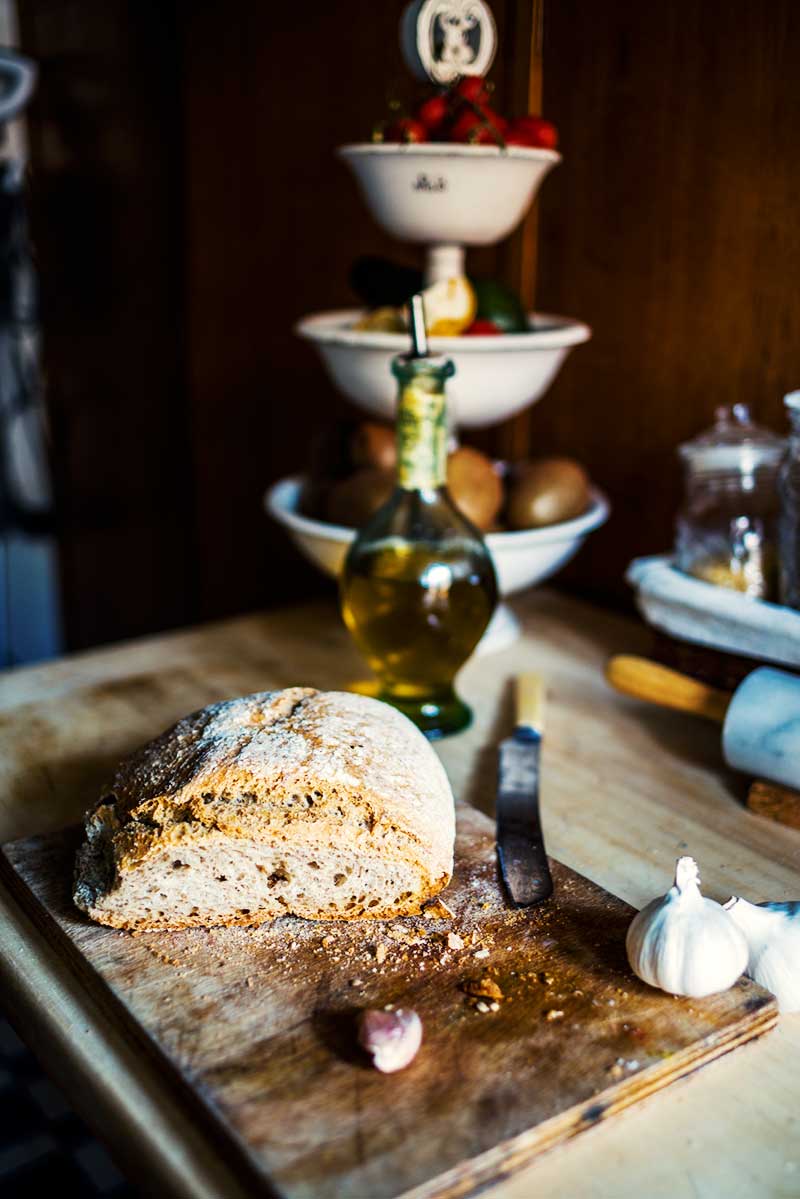 Rhetorical question, of course. The process and the outcome are meticulous, controlled, and honored. Cultivated under the Mediterranean sun in the areas surrounding Livorno, Siena, Arezzo and Grosseto, up to nine varietals of approved wheat thrive on the clay hillsides. Low gluten and high protein content, along with an intact wheat germ, are characteristics of this "Type 0" flour. Milled to a consistency that allows the nutritional components of the germ to remain intact, this "strong" flour is combined with a starter yeast, then guided through multiple series of leavenings and rests before being slid into a fiery-hot bread oven. 
But wait, still no salt? Every first-time consumer is left bewildered and stumped, searching to rectify why this Italian bread is certainly not what they've been served at that Italian chain restaurant back home!  The purposeful omission of salt is the premier defining quality of Tuscan bread and its uniquely bland taste. But there is reason and explanation behind the tradition of pane sciocco or "silly bread" – its colloquial pet name.  
Naturally, folklore offers the best imaginative explanations. Perhaps the most colorful tale involves the historic rivalry between medieval Pisa and Florence. Legend would have it that during one of the stand-offs, the Arno River was blockaded by the Pisan army, thus cutting off salt delivery to Florence. The Florentines smugly rolled their eyes and continued to bake their bread…senza salt! Another explanation tells us that salt, a prized commodity during the Middle Ages for its ability to preserve foods, was taxed outrageously. The regular guy could not afford it, and thus – the daily bread was made without it.
Perhaps the truth is scattered like breadcrumbs throughout these legends, but the undeniable fact is that Tuscan bread is the perfect sidekick to the flavorful (and often salty) common dishes of the Tuscan countryside. Whether used to fare la scarpetta (to sop up) the last of that luscious pasta sauce, as an accompaniment to meat and cheese, or  as the foundation of a refreshing panzanella salad, pane Toscano brings just the right balance of flavor support and texture. 
When all the building blocks of cultivation and production are in place, what makes a finished loaf worthy of receiving DOP status? For starters, shape matters. A pezzatura (piece of dough) can become only one of two shapes. If the baker was inspired to create the smaller rhombus–shaped loaf (filoncino), a finished weight of between 450 and 550 grams (almost 1 pound) is a must. If he/she was feeling a bit more expansive, the resultant rectangular loaf (strand) should tip the scale at 0.90 to 1.20 kg (2 to a little over 2.5 pounds). Both shapes must measure a thickness of 5 to 12 cm. The perfect interior is pockmarked with air bubbles; the finished crust is satisfyingly chewy and hazelnut brown in color. Even moisture is measured, not to be more than 30% by weight. DOP quality bread is also known for its ability to reach a stale state quickly (a good thing, actually), yet not mold for up to a week due to the sourdough qualities of the yeast. A nice slab of stale pane Toscano presents the epitome of culinary repurposing into satisfying dishes such as ribollita, the aforementioned panzanella, pappa al pomodoro, and even bread polpettone (meatloaf). Once the meal of a poor man's necessity, these dishes and many others are now proudly served in Tuscany's finest trattorias and ristoranti. 
Although it's not usually love at first sight – or bite – the crumbly brown crust and hole-ridden bread quickly comes to feel at home in the hand and mouth, ready to be doused with fresh oil, wipe the last bits of ragù from the plate or simply give a moment's respite between bites of salty salume and pecorino cheese. However it's ingested, pane Toscano DOP is a vibrant, now-protected, and fiercely honored piece of la bella vita Toscana. Don't loaf around – try some soon! 
Author's notes: a nice selection of authentic recipes using pane Toscano DOP can be found on the consortium website – https://www.panetoscanodop.it/it/il-pane