Ferrara, a city steeped in history and graced with architectural marvels, harbors a jewel within its urban fabric — the Palazzo dei Diamanti or, to say it in English, the "Diamonds Palace." As one of Italy's most unique and recognized buildings, Palazzo dei Diamanti stands tall with its distinctive "diamond" cladding, a visual nod to the brilliance of its creator and the nobility it once served.
The Palazzo dei Diamanti is the brainchild of well-known Renaissance architect Biagio Rossetti, whose touch can be seen not only on various buildings and sculptures but also on the overall urban layout of Ferrara. Commissioned in 1492 by the Este family, more specifically by Sigismondo d'Este, it was completed only one year later, in 1493. This exquisite structure was once a noble residence, playing host to the family until Ferrara was absorbed by the Papal State in 1598.
The palace's visual impact is extraordinary: its façades are studded with marble "diamonds:" the look was developed with a technique known as bugnato, a layered stone assembly designed to present a groove-like appearance. This unique feature creates an intriguing perspective, intensified by the inclined "diamonds" that reflect light in the most arresting ways. While the exact number of these marble pyramids remains a subject of debate – some say about 8,500, others claim 12,000 – their aesthetic contribution is undeniable.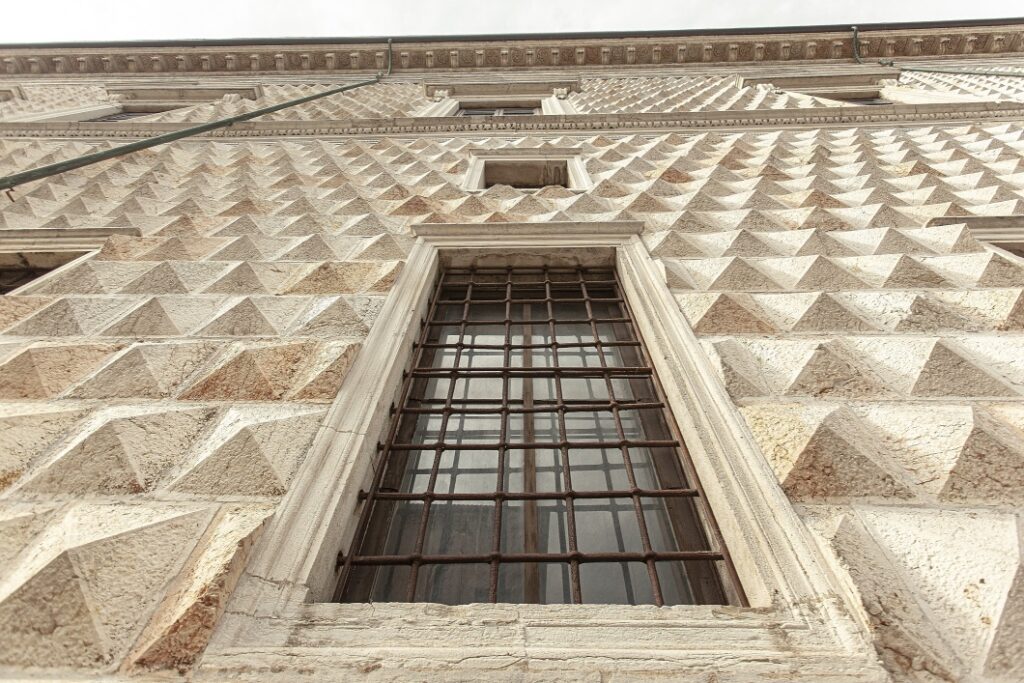 Today, the Palazzo dei Diamanti serves as a prestigious art exhibition venue, as it houses the National Art Gallery and the Civic Gallery of Modern and Contemporary Art. However, despite its public function, the building retains an air of mystery. Legend has it that one of these marble diamonds hides an actual gem, a secret shared only by Duke Ercole I d'Este and the master mason. This hidden gem, supposedly from the duke's own crown, is actually something more than a simple royal secret: during Duke Ercole I's reign, Ferrara underwent a massive urban renewal project, popularly known as the Addizione Erculea, an undertaking that redefined the city's layout, aligning it with modern sensibilities of the time. The Palazzo dei Diamanti holds a pivotal spot in this revised blueprint because it overlooks the Quadrivio degli Angeli — an intersection of two main axes of Addizione Erculea itself. The building's alignment with the Quadrivio is further accentuated by a prominent balcony with candelabra carvings by Gabriele Frisoni. A visual strategy designed to create a unique perspective, this feature also hints at the palace's ability to… channel energy fields. 
Yes, you read it right, energy fields, because Palazzo dei Diamanti is not only an architectural beauty, it is also steeped in magic and mysterious energies, or so esoteric enthusiasts and mystery hunters believe. They are quite convinced that Ferrara's unique urban plan reflects specific astronomical calculations, and that there may be something magical also in the Palazzo itself: indeed, legends say that regular alchemical and astrological gatherings were held in the palace, which gave rise to the belief that the hidden diamond we mentioned was placed strategically to harness the Earth's energies.
So, following this interpretation, the city's plan was a terrestrial mirror of celestial order, with the Castello Estense at the center and roads radiating outward. This pentagonal layout, teeming with astrological symbols and geometrical figures, was a concerted effort involving not only architects and surveyors but astrologers, too.
The Palazzo dei Diamanti pays tribute to the greatness of a family, the Este, who were known for their support of the arts and for having made Ferrara one of the most modern Renaissance towns in Europe. Whether a real diamond is somewhere hidden in its façade or not, this building shines bright like the most precious of all stones, thanks to its undeniable beauty and history.