If you've been to Tuscany, you may be familiar with pizzicagnoli and their stores, which are pretty much the equivalent of a good deli, but also double as a local corner store in small villages. Pizzicagnoli stores are common all over Italy, especially in more rural contexts, but they are not called like that everywhere: "pizzicagnoli" are very much a Tuscan and central Italian thing. Lesser known, perhaps, are their cousins, the oliandoli, who are associated with the precious art of being olive oil connoisseurs. 
Why did I decide to speak about them in the same article? Because the two not only share a significant connection to Italy's own cultural and culinary heritage but also the same history. To understand why, we need to go back to Medieval Florence, more precisely to the 12th and 13th centuries, when the so-called "arts" began to form as lay associations for the defense and pursuit of common goals, that brought together members of the same profession or trade. Historically, they are considered one of the most significant contributors to the economic development of Europe in Medieval times. They were divided into Arti Maggioriand Arti Minori, major and minor arts, based on their economic importance and prestige. Major arts were mainly entrepreneurial activities, including what we would call today import-export businesses, banking, and liberal arts such as medicine or law. Minor arts were essentially linked to manual activities and trades, including all those related to food.
It is in this context that the Corporazione degli Oliandoli e Pizzicagnoli was founded in 1338, after the merging together of the already existing guilds of the oliandoli (oil sellers), salaroli (sellers of cured meats, dried and salted fish and salt), and caciaroli (cheese sellers). The newly-formed corporation had its own residence built along Via Pellicceria, not far from the Piazzetta del Monte di Pietà. While the building was eventually demolished, some fragments of it are kept in the Bardini Museum and the Museum of San Marco. The guild also had its own patron saint, Saint Bartholomew, who was celebrated on the 24th of August. In December, on the occasion of the Immaculate Conception, oil from the recently-pressed new olive harvest was offered to the Virgin Mary, in the church of Santa Maria degli Ughi.
The Oliandoli
In the Middle Ages, oliandoli would sell locally-produced oil, in traditional jars that could contain around 33 liters of it. Back then, just like today, there were different types of olive oil, and oliandoli knew well all of them: for instance, the oil from the first pressing was intended for food use (although lard was preferred for cooking back then), while those coming from further pressing, which were of significantly lower quality, were used to make soap and for lighting (lamp oil). Oliandoli were, in fact, real experts also of the oil-making and selling process as a whole, especially in the 12th century, when they oversaw every aspect of oil production and trade. In Florence, there is still a square called Piazza dell'Olio where, centuries ago, a specialized market used to take place.
When it came to the making and selling of olive oil, the guild had quite strict regulations: olives had to be hand-picked then placed in special chestnut baskets, and taken as soon as possible to the mill, where they were crushed with large stone mills. The stones, it is said, were quarried in Montici. Florence was also rich in specialized stores selling oil, many of which were grouped together in the old market or in Via Lambertesca.
The guild of oliandoli and pizzicagnoli was eventually suppressed, along with all others, in 1770 when the Chamber of Commerce was created, but the figure of the oliandolo remained relevant and began, in fact, spreading also outside of Tuscany: it is also thanks to their work, perhaps, that the quality of Italian olive oil is quite unmatched still today.
The Pizzicagnoli
 Pizzicagnoli, as we said already, were in charge of selling and making special foods, including cured meats, salt, cheese, and salted and dried fish. While they would sell a plethora of cooking ingredients and household items, things such as legumes were sold by other traders, associated with the corporation of Wine Merchants.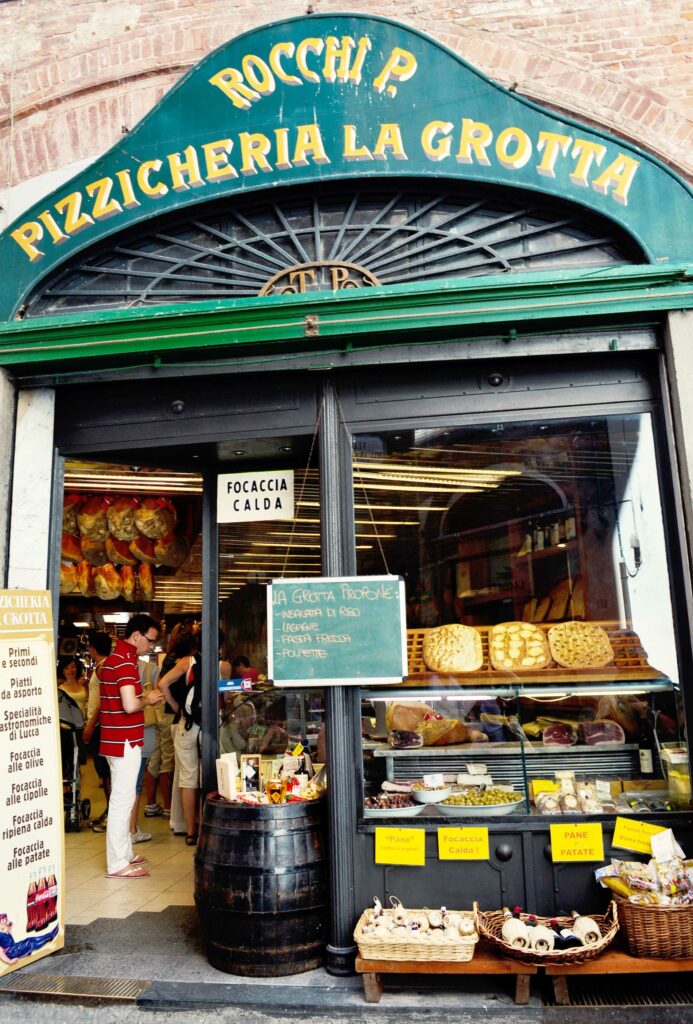 While the figure of the oliandolo may no longer be as common as it used to be back in the Middle Ages, pizzicagnoli are still a thing all over Italy even though we don't all call them like that everywhere. Their stores are common, especially in smaller villages where they are known usually as salumeria, gastronomia or, quite simply, alimentari; they are the equivalent of America's delis and corner stores put together. They are a bit old-fashioned, perhaps, and don't expect to find them in large cities, or at least, not in highly touristic areas. However, if you want to find fine Italian cheeses and cold cuts, or you would like to learn what local cuisine can offer and local products are, then you should definitely visit one.