The story of velvet is one of timeless luxury, adaptability, and durability. Its name, stemming from the Latin term vellus meaning "fleece," pays homage to the fabric's defining feature: a dense, soft pile that creates a uniquely plush texture and visually appealing sheen. This characteristic made velvet a coveted material since its earliest days.
Originating from the East, velvet was likely, at least at the beginning of its history, handwoven from silk, showcasing its opulence. By the 13th century, this lavish fabric traversed the Silk Road, breaking cultural and geographical barriers, and arrived in the West. Upon its appearance, it catalyzed a shift in fashion tastes: its plush texture and lustrous sheen swiftly positioned it as a symbol of wealth, power, and prestige among Europe's upper echelons. Velvet's regal reputation was such that it was favored by kings, queens, and nobility, and it often featured in ecclesiastical and ceremonial vestments.
The 16th century marked a watershed moment for velvet. During this period, its production surged especially in Italy, spurred by a blossoming textile industry. Velvet began to be distinctively used for clothing, marking a clear division between its use in apparel and home furnishing materials.
Velvet struck people immediately for how versatile yet unique it was, its uniqueness lying also in the fact it could be woven from various types of fibers. Initial versions of velvet were primarily silk, making them prohibitively expensive and exclusive. However, advancements in textile manufacturing introduced velvet made from other textiles, such as wool and, more prevalently, cotton. The latter eventually emerged as the most popular variety due to its affordability, resilience, and adaptability. Cotton velvet retains the fabric's signature softness and rich color depth and suits a broad spectrum of garments—from jackets and trousers to hats. Moreover, it can be rendered in a smooth or corded texture, further enhancing its versatility in fashion design.
As you can see, the chronicle of velvet is rich and varied, but its journey to our beautiful and beloved Sardinia certainly stands out. This voyage was facilitated by the Catalans, who introduced the fabric to the island. Here, it acquired the name terciopelo alla spagnola, or Spanish velvet, despite being crafted in local workshops.
In Sardinia, velvet showcased its remarkable adaptability and versatility. The fabric's luxurious feel and royal aura seamlessly merged with the local culture and customs, reflecting the distinctive styles and traditions of the region. It became an emblem of Sardinian identity, encapsulating the island's vibrant heritage and unique fashion sensibilities. The 19th century heralded a significant turning point for velvet in Sardinia, especially in the province of Nuoro. Nestled in the heartland of Sardinia, the area is a true tapestry of beautiful landscapes: it stretches from the central mountainous regions to the eastern coast of the island, with a panorama that includes gentle valleys, rugged cliffs, and expansive plains. It is here, amid this diversity, that the story of velvet takes a unique turn, demonstrating its adaptability and versatility in fashion and culture. In 19th century Nuoro, velvet transitioned from a luxury fabric to a transformative element in Sardinian men's fashion. Velvet garments, once exclusive to royalty and the aristocracy, were embraced by the people of Nuoro, featuring in traditional wardrobes, and becoming commonplace among rural and urban populations alike, particularly during festive occasions.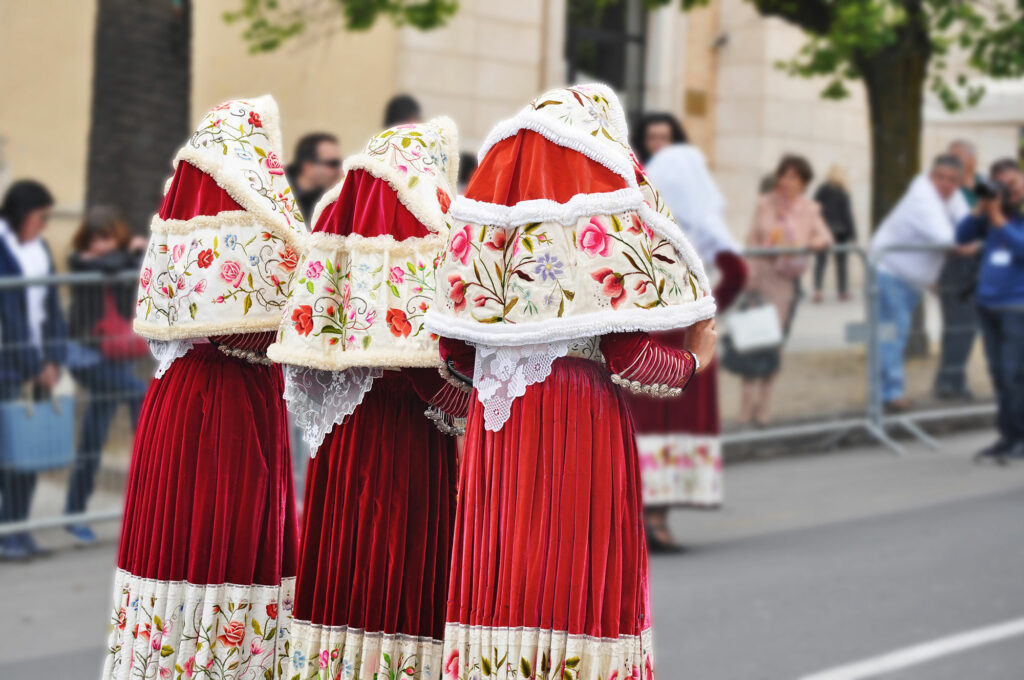 This shift elevated velvet's status in Sardinia and established a new fashion standard, where velvet became the representation of tradition and luxury merging together, a melding of the old and new. This period witnessed the democratization of velvet in Sardinia, underscoring its timeless allure and reinforcing its position as a fabric that transcends geographical and societal borders.
Among the luminaries of Nuoro's fashion scene was Aurelio Pinu, a young tailor who established his shop in 1954 after perfecting his skills in French ateliers. His creations—velvet suits and cotton shirts inspired by Sardinian tradition—quickly became a draw for locals and tourists alike, making him a pivotal figure in the local fashion scene. Over time, his shop expanded its offerings, not only providing bespoke clothing, but also a wide range of quality ready-to-wear items, knitwear, underwear, and accessories. Regardless of the variety, custom-made clothing remains the crowning glory of the store's offerings, with styles that cater to every occasion, from the classic and ceremonial to the traditional Sardinian and casual.
The legacy of Aurelio Pinu lives on in his sons, Nicolò and Giuseppe. After acquiring their qualifications as stylists in Milan, they returned to Nuoro, bringing a fresh perspective to their father's business. They introduced a fundamental variable for their success: the combination of tradition with innovation, which propelled the business beyond the boundaries of Nuoro, enabling it to gain national and international recognition. Today, Pinu's velvet suits, which draw inspiration from the pastoral world, are lauded for their perfect blend of elegance and modernity. 
The story of velvet is a testament to the fabric's enduring charm and versatility. From its origins in the East to its transformation in Europe and its journey to Sardinia, velvet demonstrated its timeless appeal and ability to transcend the boundaries of style and time. Today, as it continues to hold a cherished place in fashion, velvet remains a symbol of luxury and elegance: a reflection of its rich history and the many hands and minds that contributed to its story.